The highly anticipated Porsche Taycan is right around the corner. As such, new information on the most anticipated electric car in recent history is starting to spread and leak at an exponential rate. Here are just some of the recent Porsche Taycan news developments in the last week. If you need to catch up, first check out everything we currently know on the Porsche Taycan.
Porsche Taycan Release Date
For a few months now we have known that the production version of the Porsche Taycan was set to reveal some time in September. Now, thanks to some Taycan enthusiasts, we know the exact date of the unveil, September 4th. Porsche already has a countdown clock for their live stream so keep your calendars opened. The company has scheduled three separate reveals in Berlin, Canada, and China.
Preorders for the Porsche Taycan are already opened and we still expect to see deliveries starting this year. We will continue to keep you posted on the latest Porsche Taycan news as information develops.
Endurance Run
The German company is taking no shortcuts when it comes to their legacy: performance. Porsche recently put the Taycan up against a 24 hour high speed endurance race on the 12.6 km (7.8 mi) Nardò high-speed track in Southern Italy. Throughout the self contested race, the Porsche Taycan maintained speeds from 121-133 mph (195-215 kph). The unreleased electric sports car ran for a total of 2,128 miles (3,425 km). The achievement was credited to Porsche's top of the line thermal management system. Temperatures peaked at 107° F (41.6° C) without any cases of overheating. The same technology helped the Porsche 919 Hybrid win the 24 Hours of Le Mans three times in a row
"The Taycan's sophisticated thermal management also proved itself in Nardò. Thermal management revolves around a highly efficient, intelligent system for cooling and heating the high-voltage components. This prevents potential power losses due to excessive heat generation and ensures that the optimum temperature for the most efficient charging process has been reached when the vehicle arrives at a charging station."
A total of six drivers were used for the test only allowing time to fast-charge in between rest stops. Charge speeds were not specified so we have yet to know if Porsche will continue with their originally stated 350 kW capabilities or scale to the current standard of 250 kW.
This is not the first endurance test the Taycan has passed. Earlier this month Porsche put their electric sports car to the test with 30 consecutive 0-124 mph launches.
Porsche Taycan Interior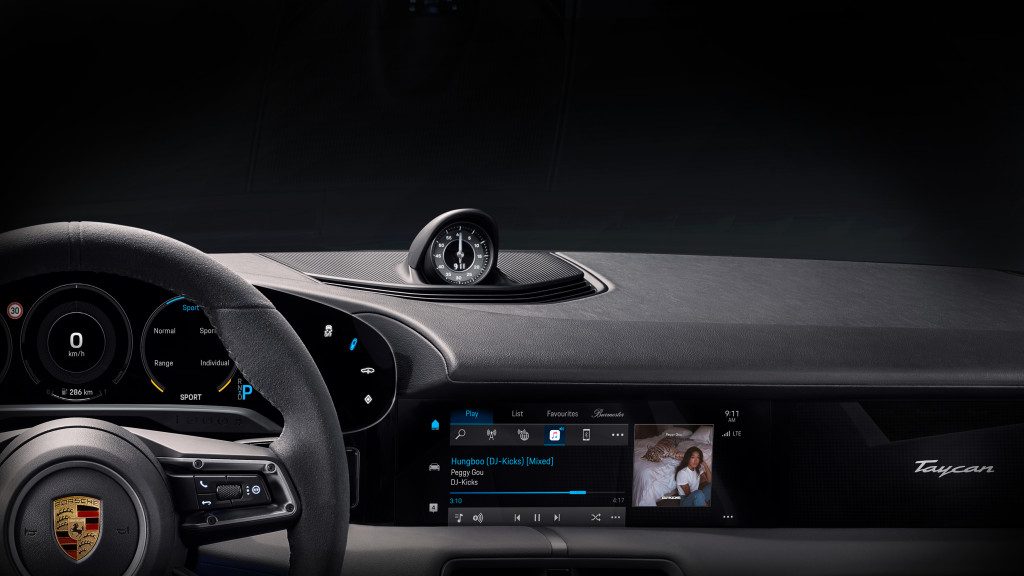 The first official image of the production version Porsche Taycan interior (seen above) was released earlier this week. Porsche is known to go above and beyond with their luxurious options and trims and we expect the Taycan to be no different. The luxurious sports car company continues to maintain their heritage by adding dials reminiscent of the ones found on their 911. They also continue to offer a dash-mounted sports chrono to further illustrate Porsche's mission of providing as high performance as possible. Porsche quickly followed up with three more interior images seen below.
Drivers will be able to choose between four different display modes in the instrument cluster. A Classic look allowing a view of all features, a Map Mode with directions in the center, a Full Map Mode which will display a large map across the entire display, and a Pure M Mode which will keep only the essentials for a minimalist look and feel.
The edges of the instrument cluster extend past the steering wheel with touch controls on the edges. With this instrument cluster design, the German company paid tribute to their 1963 Porsche 911. The curved display is an entire 16.8 inches wide.
The infotainment screen is slightly smaller at 10.9 inches but with an option to add a third passenger display, this electric car is packed to the brim with technology. Even the center console has a 8.4-inch touch panel with haptic feedback and handwriting recognition. With the optional four-zone automatic climate control system, you will receive another 5.9-inch touch screen for your rear passengers.
An abundance of options are something Porsche knows well and we will certainly see that with the new Porsche Taycan. The company has stated two steering wheel options, a basic version with customizable accent colors, and a GT sports steering wheel option which will make your daily commute feel like a race track. If you don't like traditional leather, Porsche has the option for a deluxe leather tanned with olive leaves creating a unique cloud pattern.
If that's too frilly for you and you'd rather save our planet, Porsche now offers a fully leather free interior using high-end microfiber "Race-Tex" material. Porsche claims this option uses 80 percent less CO2 in its production than its other options. The floor uses "Econyl®" which is made from recycled fishing nets and similar bio hazardous material.
Porsche is known by many as the industry leader in customization. The Porsche Panamera, as an example, has over 200 available options. From the sound of it, the Porsche Taycan will not lag behind. On top of being able to specify interior display options, outer trim, interior accents, and dashboard materials, Porsche will offer Taycan exclusive colors; Black-Lime Beige, Blackberry, Atacama Beige and Meranti Brown.
Apple Music
The above image was unveiled alongside a major Apple collaboration announcement. The Porsche Taycan will be the first production car to be integrated with Apple Music. Using the electric car's built in internet connectivity, owners will have access to Apples music library filled with over 50 million songs and no ads. This comes included at no cost with the Taycan's three-years of free internet data. Afterwards, owners will most likely have to pay an annual or monthly fee to keep related features active.
"Porsche and Apple Music fit perfectly – we share common values, and the same relentless attitude to user experience, to quality engineering, to design, and to innovation. Together, we bring innovative digital entertainment technologies in our high-performance sports cars, starting with our fully electric Taycan."
Tesla currently offers a similar feature using Slacker in the US and Spotify in other regions. It will be interesting to continue to watch the segment and see if music streaming offers becomes the new norm with new cars.
The collaboration between the two innovative companies will contain the following:
Porsche Voice Assistant: Use custom Porsche voice control to request songs, albums, playlists, or radio stations on Apple Music.
Discover on Broadcast Radio, Listen on Apple Music: Create your own custom station on Apple Music from any song you find while listening to broadcast radio.
Exclusive Playlists: Listen to curated playlists from Porsche, only on Apple Music.
In-Car Streaming Data: Complimentary in-car internet data for 3 years with external antenna and roaming package.
Up to Six Months Included: New and existing Porsche owners get up to 6 months free of Apple Music.