A few eagle-eyed readers of the TaycanEVForum have noticed that Porsche has not made all of their planned colors for the Porsche Taycan available quite yet.
Currently, if you go to the online configurator of the Porsche Taycan you are greeted with the following color options: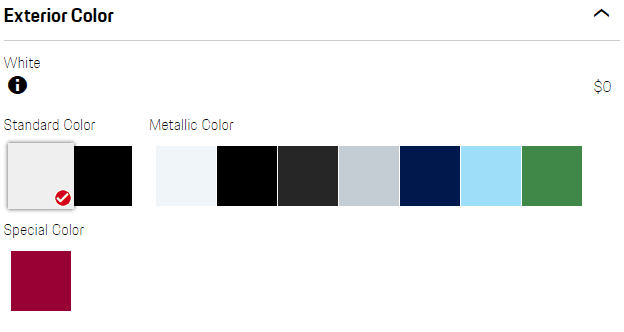 However, as users on the forum have pointed out, Porsche has at least seven new colors that are coming in the pipeline, some making rare appearances on previous models of Porsche, and others being completely new. While the new colors are not available on the configurator, they are revealed in the Taycan brochure.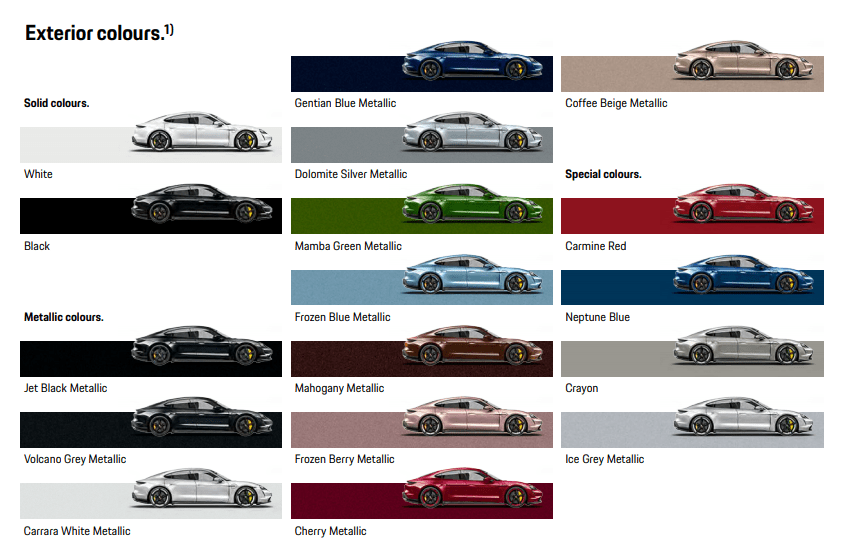 The new colors include:
Crayon
Mahogany Metallic
Frozen Berry Metallic
Cherry Metalic
Neptune Blue
Coffee Beige Metallic
Ice Grey Metallic
Some of these colors such as the Cherry Metallic and Coffee beige Metallic are completely new colors for Porsche and we wonder if they will be available on other models or if Porsche will make them exclusive to the Taycan.
Our personal favorite is the almost rose gold like Frozen Berry Metallic which is one of the most unique factory color options that I've seen for a car. The featured image above is a mockup of what the Frozen Berry Metallic will look like.
While the color isn't new per se, it might as well be. The color was used in a one-off 911 GTS Cabrio when Porsche presented it to the winner of their Tennis Grand Prix in 2017, Laura Siegemund. Pretty sweet prize.
The addition of these new colors continues to give Porsche a bigger edge in one of the few places it beats Tesla at, and that's factory options. For those that prefer some factory customization, the Taycan is the clear winner in this regard. The Model S currently has five color options, with three of them being black, silver, and white. While not having enough options might be a silly reason to go with a Taycan over a Porsche, it might nudge those that are sitting on the fence towards Porsche's yard.
There's no word on when the new colors will be avalible, but forum members are speculating that we might see them this summer.