Jaguar Land Rover has announced that the automaker will be exploring hydrogen fuel cell propulsion as part of their initiative to eliminate carbon emissions. Land Rover's new Defender model will serve as the testbed for their new hydrogen powertrain.
Not too long ago, we spoke about Jaguar Land Rover's newly announced Reimagine roadmap that will look to make the brand carbon neutral before 2039. As part of the initiative, Land Rover will release six electric varients of their vehicles within the next five years, with the first fully electric model coming in 2024. The ultimate goal of their plan is to eliminate tailpipe emissions by 2036 and production emissions by 2039.
During that announcement, we didn't hear anything regarding any hydrogen fuel cell vehicles, but it now seems like the automaker will be exploring the option.
Known as Project Zeus, JLR teamed up with R&D partners, including Delta Motorsport, AVL, Marelli Automotive Systems and the UK Battery Industrialisation Centre (UKBIC) to research, develop and create the prototype FCEV. The new Land Rover Defender will serve as the foundation of the prototype and will look to start testing in the UK in late 2021.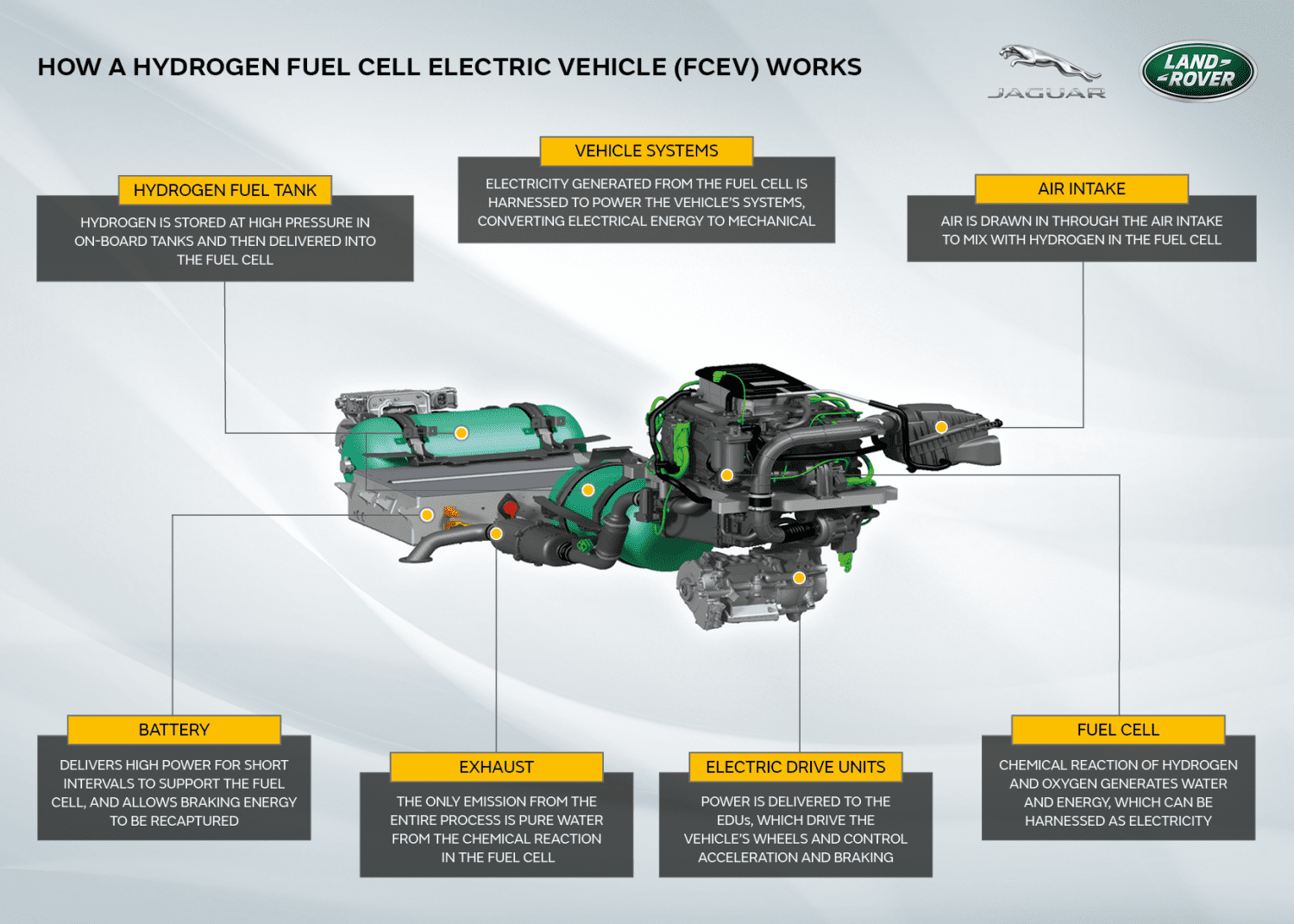 Ralph Clague, Head of Hydrogen and Fuel Cells, had the following to say regarding Project Zeus:
"We know hydrogen has a role to play in the future powertrain mix across the whole transport industry, and alongside battery electric vehicles, it offers another zero tailpipe emission solution for the specific capabilities and requirements of Jaguar Land Rover's world class line-up of vehicles. The work done alongside our partners in Project Zeus will help us on our journey to become a net zero carbon business by 2039, as we prepare for the next generation of zero tailpipe emissions vehicle."
Do keep in mind that JLR has not announced that they have any intentions to produce hydrogen fuel cell vehicles at this point. At this moment, it really seems like the brand is still trying to figure it out.
Hydrogen fuel cell cars have not had much love outside of certain Asian brands and laughingstocks. There are currently a grand total of three hydrogen fuel cell consumer cars, the Toyota Mirai, Hyundai Nexo, and Honda Clarity Fuel Cell. Many others have toyed with the idea of hydrogen cars, but end up deciding to move forward with batteries instead.
Will Jaguar Land Rover follow the same trend?
What do you guys think of the news? What are the chances that JLR moves forward with its hydrogen plans? Let us know down in the comments below.