As the world works to return to a sense of normalcy, production has started back up for many automakers and previous product launch plans have been readjusted. One of the electric car debuts caught up in the mess was Ford's inaugural full electric crossover, the Mustang Mach E, but it looks like it might still make its late 2020 launch.
What We Know
The Mustang Mach E will be Ford's first modern purpose-built electric car (we know the Ford Focus Electric existed, but we don't count that). Much to the ire of die-hard Ford and muscle car fans, the Mustang Mach E takes its name from the legendary Mustang Mach 1, but instead of an imposing muscle car, it's an electric crossover. Regardless, Ford is using its most iconic name for its electric crossover shows how much they believe in it and its ability to kickstart a new chapter for Ford.
The Mustang Mach E will available in a multitude of different trim levels offering a variety of ranges and performance metrics. The base model is the "Standard" model that starts at $43,895 with a range of 210-230 miles and a 0-60 time of low 6 sec. to mid 5 sec. depending on whether you get a single motor or dual-motor. The chart-topping version is the "GT" which should start at around $60,500 with a range of 235 miles and a 0-60 time of mid 3 sec.

The above specifications are still not 100% set in stone as many of them are "targeted" but we do expect the final specs to fall in line to the targets provided.
Ford is also using the introduction of a completely new archetype of vehicle as a way to shake some things up and take a few notes from Tesla.
Ford is still unable/unwilling to move on to a direct to consumer sales method, as found with Tesla. People will still have to go through the hassle of dealing with a traditional dealership. However, efforts to make the process a bit simpler will begin with the introduction of the Mach E. The Mustang Mach E will utilize an e-invoice system that will prevent dealers from advertising the new electric car under the MSRP and then bait and switching you when you get there. Seeing consumers fond of Tesla's methods, Ford is looking to implement what they can to keep customers happy in this new age of car sales.
Ford stated that the change was made for the following reasons:
There are three primary reasons for implementing these changes for the Mustang Mach-E: (1) be competitive in battery electric vehicle space by transacting in the way customers want to transact. (2) protect the brand image of the Mustang Mach-E, and (3) help protect dealer margins.
Second is an established charging network. One of the biggest reasons for Tesla's success is its readily available and well-spaced out Supercharger Network that allowed for chargers to be available within most of the US population. While Ford has not built up a charging network of its own, it will introduce the FordPass Charging Network. The network will utilize other charging networks such as Electrify America and place them under one umbrella that will culminate to over 12,000 charging stations with more than 35,000 plugs. Ford will also make the first two years of this service free for owners of the Mustang Mach E.
Ford is also planning to collaborate with Amazon for easy installation of Ford home chargers so that customers' transition towards electric cars can be as easy as possible. Like other EV's, every Mustang Mach-E will come standard with a mobile connector and offer a home wall charger for sale alongside.
While Ford has not built up their own charging network, a few months ago a trademark filing from Ford for 'Fastor Charge' was found. No other info is known about it besides its intended use being for "apparatus and instruments for conducting, switching, transforming, accumulating, regulating or controlling electricity, namely, charging stations for electric vehicles; batteries for vehicles; accumulators and chargers for vehicle batteries". It wouldn't be too far fetched to think that Ford will start building out a small network starting from their dealerships outwards.
The first-year global production goal for the Mach E is around 50,000 units and instead of being produced in the United States, it will be produced in Cuautitlán Izcalli, Mexico. According to Ford, this will allow the Mach E to be profitable from the very first model, a hurdle that many automakers face when they try to produce an electric car.
50,000 certainly isn't a lot of cars when you think of the industrial might of Ford, but it isn't exactly compliance car territory either, as the Mach E will be available in every state. Ford states that the production number was constrained by battery available which it is purchasing from LG Chem who has been working overtime to try and meet the demand for various automakers.
Will we see a substantial increase in production as well as other production facilities joining in on the action next year? We'll have to wait and see.
New Information
If recent dealer communications carry any merit, then it looks like the road to the electric Mustang launch is looking strong. Recent Ford dealer documents state that beginning "early July" product training for the Mustang Mach E will begin. Typically this involves a specialist with a production model vehicle at each dealership showcasing a full educative walk around of the car. This was originally scheduled for last month but due to circumstances, the Mustang Mach-E's status was placed on hold. Beginning sometime in the next week, dealers will receive the opportunity to schedule their required training. Product Trainers will be available beginning June 18th for "Product related questions".
An interesting aspect of the training is that for the first time it will be wholly done online through a webcast. Two live sessions will be held via a required Webex video conference. In-person training is of course preferred but in order to not delay the release any longer, Ford has opted for this socially distant route. Unlike traditional training, this method won't allow employees to physically interact with the car. After the two sessions, a quiz will be required to pass in order to maintain certification for the all new Mustang Mach-E. Ford has confirmed that the same system will be used for the upcoming Lincoln Corsair.
Due to the current business environment, we are excited to announce that, In-Dealership Product. Training will resume remotely with our trainers in July. We are aligning with Ford policies and will continue to evaluate when we can return to conducting in person training.
More importantly, Andrew Frick, Ford's director of U.S. sales, states that the Mustang Mach E order book will open up on June 22nd. This means that any reservations will start to be converted into orders for the electric car. The configurator will open up and Ford will start finalizing the configurations for the First Edition of the Mach E. According to our local Ford dealership, it typically takes 8-12 weeks from order to delivery. This however could be skewed with Ford still catching up with production due to down time.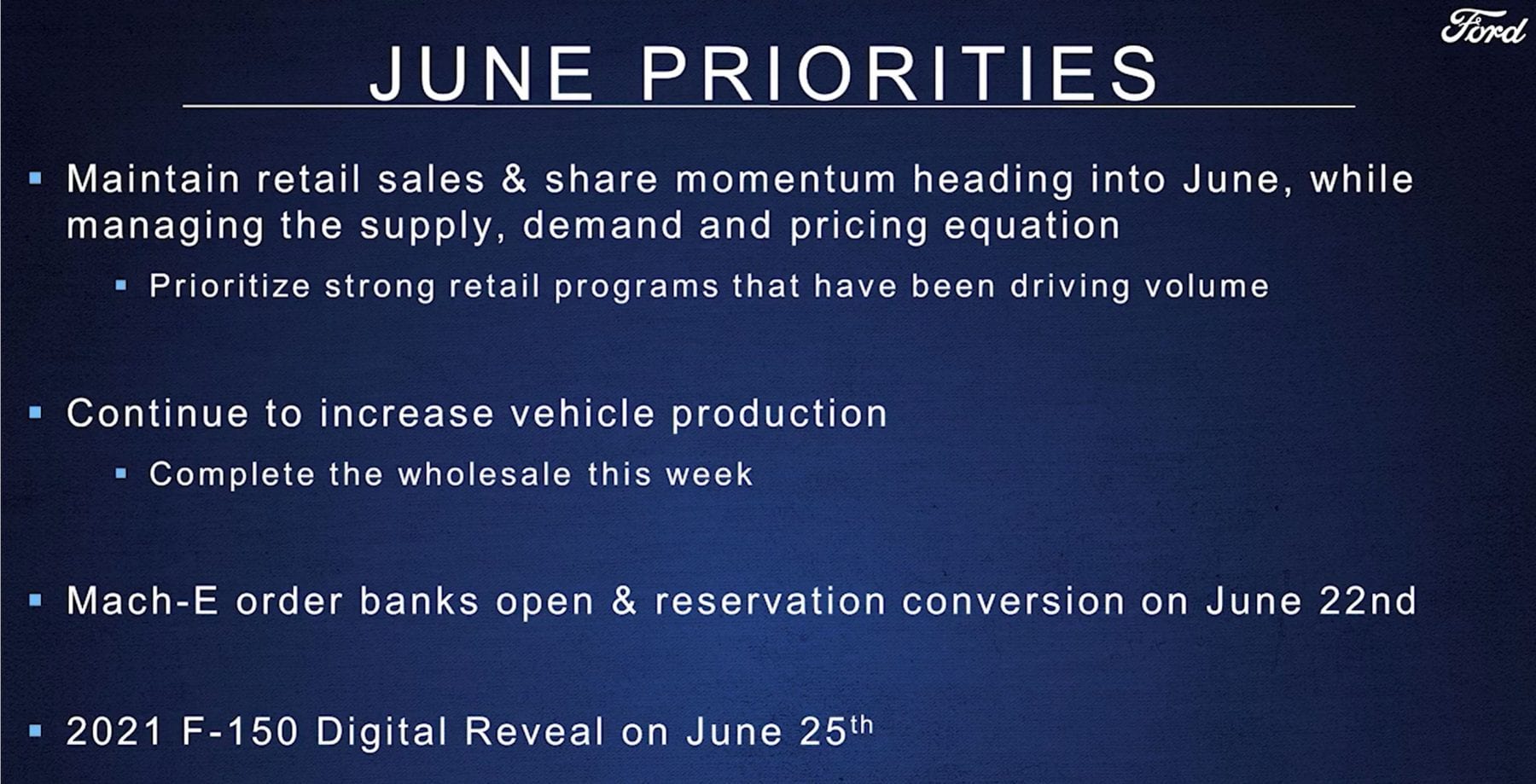 Speculations
With Ford having to close down its manufacturing facilities for around two months like many other automakers, it has been speculated that any new launches of their vehicles would be pushed back by at least two months as well. This would push the Mach E's debut from late this year to early 2021.
But with this new information, if there was a substantial delay for the Mach E, would the order book start to open up more than six months away from a speculated early 2021 release? Would training showcasing a production model vehicle be done so early? It would be extremely nontraditional for a very traditional manufacturer to do so.
Comments made to Electrek from Emma Bergg, a Ford spokesperson reiterated that the electric car would still make it's late 2020 American debut. She wrote, "We expect to deliver the all-new Mustang Mach-E to US customers late this year" and that "We've always said Mach-E is coming late this year. It's still the case. We never said a specific month."
Do you think the Mustang Mach E will meet its late 2020 launch timeframe? Let us know down in the comments below.