To celebrate its 100th year of existence, Bentley revealed its all-electric EXP 100 GT concept car, which serves as a look into the future for what the English automaker has to offer. This is one of the first electric Bentley and we are excited to see what more the luxury automaker has to offer.
The EXP 100 GT serves as Bentley's view as to what the pinnacle Grand Tourer will look like in 2035. Rife with all sorts of advanced technologies and sustainable materials, Bentley will continue to bring its luxury expertise into the electric age.
The electric concept has four electric motors that propel the car from 0-60 mph in less than 2.5 seconds, a top speed of 186 mph, and a maximum torque of 1,500 Nm. In regards to the battery, Bentley states that "future battery technology will offer five times the conventional energy density". The electric Bentley concept will have a range as high as 435 miles and will be able to achieve a 0-80% charge in less than 15 minutes.
As is the case with any concept car that depicts the far-flung future, the EXP 100 GT makes extensive use of an artificial-intelligence (AI). Some examples include:
Key to this are a range of features based on passenger well-being and comfort. These include Active Aero Wheels that dynamically adjust to deliver efficiency or maximum performance feel; Intelligent Pirelli Tyres that adapt their contact patches based on weather conditions or driver demand; Adaptable Biometric Seating that adapts to the driver mode, or swivels rearward with the steering wheel retracted away in autonomous mode.
Additionally, a very extensive gesture control system is envisioned with the following example being given:
An example of gesture control can be demonstrated by a child looking out of the Bentley EXP 100 GT cabin at clouds, then pulling down content inside the vehicle through a gesture that explains what they are seeing to them. AI thus creates a joint, meaningful learning experience that can also be shared.
In addition to being full of advanced technologies, Bentley has adorned the EXP 100 GT with sustainable materials while still remaining luxurious.
For instance, the new exterior color "Compass" is "synthetically made using rice husk ash, a harmful bi-product of the rice industry". The wood found in the interior is Copper Infused Riverwood, "a sustainable wood from naturally fallen trees that has been preserved for 5,000 years in peat bogs, lakes and rivers". The wool and cotton used in the interior are locally sourced from British farms and the leather used is 100% biodegradable.
With the concept being dated so far in the future, it is hard for us to see what the company plans to do in the next five years in regard to electric Bentleys. Nonetheless, looking at these extravagant designs and thinking of all the possibilities future technologies will allot us is fun. Check back in 15 years to see if the Bentley EXP 100 GT becomes a reality.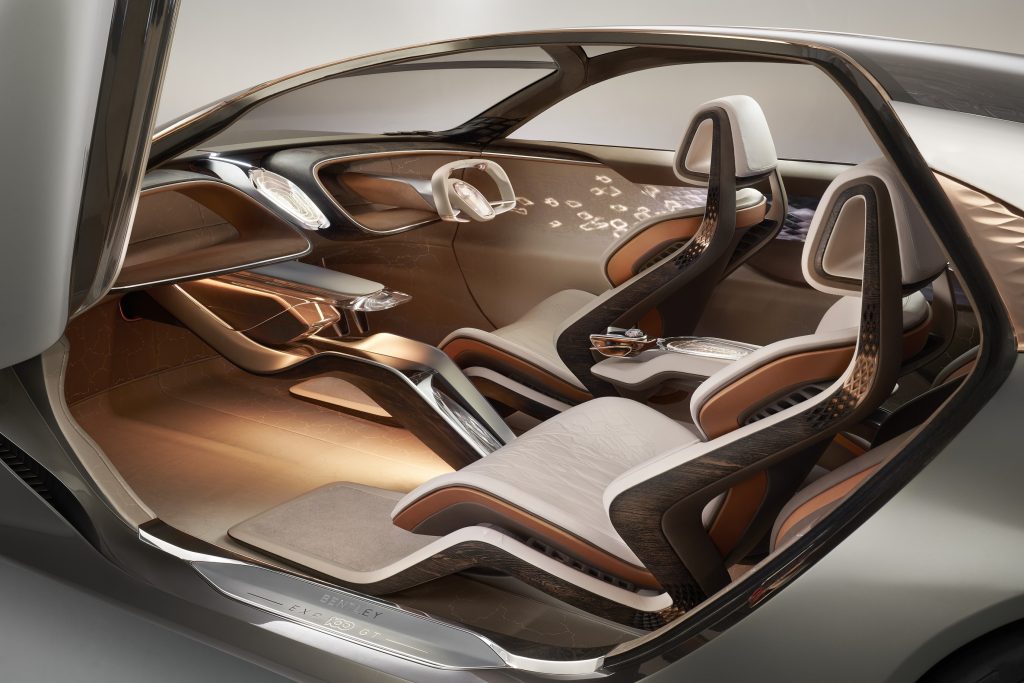 What do you guys think of the electric Bentley concept? Let us know down in the comments below.
Source: Bentley