The electric EQ family is growing larger for Mercedes. While the new Mercedes EQS concept isn't a look at a production model of the electric sedan, it will serve as a basis for the final product, just like the EQC concept did for the current production version.
The new Vision EQS as it is currently known shows of the top-tier luxury that you would expect of the German automaker and Mercedes considers this car to be a "trailblazer for the entire Mercedes-Benz EQ family".
As is customary with these design studies, the car is adorn with many design elements that will not make into a reasonably priced production car, so expect the real EQS to be toned down in regards to the extravagant design details.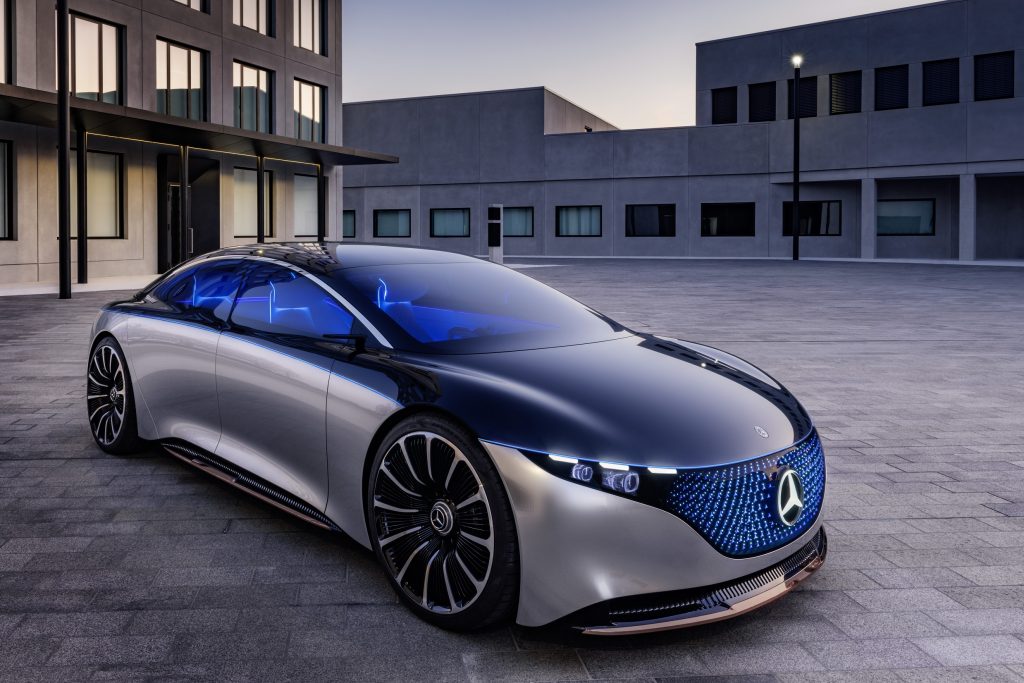 Some of the exterior features include a thin lightbelt that goes around the entirety of the car and separates the two-toned paint from each other. Further lighting features include 229 LEDs in the rear that are shaped in the Mercedes logo that act as the taillights. Similar to the EQC concept, the Vision EQS features an illuminated grill that is made up of 188 individual LEDs.
Moving on to the spacious interior, Mercedes states that they had taken inspiration from yacht interiors for the EQS. Additionally in keeping with mission for a sustainable future, Mercedes has opted to use as many environmentally friendly materials within the luxurious interior as possible.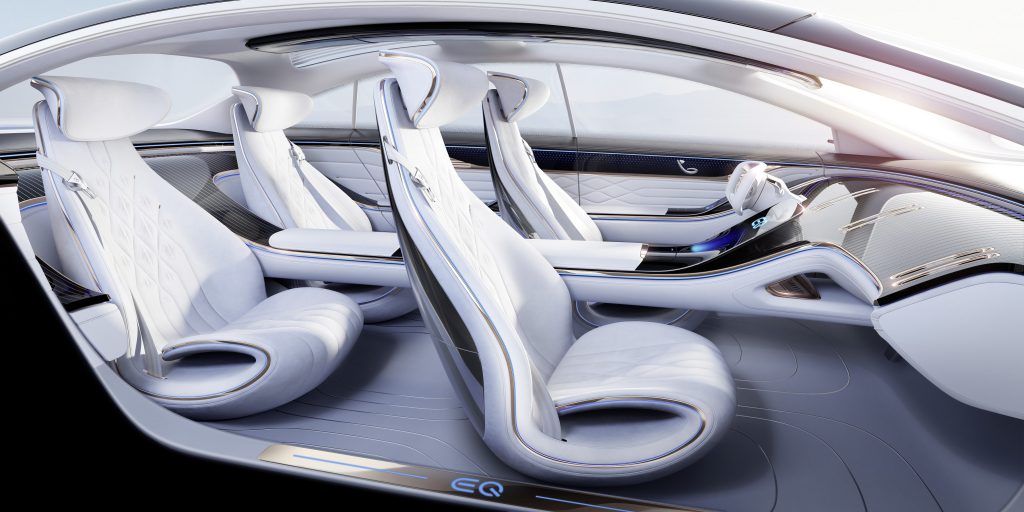 The choice of materials for the interior of the show car also ensures a special ambience. Mercedes-Benz has systematically developed the use of sustainable materials further, and uses both traditional and technologically advanced materials. High-quality DINAMICA microfibre in crystal white is used alongside native figured maple trim. This is made from recycled PET bottles. Also used is artificial leather, with a finely structured surface similar to nappa leather. The material used for the roof liner comes from a special project: a high-quality textile was created by adding a quantity of recycled "ocean waste" plastic, putting the use of sustainable materials on a wholly new level.
Moving on to the prospective performance specifications. The Vision EQS has a 350 kW (469 hp) power output and 760 Nm of torque (560 lb/ft). This will propel the EQS 0-62 mph in under 4.5 seconds. It also doesn't slack off in the range department where Mercedes aims to have a WLTP rated range of 700 km (435 miles) and a charge rate of 350 kW that will allow it to charge to 80% in "considerably less than 20 minutes".
Mercedes states that it is using its subsidiary ACCUMOTIVE for its batteries:
With the Vision EQS technology platform, Mercedes-Benz is opting for a completely new, fully-variable battery-electric drive platform. This is in many respects scalable and usable on a cross-model basis: thanks to the modern modular system, the wheelbase and track, as well as all other system components, and especially the battery, are variable and therefore suitable for a wide range of different vehicle concepts. As well as from in-house development and production expertise, Mercedes-Benz benefits from a group and model series-wide modular strategy for alternative drive systems, and direct access to key components for e-mobility. For example, the highly-efficient lithium-ion battery comes from the Daimler subsidiary ACCUMOTIVE.
In regards to its plans for autonomy, Mercedes is taking a much more realistic approach in terms of autonomy level. The current concept has Level 3 autonomy that is used in a highway setting, but thanks to the modular sensor systems that Mercedes uses, the same car can be upgraded to full autonomy.
| | |
| --- | --- |
| Range (WLTP) | up to 700 km. |
| Output | approx. 350 kW |
| Acceleration (0-100 km/h) | < 4.5 seconds |
| Top speed | > 200 km/h |
| Peak torque | approx. 760 Nm |
| Battery capacity | approx. 100 kWh |
| Charging output (DC) | 350 kW |
| Drive system | All-wheel drive (fully variable) |
What do you guys think of the Mercedes Vision EQS electric sedan concept? Let us know what you think down in the comments below.
Source: Mercedes