Hot on the heels of the Polestar 1 and Polestar 2, Volvo's former performance division turned electric car brand is not resting on its laurels as the company announced a new electric sedan concept illustrating its vision for the future.
Thankfully the Precept electric sedan concept is not one of those concepts that automakers make where they show their vision in some far-flung future, the Precept shows Polestar's intentions for the future in the coming years, primarily with HMIs (Human-Machine Interfaces) and sustainable materials.
Unfortunately, if you were looking for Polestar's future look into battery technology, then the Precept is not your car. No mention of battery size, powertrain, or range was given, so take this car as a little more involved design study.
At least it is a very nice design in my opinion, but I have always been biased towards Scandinavian design.
Now as Polestar put it, the Precept is an electric sedan that is " a vision of the brand's future direction and a clear expression of intent. Precept exhibits the execution of new, more sustainable interior materials, the continued development of the digital user interface and the essence of Polestar design."
What are these more sustainable materials that Polestar is looking to incorporate in their future lineup? The brand has outlined four different materials:
3D-Knit made from 100% recycled PET bottles: A woven fabric that is already used in fashion and footwear and that Polestar says will still retain a premium feel.
Recycled Nylon 6: This material comes from discarded fishing nets that would otherwise continue to pollute our oceans.
Cork: Would make use of cork that is discarded during wine stopper production. Polestar states that cork would make up part of the interior PVC materials.
Woven flax fibers of Bcomp would form the rear seat panels for example
Polestar Head of Design Maximilian Missoni states that the sustainable materials did not in any way compromise the design or premium feel of the car:
"If anything, they enable even more premium, cutting-edge, modern and stylish executions which elevate our design-led products. We were able to derive new aesthetics from new contexts and technologies, allowing society to move on."
In regards to actually interacting with your car, Polestar is looking to continuously improve on what information it delivers to you, and how it does. The Precept electric sedan concept comes with a 15-inch touch screen in the center console which is complemented with a 12.5-inch display behind the steering wheel.
The company was very proud of their partnership with Google in the development of the infotainment system for the Polestar 2, which runs on Android. However, Polestar is looking to continue pushing the usefulness of their infotainment system and looks to expand what it can do.
The next stage will build on the current connected experience in the Polestar 2. The Google Assistant will evolve to be an even more helpful co-pilot, using advanced speech technology to expand to more languages, understand local accents and provide a more personalised experience. Video streaming from your favourite apps and services will be made available while you charge your vehicle. Even lighting, climate, and seating preferences will automatically adjust for a seamless driving experience.
Additionally, Polestar will look to integrate eye-tracking and proximity sensors in the interior to give a more refined experience with the displays.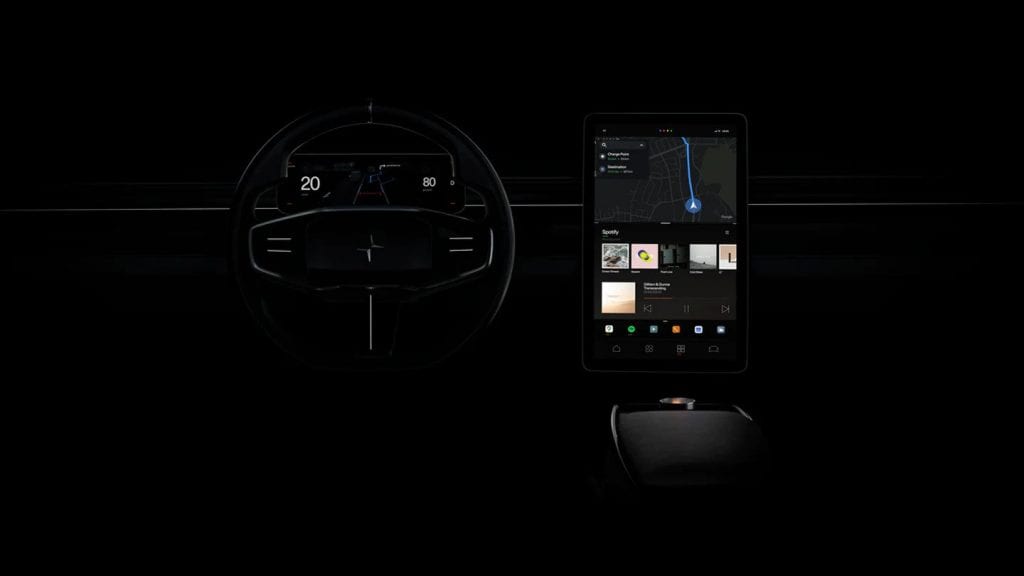 An example given was having the displays be darkened during nighttime so that the glare would not interfere when driving, and when the car would notice that the driver would look at the display it will adjust the brightness for that moment. The proximity sensors would sense when a hand is coming towards the display and have different functions or buttons pop up for easier manipulation.
Truthfully they are not the most mind-blowing of features, but perfecting the basics will allow Polestar to use the technology for more nuanced things in the future.
Missoni had the following opinion of the concept, saying:
"Polestar Precept's aesthetics are rooted in cutting-edge technology rather than looking back in time at historical, automotive references. At Polestar we see technology as an enabler, as a tool to solve our society's problems and we translated this attitude into a new set of design principles. The combination of sustainable materials and high-tech smart systems opens an entirely new chapter of avant-garde luxury design and shows where Polestar is heading."
What do you guys think of the direction that Polestar is showcasing? While I do like the concept, it would not surprise me if the next car that Polestar will make will be a small SUV given the popularity of Volvo's XC40, but perhaps Volvo doesn't want a direct competitor with the all-electric XC40 on the horizon.
Let me know what you guys think down below in the comments.