NIO has been hard at work establishing a foothold for itself as a startup electric automaker. The brand which many had called the "Chinese Tesla" has already weathered many financial storms but has been able to steadily produce and deliver their ES8 and ES6 electric SUVs. Now the Chinese automaker is setting their sites on the Model S with their newly announced electric flagship, the NIO ET7.
NIO recently had their NIO Day 2020 which was an event where they showcased both their progression as a company and a sneak peek at things yet to come from the young company. The presentation ended with the main event which was the final unveil of NIO's ET7, which would be their production car which wasn't an SUV.
Exterior
To start off with the dimensions, the ET7 is fairly larger than the Tesla Model S. The ET7 comes in at 200″ L x 78″ W x 59″ H. This puts it at about 4 inches longer, 1 inch wider, and 2 inches higher than the Model S. Of course exterior dimensions don't directly correlate with interior roominess if the extra space isn't used properly, but from what we can see, the ET7 looks to offer a more than adequate amount of space.
The ET7 was NIO's first chance to design a car that wasn't an SUV and it did not stray too far from the design of its older siblings. The ET7 retains the same slick diagonal headlights that are found on the ES8 and ES6, however, the front is much less busy, and has a much more clean look to it. There are still a few vents to keep the front from looking too plain. The rear-end also features the now almost ubiquitous light bar (not that I'm complaining, I love these light bars) that stretches across the rear of the car. The roofline follows a smooth aerodynamic line like in the Model S or Audi A7 that eliminates a traditional trunk lid. As you can imagine the door handles also retract when not in use to give as aerodynamic of a shape as possible. The drag coefficient of the ET7 is 0.23 which puts it just 0.01 better than the Model S, but falls just short of both the Porsche Taycan and upcoming Lucid Air.
Overall I would say that it's a rather attractive car on the exterior, but I do wish that the front end would deviate a bit more from the stylings of its SUV siblings, but as always, that's all just personal preference.
Interior
The interior of the car follows a design philosophy of what NIO calls a "second living room", something that should be cozy, spacious, and welcoming to the occupant. Both the front and rear seats come with heating, ventilating, and massaging capabilities as standard, which might be a first for an electric car. The roof also features a large glass panel that encompasses most of the cabin. The interior trim pieces in the ET7 are interesting in that they are a natural alternative to plastic that is made from rattan by a company called karuun. The material used gives a rather attractive ash wood look.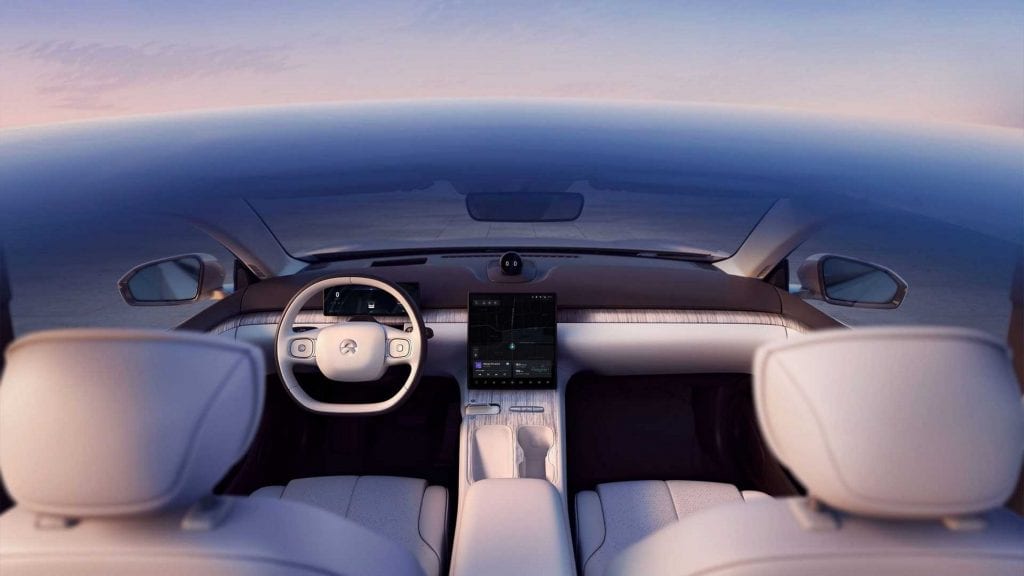 Moving to the front of the interior you will not see too much out of the ordinary in terms of instrumentation. There is a 10.2″ instrument cluster behind the steering along with a HUD and there is a 12.8″ center display. You will find no obvious vents for the air conditioning as they are hidden along the line going across the dash. There is however one oddity in the front view of the interior, and that is that little circular display with eyes on the top of the dashboard. This little guy has a name, Nomi, and he is found in every NIO vehicle. Nomi functions like an AI you would find in most AI-equipped vehicles, but NIO took an extra step by trying to connect the driver and AI by giving a face that you could look towards.
Whether you find that cute or slightly unnerving is up to you.
The interior in the ET7 isn't particularly crazy but it has everything you would expect from a premium electric sedan such as a panoramic roof, large displays, 23-speaker sound system, etc. The materials look nice enough from photos, but one can't truly tell until they can actually feel.
Specifications
The trim levels for the ET7 are relatively simple with the motors configurations and power being the same across the board with changes only occurring to the battery size. The ET7 as a whole will have a system output of 480 kW (643 hp) and 850 Nm of torque. This power will come from two motors, a 180 kW motor in the front and a 300 kW motor in the rear. The presentation stated that the ET7 would have a 0-62 mph time of just 3.9 seconds. That's a solid time, but I am unsure for which battery size that time is for unless they somehow manage to equalize the times for both trims despite one having the added weight of an extra 30 kWh. Regardless, it's not beating either the Porsche Taycan or Tesla Model S, but it's still respectably fast.
The ET7 will come with three different battery sizes, two upon the first release and then the third one later.
70 kWh – 500+ km (311 miles) of NEDC range
100 kWh – 700+ km (435 miles) of NEDC range
150 kWh (Solid-State) – 1,000+ km (620 miles) of NEDC range
The 70 kWh and 100 kWh versions will be available starting at the beginning of 2022, with the 150 kWh solid-state version being available hopefully at the end of 2022. Do keep in mind that the NEDC testing cycle has been notoriously lenient compared to both the WLTP or EPA cycles, so it's unclear how far off the real-world range will be. Regardless even if there is a 20% range penalty in the real world, you would be still be sitting pretty.
The ET7 is one of the few cars not named that Tesla Roadster that are promising to break the 1000 km barrier. Meeting that challenge does rely on the fact that their solid-state plans go smoothly and won't be significantly delayed. However, even without a 150 kWh version, there is a good amount of range offered in both the 70 kWh and 100 kWh versions.
Technology
Aside from the vehicle AI through Nomi NIO is making its autonomous driving suite a big part of the ET7. During the presentation, NIO CEO William Li talked about their Aquila system with some thinly veiled comparisons against Tesla's Autopilot system.
The system features 33 sensors which include: 11 8.0mp cameras (which they made a point to compare against 1.2mp cameras, which coincidently is what is found in Tesla), 1 LIDAR, 5 radar units, 12 ultrasonic sensors, 2 GPS units, 1 V2X, and 1 ADMS.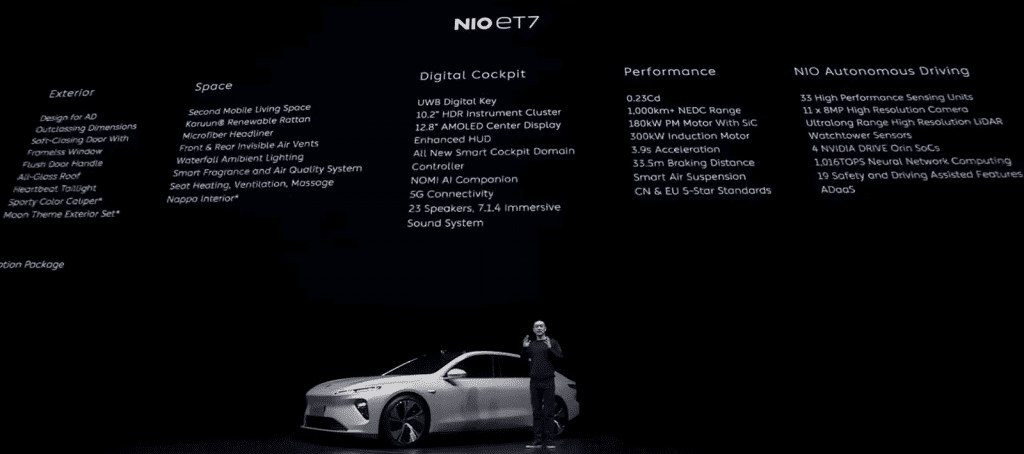 Additionally, just as Tesla made it a strong point during their Autonomy Day presentation, all these sensors need a reliable processing chip that can take in all this data and make the proper decisions. While NIO did not opt to make their own chip, they are using four Nvidia chips which was who provided the processing power for Tesla prior to them designing their own. These four chips provide a total of 1,016 TOPS (trillions of operations per second). Put simply the higher the TOPS, the more information can be processed. Once again for comparison, Tesla's Hardware 3 chip can do 144 TOPS.


So on paper, NIO's system has higher megapixel cameras, has a LIDAR, and a processing chip that can process around seven times the data. Of course, all that hardware is only as good as the software and the amount of data fed into the system which Tesla most certainly has an edge in at this point. But NIO does seem to have a very robust sensor suite for its autonomous endeavors.
The hardware will be standard on the ET7, but the 19 different driver's assistance features will be available as a monthly subscription (unsure if you can purchase outright). The cost of the features will be 680 yuan ($105) a month.
Pricing and Availablity
The NIO ET7 is currently available for pre-order and will hopefully be available during the first quarter of 2022. The 150 kW battery version however does not have a price and will not be expected until at least the last quarter of 2022, so almost a full two years away.
NIO has two different ways of purchasing the ET7. You can either purchase both the car and battery pack, or purchase just the vehicle and lease the battery on a monthly basis. This of course allows for a smaller upfront cost and potentially easier time to upgrade to the 150 kW battery when it becomes available. NIO denotes their battery leasing as BaaS (Battery as a Service). All prices are before any sort of subsidies.
ET7 (70 kWh)

448,000 yuan ($69,185)
BaaS: 378,000 yuan ($58,375) plus 980 yuan ($151) per month
ET7 (100 kWh)

506,000 yuan ($78,142)
BaaS: 378,000 yuan ($58,375) plus 1,480 yuan ($229) per month
ET7 Premier edition (100 kWh)

526,000 yuan ($81,230)
BaaS: 398,000 yuan ($61,463) plus 1,480 yuan ($229) per month
As previously stated, all cars will be able to subscribe to the driver assistence features at a price of 680 yuan ($105) a month.
As a nice gesture to early adopters, the NIO ET7 will have a discounted price if you already own a NIO vehicle. Those with an ES8 Founders Edition can receive a discount of 10,000 yuan ($1,543) and all other NIO owners can receive a 7,000 yuan ($1,080) discount. It's not the largest discount in the world, but it is a nice gesture to those who believed in the company.
Additionally, some of the benefits included with the ET7 are:
Lifetime Free Warranty
Free Power Home
Lifetime Free Out-of-Town Power Service
Lifetime Power Swap Benefits
Lifetime Free Roadside Rescue
Lifetime Free Connectivity
While the NIO ET7 is not the cheapest car and probably won't sell in the numbers that a Model 3 does, it does come significantly cheaper than the Model S in China does which starts at 733,900 yuan ($113,273). So in terms of luxury electric sedans, it will most likely do well as all its other competitors such as the Porsche Taycan or Lucid Air will come at much higher prices. This is especially true is you decide to go with the BaaS setup.
Overall the car looks solid, but alas we in the US will not be able to test out this Chinese Model S competitor. NIO does look to be making headway and has been building serious momentum and is looking to seriously expand its reach through its showrooms and battery swap stations. Will they one day be secured enough to make the jump across the Pacific? Time will tell.
You can watch the entirety of NIO Day 2020 here. The reveal of the ET7 occurs around the 2:04:00 mark.
What do you guys think of the NIO ET7? Let us know down in the comments below.