Both General Motors and Honda have announced that they will jointly develop two new Honda electric cars that will make their way to us by 2024.
Interestingly while these will be Honda electric cars, the platform and battery underpinning them will be GM's own platform along with their Ultima battery that they revealed during their EV day early last month.
Honda will be responsible for working on both the interior and exterior of the car but the two electric cars will actually be made in GM's factories. Thankfully both of the cars involved in this partnership will make their way to the North American market, unlike Honda's only current electric car, the little Honda E, which does not have a North American release.
No further information was given about the two new Honda electric cars, aside from them integrating GM's OnStar technology. Considering they are four years out, I cannot really say that I am surprised. Given that the cars will be made for the North American market, we can assume that at least one of them will take shape of the ever-popular crossover class of car and then perhaps a sedan.
This is not GM and Honda's first collaboration as the two companies have collaborated back in 2012 on hydrogen fuel cell tech and have both partnered up with Cruise a few years ago.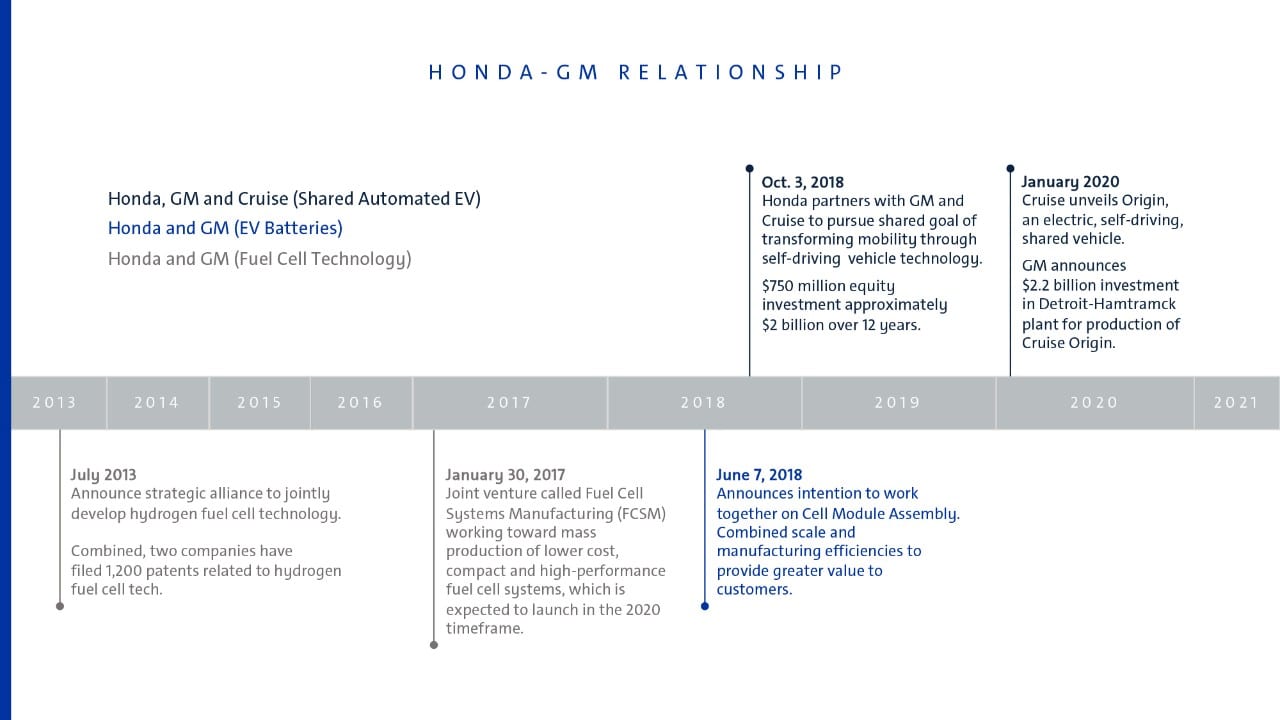 Rick Schostek, executive vice president of American Honda Motor Co., Inc stated that this could just be the start and the collaboration could expand further:
"This collaboration will put together the strength of both companies, while combined scale and manufacturing efficiencies will ultimately provide greater value to customers. This expanded partnership will unlock economies of scale to accelerate our electrification roadmap and advance our industry-leading efforts to reduce greenhouse gas emissions."

"We are in discussions with one another regarding the possibility of further extending our partnership,"
Doug Parks, GM executive vice president of Global Product Development, Purchasing and Supply Chain also commented on the partnership:
"This agreement builds on our proven relationship with Honda, and further validates the technical advancements and capabilities of our Ultium batteries and our all-new EV platform. Importantly, it is another step on our journey to an all-electric future and delivering a profitable EV business through increased scale and capacity utilization. We have a terrific history of working closely with Honda, and this new collaboration builds on our relationship and like-minded objectives."
The partnership is a great move for GM as they will be able to recoup some of their R&D costs for their platform and battery technology, and of course, Honda benefits from the cheaper production costs.
No Honda Electric Car for North America Until 2024?
However, it is troubling to see that the two electric cars won't be here until 2024. Honda, like Toyota, has been sort of standoffish towards electric cars and hasn't really laid out solid plan for what they want to with electric cars. It would be hard to imagine, but does this arrangement mean that we won't see an electric car in North America from Honda until 2024? Will the Japanese automaker continue to make its own little electric cars like the Honda E for the European and Asian markets and ignore the North American market?
In my eyes, an arrangement like this would be made in a scenario where a company is trying to get an electric car out as quickly as possible while they work on their own architecture. But given that these cars won't make it until 2024 that's clearly not the case. Unless Honda decided that they want to bolster their offerings in the future and will sell these alongside their own in-house electric cars.
It's a confusing arrangement for me for sure. What do you guys think? Let me know down in the comments below.
Source: GM