It looks like Mercedes-Benz is joining a growing list of automakers who have abandoned, or put on hold, the prospects of hydrogen fuel cell passenger cars. The German automaker had produced low quantities of "F-cell" versions of their cars, including the A- and B- class, with a GLC SUV as their most recent addition. However, it looks like it has not made much sense for Mercedes to continue on with the project and have no further development plans for their hydrogen passenger cars.
Mercedes only has one fuel-cell car that they have been putting their efforts behind, the GLC F-CELL, which was first introduced in 2017 and had a planned production of 2019. It was available for order in the spring of 2019 and was able to be leased in areas that had established hydrogen infrastructures such as Berlin, Hamburg, Frankfurt, Stuttgart, Munich, Cologne, and Düsseldorf. Plans to bring it to Japan were also announced, but that did not seem to materialize.
The GLC F-CELL a 4.4 kg hydrogen tank and a 13.5 kWh battery that gave it a range of 248 miles based on hydrogen with an all-electric range of 31 miles, based on the NEDC test.
However, the cost to produce the car was still high and only a few hundred were ever produced.
Daimler R&D boss Markus Schäfer, had previously noted:
"Fuel cells work great. It's just a cost issue, and it's all about scaling. We need volume."
It now looks like they could not get the price down specifically for their passenger cars and have stopped further development. They now join other automakers who have gone forward with exclusively electric ideals in mind, whether it be for the cheaper production, more available infrastructure, or better efficiency as Volkswagen had in mind when they released a chart illustrating the difference in efficiencies between fuel cells and full electric.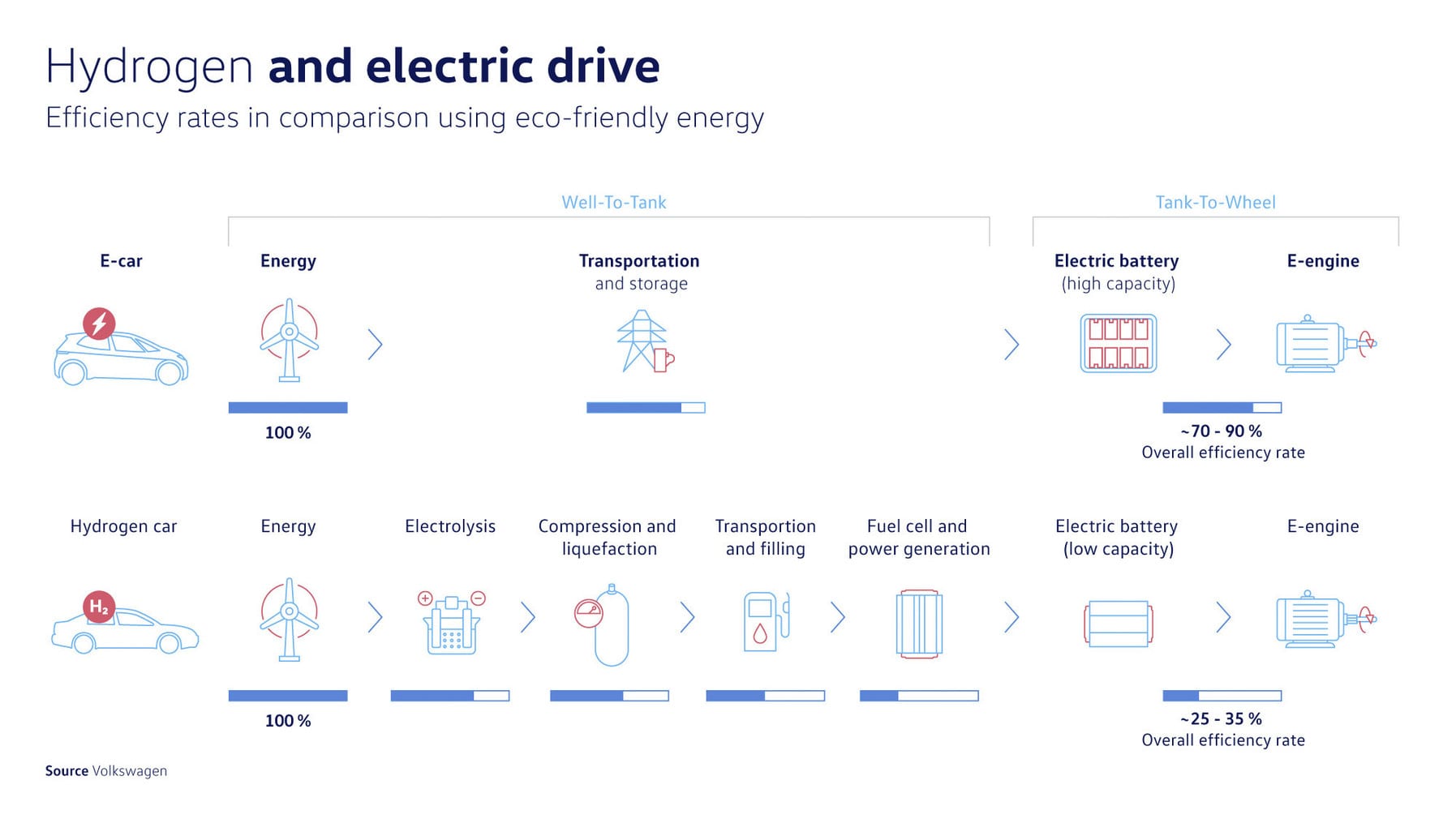 Keep in mind that while they are ceasing further production of fuel cell passenger vehicles, they will continue forward with the development of fuel cell technologies for their commercial vehicles and recently formed a partnership with Volvo for that reason.
The list of automakers still putting most of the eggs in the hydrogen basket is growing smaller as Toyota and Hyundai remain the last big proponents of the technology.
What do you guys think about hydrogen fuel cell cars? Do they have a place in passenger vehicles? Or is their usefulness limited to heavy commercial vehicles? Let us know down in the comments below.
Source: Automotive News