The Volkswagen line of ID electric cars has continued to grow over the years with new electric concepts filling out the ranks, but there has only been one production version unveiled to us until today. Today VW finally gave us a look at the second ID car to make its debut in production skin, the ID.4 electric crossover. With a starting price of less than $40,000 (before applying for any tax credits) and a range of around 250 miles, will Volkswagen be able to help make a shift in the crossover segment towards electric vehicles?
The ID.4 is not only the second production ID car from Volkswagen, but it will be the first electric car from Volkswagen that we will get to experience in North America and will actually be built in the United States in 2022.
Scott Keogh, CEO, Volkswagen Group of America has high hopes for the ID.4 which he considers a car that can wear many faces and will have something for everyone:
"The ID.4 was engineered, loaded and priced to win the hearts of SUV owners who are simply ready to go electric—and fall in love with Volkswagen again. It drives like a GTI, it has the packaging of a Tiguan and the purpose of the Beetle. All the best things about VW in one package."
VW ID.4 Exterior
For anyone keeping up with news about the VW ID.4, the final production design should not come as too much of a surprise due photos of the final product being leaked months ago.
As you would expect, the ID.4 does not take any major departures from VW's traditional designs and it certainly looks likes a Volkswagen, for better or worse. As is the trend in the auto industry right now, both the front and rear of the car have a thin LED light strip to accentuate some of the aerodynamic curves and because LEDs are still viewed as a futuristic design choice.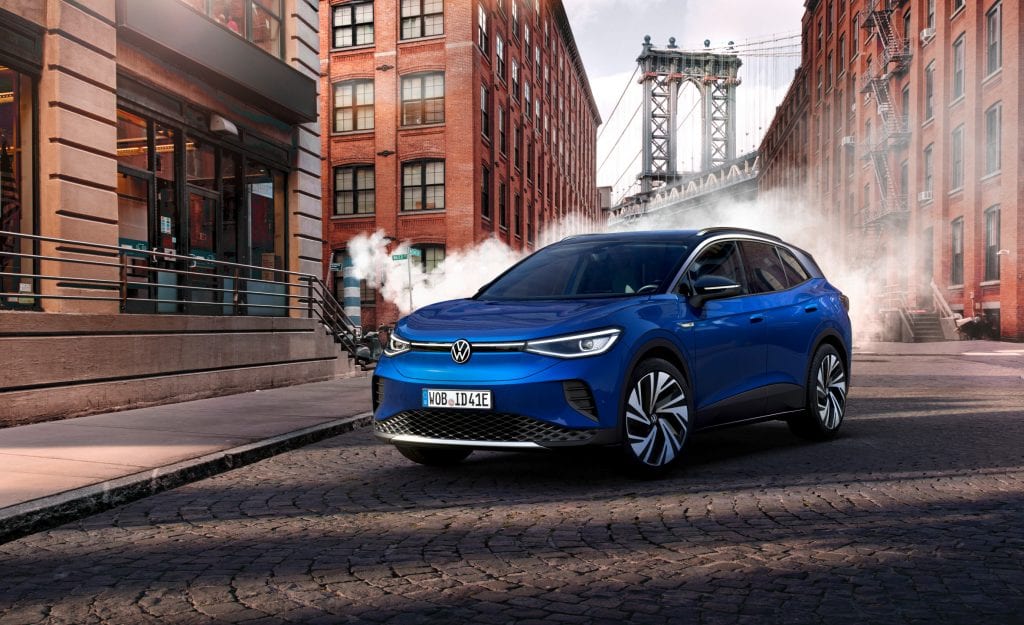 Volkswagen states that it falls squarely inline within the average size of compact SUVs such as their Tiguan. "It is 4.6 inches shorter than the Volkswagen Tiguan, at 180.5 inches, with a 0.9 inch shorter wheelbase at 108.9 inches. It is 1.9 inches lower than Tiguan at 64.4 inches high for the rear-wheel-drive model, and 0.5 inches wider, at 72.9 inches." In terms of aerodynamics, Volkswagen claims that the ID.4 will have a respectable drag coefficient of 0.28.
For customization, you will have a choice of six different colors: Glacier White Metallic, Mythos Black Metallic, Moonstone Grey, Scale Silver Metallic, Blue Dusk Metallic, and King's Red Metallic. Additionally, the ID.4 will come with 19-inch wheels standard which can be upgraded to 20-inch wheels in the Gradient package.
Overall it's an inoffensive design, there is nothing ugly on this car, but there is nothing exactly jaw-dropping. It is however a crossover, so delightful inoffensiveness is probably more than adequate for most.
VW ID.4 Interior
Electric car interiors have been co-evolving with their new powertrains, but while the battery engineers try to cram as many batteries as possible, the interior designers try to throw as many screens as possible in the interior. The ID.4 however comes with only a rather modest, one center console screen and once gauge cluster screen.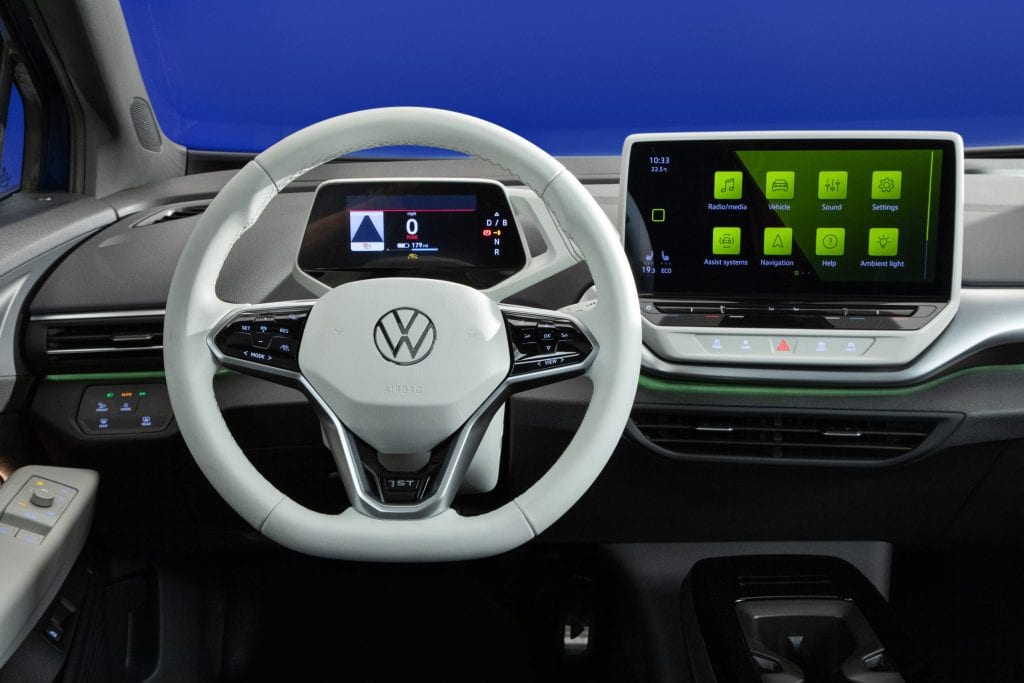 The gauge cluster screen is 5.3-inches and shows all the important vehicle information such as speed. The center console screen is 10-inches but interestingly enough, can be upgraded to a 12-inch screen when purchasing the Statement package. Personally, I find this upgrade a little weird as it's not really a common practice anymore and now the software team has to make sure that all their apps look fine on two different types of screens now, perhaps more headache than whatever money savings VW finds.
Moving away from the screens, we are greeted with a rather spacious and clean-looking interior. The base ID.4 comes with black cloth seats but can be upgraded to a Grey or Black leatherette with the Statement package.
Similar to what debuted in the ID.3, the ID.4 also has an 'ID Light' which is below the windshield and acts as a notification for the built-in voice assistant. As VW explains:
For example, ID. Light signals to the driver that the vehicle's drive system is active and that the car has been unlocked or locked. It accentuates information issued by some of the driver-assistance and navigation systems and signals, both visually and acoustically, details like charge status indicator, braking prompts and incoming phone calls.
Despite the smaller size of the ID.4, it has similar cargo room to the VW Tiguan. Cargo volume is 30.3 cubic feet behind the second row, and 64.2 cubic feet with the seats folded.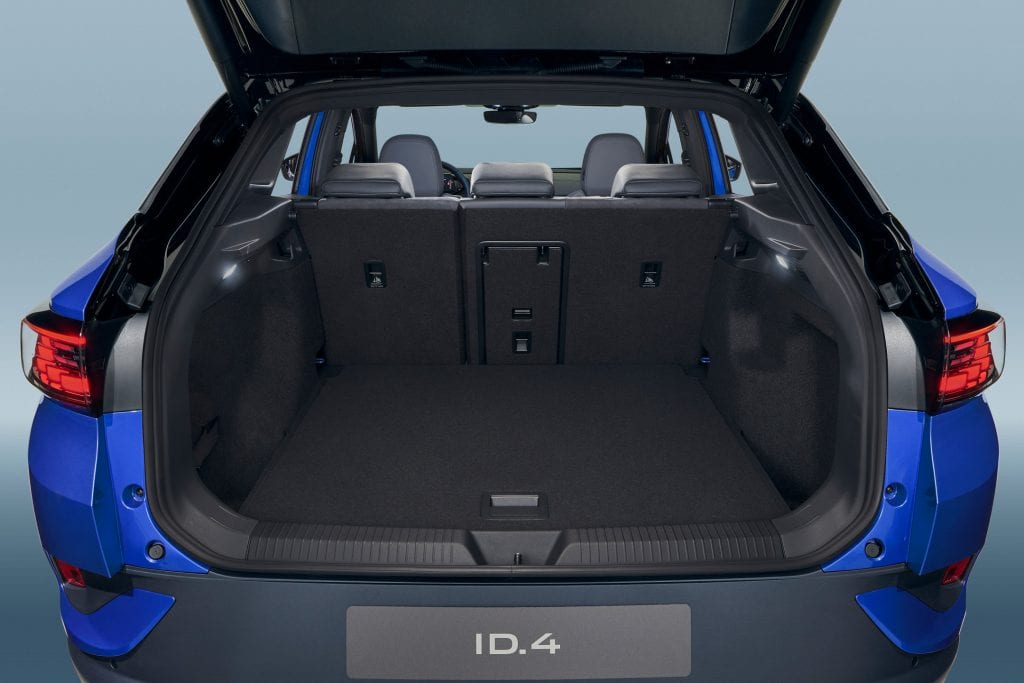 VW ID.4 Performance
The ID.4 will come in two different variants, a single-motor rear-wheel-drive version, and a dual-motor all-wheel-drive version. Initially on the RWD version of the ID.4 will be available before the AWD version becomes available later in the year.
Regardless of motor configuration, both versions will have an 82 kWh battery that will give the RWD version of the ID.4 an estimated range of 250 miles. How much range the AWD version will have has not been revealed.
There will however be a horsepower difference between the two as the RWD version will have 201 hp while the AWD version with an extra motor will kick it up to 302 hp.
| | Base Price | Range | HP | Charge Rate |
| --- | --- | --- | --- | --- |
| ID.4 Pro | $39,995 | 250 miles | 201 hp | 125 kW |
| ID.4 AWD Pro | $43,695 | TBA | 302 hp | 125 kW |
Both versions have a peak charge rate of 125 kW and will be given three years of complimentary fast charging at Electrify America chargers. While Electrify America is not as expansive as the Tesla Supercharger network, it has been expanding continuously over the past few years and has converted a decent portion of the population at this point, making this a wonderful perk for anyone who is planning to buy.
VW ID.4 Technology
The VW ID.4 is not exactly fitting with bleeding-edge technology and doesn't have anything close to any of the autonomous driving systems that are emerging in other cars. As far as technology goes, the ID.4 comes with the aforementioned ID Light which works in conjunction with the voice assistant in the car.
In regards to driver assistance features, the ID.4 errs more on the side of safety rather than autonomy with the following feature set:
Forward Collision Warning and Autonomous Emergency Braking with Pedestrian Monitoring (Front Assist); Blind Spot Monitor (Side Assist); Rear Traffic Alert; Adaptive Cruise Control (ACC); Lane Keeping System (Lane Assist); Travel Assist; and Emergency Assist. In addition to IQ.DRIVE features, the ID.4 includes Dynamic Road Sign Display; Park Distance Control; and High Beam Control (Light Assist).
VW ID.4 Price and Production
Volkswagen is still qualified to take advantage of the full $7,500 tax credit, so keep in mind that the base ID.4 turns into a low $30,000 car after the tax credit, making it a very compelling vehicle.
The ID.4 Pro will start at $39,990 and will be available in the first quarter of 2021. VW is also bringing forth a lease option "for highly qualified customers" with the following terms: a monthly lease payment for a 36-month lease with 10,000 miles a year, is $379 per month with $3,579 due at signing, excluding tax, title, license, options and dealer fees.
The ID.4 AWD Pro will debut later in 2021 with an extra motor and few extra thousand dollars tacked on to its price with a starting price of $43,695.
Following the trend of the ID.3, there will be a First Edition ID.4 that will include the following:
The 1st Edition models feature the same content as the Pro model, and Statement package (minus illuminated VW logo) and Gradient package come standard. These models also include unique features including accelerator and brake pedals with "play" and "pause" logos, the steering wheel and column, radio bezel and door island finished in Electric White, 1st Edition badging, black mirror caps, and a tow hitch.
Interestingly enough while the ID.4 is planned to be produced in the United States, the first-year run of the vehicle will be exclusively be built in Germany before having production at the Chatanooga plant start. North American customers will see a benefit in this transition as VW is aiming to have the locally produced version start at about $35,000, meaning that after a full tax credit, the ID.4 becomes a sub-$30,000 electric car. At this time, however, it is unknown if there will be any difference in features between the Euro ID.4 and American-made ID.4. The current ID.4 is curiously using a 'Pro' in the moniker. Does this mean that the US-made one might possibly be a regular ID.4 and not an ID.4 Pro? We will have to wait and see.
Nothing here exactly makes you shout "wow" but the ID.4 seems to be a very solid electric option that comes in at a price below its competitors such as the Tesla Model Y. We will hope that Volkswagen has worked out all the production kinks with its time with the ID.3 so that the ID.4 can have a smoother time.
Volkswagen plans to have the ID.4 available in all 50 states at over 600 dealerships, so the time of compliance cars looks to have come to an end. You can put down your refundable $100 deposit right now. With this unveil, we will turn our attention to the future VW electric bus as the ID lineup continues to grow steadily.
What do you guys think of the ID.4? Let us know down in the comments below.
Source: Volkswagen