Audi, the German manufacturer and higher-end part of the Volkswagen Group, has already made a name for themselves as a leader of sleek luxury vehicles. Founded all the way back in 1909, Audi is a titan in the industry already, and they're about to impress us all once more.
Just a few years ago, Audi quietly slipped into the EV market by releasing the e-tron Quattro, which gave buyers an all-electric option without sacrificing the styling choice of a traditional car. Audi fans still felt like they were driving a Q7 without the carbon footprint, and buyers that were new to Audi got a legitimate taste of their particular brand of luxury. Although the e-tron range of just over 200 miles per charge was criticized at first, they defended the low range by saying that it was plenty for day-to-day use, something most EV owners can agree with. Audi was vindicated when half of their 2019 buyers ended up coming from outside of the existing Audi base. They sold about 17,600 e-trons around the world, which is certainly comparable even to Tesla's luxury sales. So what's next for Audi? The Audi Q4 e-tron compact crossover SUB is debuting in 2021. Starting at roughly $45,000 for the most basic version, the Q4 e-tron is a highly anticipated new addition to the all-electric lineup. In this article we will discuss all of the particulars as they have been revealed so far, but Audi hasn't shown us everything there is to see just yet
Performance
The new Audi Q4 e-tron will feature an 82 kWh battery that allows it 280 miles of driving time. Compare that to the 2019 model which only gave you 204 miles, and you can see that they've made some serious improvements. The e-tron also boasts all-wheel drive with an electric motor at each axle. The car hasn't been released yet, but if Audi stays true to its name, the handling should be as impressive as ever. The axles are completely separate mechanically, so the only coordination as far as torque distribution is done electronically. The computers that control the coordination between axles are fine-tuned to keep the timing within a fraction of a second, so traction is always at the optimal level in any driving conditions.
According to Audi, the e-tron has about 300 horsepower and can go 0-62 in 6.3 seconds. The top speed is governed at 124 miles per hour in order to conserve battery life. The speed is really just decent, but the e-tron is a luxury vehicle with a sporty feel, so speed isn't really the main point.
Interior
Here is Audi's money-maker. It may not be the fastest car, and it may not have the longest driving range, but dollar for dollar, you can hardly beat the luxury you'll find in an Audi. As with most Audi's, the interior is meant to showcase all of their latest and greatest gadgets. Audi isn't shy about trying to hold the position as number one for technology in their class, so anyone that is anticipating the release of the Q4 e-tron should not expect to be disappointed on that front. The interior is supposedly going to feature a large infotainment system that is turned slightly toward the driver, giving them easier and more comfortable access than most cars which have the screen facing directly toward the back. Virtual tours by various YouTubers have confirmed that this new design is perfectly executed.
With four bucket seats, two in front and two in back, the Q4 e-tron fits four grown adults comfortably. Don't let that fool you, however. There are only four seats, but Audi has taken some unique steps to give you more space, not to mention a sleek new look. For instance, everything is controlled in a sort of cockpit-style control panel that gives the car a very driver-oriented feeling. This leaves the passengers with the impression that they have plenty of space, which is partially correct, but partially due to smart design ideas. Overall, the interior design of the 2021 Audi Q4 e-tron is masterfully done.
Extra Features
These days, it isn't really enough to have a high-quality vehicle that leaves a small carbon footprint. Any old make and model can offer that. Audi takes it all one step further by offering some unique features that are not often seen in electric vehicles. For instance, the 2021 Q4 e-tron has fully customizable headlights. The lights are divided into rectangular segments, and you can use the console to customize which segments light up. You can create patterns like a checkered look or straight lines. The taillights are customizable as well.
The exterior is beautifully designed, although that comes as no surprise since it is an Audi. The look is reminiscent of the Q7, so it stays true to the name. The emblem is backlit, but it's done without drawing too much extra attention to itself, so it doesn't appear gaudy or draw attention away from the subtle design of the rest of the vehicle.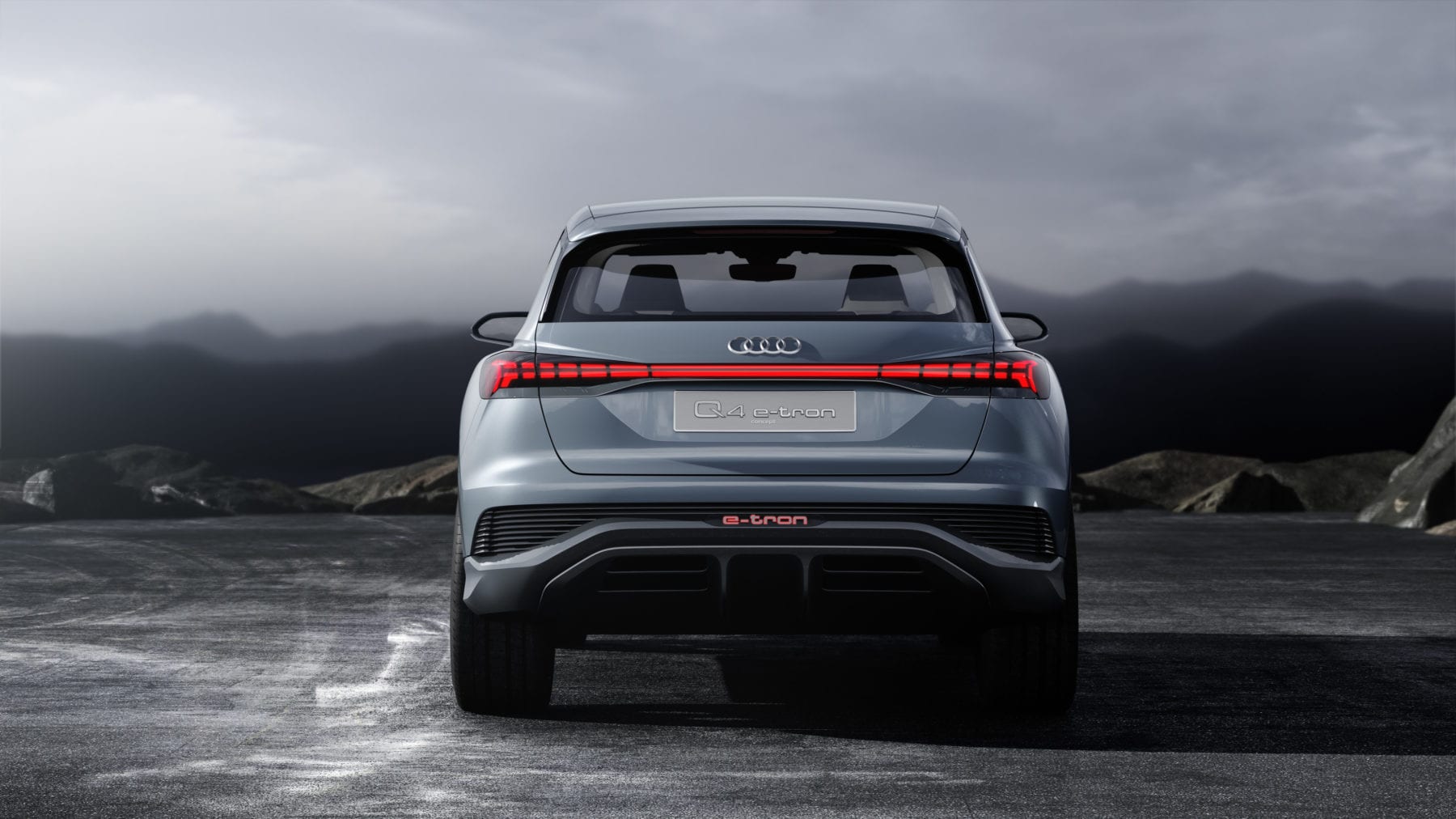 Price
This new addition to the all-electric family hasn't actually been released yet, and it won't be until 2021, so the cost is not entirely set in stone. However, most agree that the most basic package will start around $45,000, and it will go up from there, capping at around $80,000. Audi's are high-end luxury vehicles, so they aren't built to be affordable, but the price really isn't that outrageous even when the class is considered.
For the sake of context, the 2019 Audi e-tron Premier Package was around $74,800. The Prestige Package was about $81,800. The Jaguar e-pace most basic package started around $50,000. Those are just a few prices of vehicles in the same class for comparison.
Summary
Audi has been around for more than a century, and they've delivered no end of supremely crafted vehicles that perform well and impress the eye. The 2021 Q4 e-tron will be a fantastic new addition to the Audi lineup. The speed is well within acceptable ranges, the miles-per-charge are better than ever for an Audi, and the price is almost exactly what you would expect it to be. Considering the sales from 2019, the Q4 e-tron is not likely to disappoint the buyers or the sellers.