It's earnings season and Tesla started the week off reporting how they did for the first quarter of 2021. A historically slow quarter for the automaker, Tesla did well to show serious year-over-year growth with record-setting deliveries despite not Model S/X being delivered at all.
Tesla was able to meet most analysts' expectations set following the preliminary delivery numbers given a few weeks ago. Tesla was able to post a revenue of almost $10.4 billion for the quarter with an income of about $438 million, besting the income from previous quarters.
Tesla's cash on hand however did decrease as they describe:
Quarter-end cash and cash equivalents decreased to $17.1B in Q1, driven mainly by a net cash outflow of $1.2B in cryptocurrency (Bitcoin) purchases, net debt and finance lease repayments of $1.2B, partially offset by free cash flow of $293M.
That purchase of Bitcoin however did contribute to Tesla's income as the brand was able to sell part of it for a net $101 million profit, they still do hold about $1.3 billion in digital assets.
Factories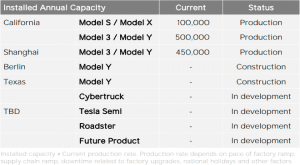 Tesla gave an update on the status of their factories as usual along with a table of the breakdown of their vehicle capacities. As we can see from the table, there have not been any significant updates, production capacities have stayed the same while Berlin and Giga Texas continue to be under construction.
Tesla states that Model Y production at Freemont is approaching capacity. Giga Texas is still on "track to start production and deliveries late this year". While the statement seems like both the Model Y and Cybertruck will be delivered before 2022, the factory photos only show the Model Y portion of the factory being up at this point. Additionally, the table has the Cybertruck as still "in development", so don't rule out a delay.
Berlin is also on track to start deliveries by the end of 2021. In the meantime, Tesla states that Model Y production in Shanghai will continue to ramp up throughout the year and continue exports to Europe.
Technology
Nothing new was touched upon in the technology update section, Tesla reiterated its Autopilot goal of only relying on vision and AI:
We believe that a vision-only system is ultimately all that is needed for full autonomy. Our AI-based software architecture has been increasingly reliant on cameras, to the point where radar is becoming unnecessary earlier than expected. As a result, our FSD team is fully focused on evolving to a vision-based autonomous system and we are nearly ready to switch the US market to Tesla Vision.
Tesla also stated that it was able to avoid the consequences of the worldwide chip shortage by switching to new microprocessors and writing new vehicle firmware for the chips.
Outlook
The refreshed Model S/X are still not here, but Musk stated on the conference call that they will be here very soon. As for further out outlooks, here is what Tesla had to say:
Volume: We plan to grow our manufacturing capacity as quickly as possible. Over a multi-year horizon, we expect to achieve 50% average annual growth in vehicle deliveries. In some years we may grow faster, which we expect to be the case in 2021. The rate of growth will depend on our equipment capacity, operational efficiency and capacity and stability of the supply chain.
Cash: We have sufficient liquidity to fund our product roadmap, long-term capacity expansion plans and other expenses.
Profit: We expect our operating margin will continue to grow over time, continuing to reach industry-leading levels with capacity expansion and localization plans underway.
Product: We are currently building Model Y capacity at Gigafactory Berlin and Gigafactory Texas and remain on track to start production and deliveries from each location in 2021. Gigafactory Shanghai will continue to expand further over time. Tesla Semi deliveries will also begin in 2021.
Tesla's outlook remains to be much less specific than they were previously, but nonetheless it's all still good. Tesla has once again reiterated that Tesla Semi deliveries will start in 2021, putting us at ease that it was delayed again, for the time being.
For more information, the shareholder letter can be found here.
How do you think Tesla did this quarter? Let us know down in the comments below.