Time is flying by as we enter the halfway point of the year. Everyone's favorite electric automaker had started the year off intent on making good on a lot of promises. So how has the year been so far for Tesla, and how many things do they still have left on their to-do list?
Long story short, Tesla has gotten off to a rather slow start, but so has the entire auto industry. The year has not been kind to any automaker as chip shortages are being compounded with rising material costs. All in all, it was pretty impressive that Tesla has managed to turn a profit in the first two quarters with record delivery numbers. But while financially the company has been doing great, a lot of the exciting releases and developments we've been looking forward to hasn't yet appeared in the first six months of the year.
The Factories
As Tesla continues to try and exponentially grow, two different Tesla factories in two continents are simultaneously being built. The first being Giga Berlin, an all-important addition to the Tesla empire as they try to bring a local manufacturing site to Europe. With construction beginning in 2020, the factory was set to start production in a limited capacity by the middle of 2021. Well, we are here, and unfortunately, the factory has not started production.
There have been many setbacks throughout the construction process that no doubt delayed the progress of the factory. Currently, a lot of bureaucracy is at play regarding approval of the factory, and as such a new timeline is hard to pinpoint. Musk has stated that limited production should still be feasible by the end of this year. However, others have stated that we won't see a car come off the line until early next year.
Moving across the Atlantic, Giga Texas is making good progress. Recent pictures show that the Model Y portion of the factory is being built up nicely, but the Cybertruck portion is still in the early stages. That being said, Giga Texas looks to have dodged a lot of the issues that Giga Berlin has and looks to be on time. We look forward to having limited production in 2021.
2021 Tesla Cybertruck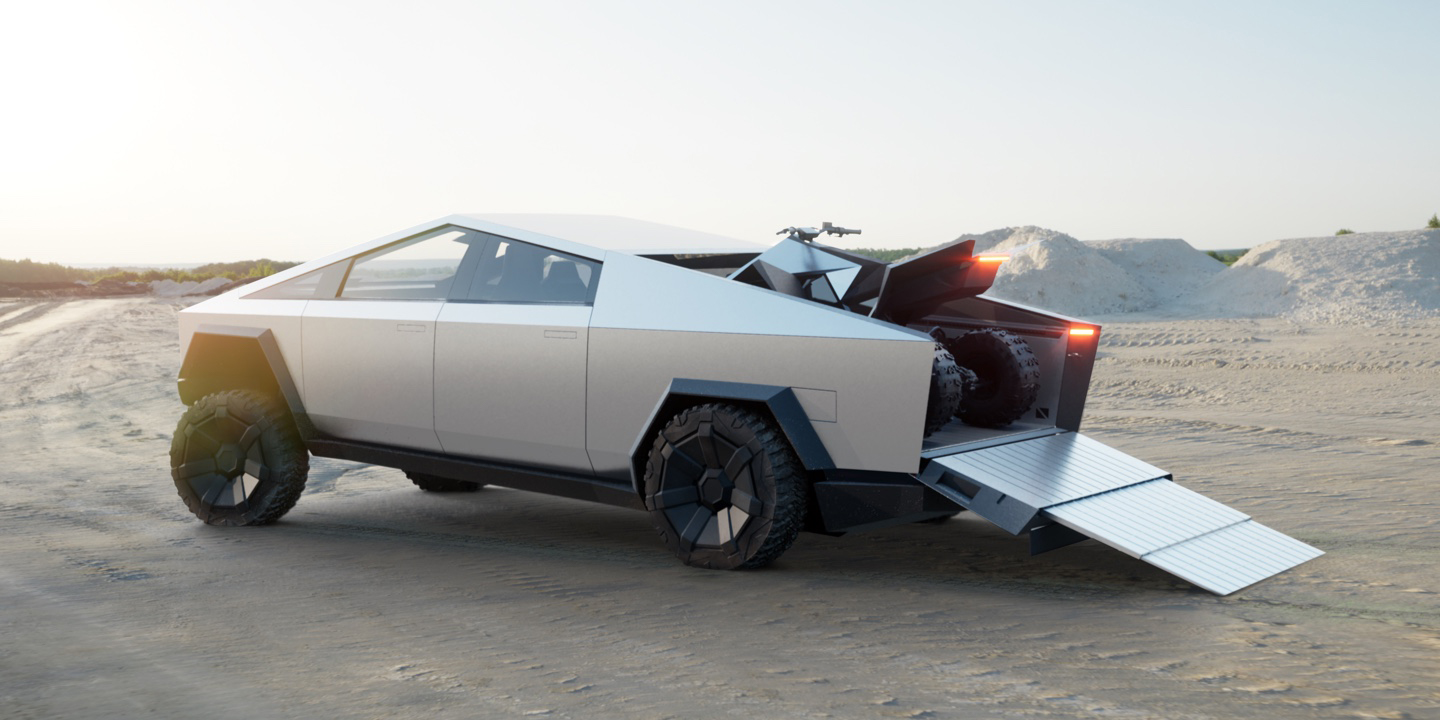 While the Cybertruck is one of the most hyped cars in existence, there have been few updates regarding the electric truck. Since the reveal back in November 2019, Musk has taken to Twitter multiple times mulling over whether the proportions of the Cybertruck should be changed or not. During the 2020 Q3 earnings call, Musk, in response to a question regarding any updates the Cybertruck stated:
"We always want to make the car that we deliver be better than the car we unveil. And that's the goal with the Cybertruck. So, there's like a lot of small improvements compared to what was unveiled. I think it's going to be better than what we showed."
Since then we haven't seen an updated, production-ready version of the Cybertruck, even with the planned production deadline being only six months away. Where's the production version of the truck at, Elon?
Tesla Model S/X Refresh
The year started off with a much-needed update to the Model S/X who received a minor facelift, but a substantial upgrade to the interior. The refresh also brought a rebranding of the Performance model into the Plaid model and a step above that with the Plaid+.
While the Plaid+ was to be released later, the other refreshed models were planned to be here by March. This was followed by a multitude of delays and currently, we are sitting at a June release. But with how these delays have panned out, it wouldn't be surprising if there was yet another delay. As I said, it has not been a good year for the auto industry, so there is some reasoning for the continued pushback of the refreshed models.
Hopefully this time, it's really the time.
2022 Tesla Roadster
The Tesla Roadster still exists and was actually shown off at the Petersen Automotive Museum not too long ago. Just like the Cybertruck, Musk stated that there will be design changes compared to the prototypes that we've seen.
Production article will look different (better)

— Elon Musk (@elonmusk) May 20, 2021
Along with that, we had further confirmation of the insane SpaceX package which would increase the Roadster's 0-60 time to a scant 1.1 seconds through the use of cold air thrusters. As far as we know, the Roadster is still planned for next year.
Tesla Semi
While Tesla was pretty strong in saying that 2021 would finally be the year that deliveries of the Semi would start, constant battery supply issues put it into question. With Tesla continuously being supply limited, producing Semi's doesn't make sense as it would take the same number of battery cells as multiple Model 3/Y.
Still, it seems that Pepsi is still expecting its order of 15 Semis to be delivered by the end of the year, so perhaps Tesla will be able to scape enough batteries to make limited quantities so that deliveries can actually commence.
Tesla Price Increases
We have seen a significant increase in the prices of Tesla's high-volume cars over the first six months of 2021. The Model Y no longer is a sub-$50,000 car and the Model 3 is just $10 away from the cheapest model crossing over into the $40,000 price bracket. This represents a 6-8% increase in prices in just a few months with no publicly stated benefits. In fact, all new Model 3/Y have ditched their radar units, downgraded Autopilot features, and passenger lumbar.
Material costs and chip shortages rear their ugly heads as the cause for the increases in the price of the models. But we wonder if the prices of these cars will go back down following the supply issues being solved.
Moving lumbar was removed only in front passenger seat of 3/Y (obv not there in rear seats). Logs showed almost no usage. Not worth cost/mass for everyone when almost never used.

Prices increasing due to major supply chain price pressure industry-wide. Raw materials especially.

— Elon Musk (@elonmusk) May 31, 2021
Autonomy
Tesla's physical products haven't been the only things that have faced delays. Tesla's Full Self Driving has been making progress throughout the year, but their next milestone update, V9.0 is still not available. The beta update has shared a similar fate as the refreshed Model S/X, constantly being pushed back. Of course, I'm sure that people are more understanding about delays in autonomy features as the safety of occupants is on the line, so it makes sense that Tesla wants it to be right.
The new update will switch over to using only vision and stops using the radar that is built within cars. Tesla also announced that all new Model 3/Ys being built will not even have the radars installed, relying only on the cameras and ultrasonic sensors. As a consequence of this, however, some features such as Smart Summon and Emergency Lane Departure Assistance may not be available upon delivery and will have to be enabled as the system matures.
The current timeline puts the beta at coming out around mid-June. Additionally, we should eventually see a button being pushed out to owners so that they can opt into the beta themselves.
Pure vision Autopilot is now rolling out in North America. There will be an update of this production release in 2 weeks, then FSD beta V9.0 (also pure vision) a week later. FSD subscription will be enabled around the same time.

— Elon Musk (@elonmusk) May 26, 2021
A price increase to FSD has also been floating around recently, some say as high as $14,000, a significant increase over the current $10,000 price. We have also yet to the subscription option for FSD that was promised and delayed, but we assume any supposed price increase will happen once the V9.0 comes out. That time would also be a good time to announce subscription pricing.
Software
There has not been an eventful Tesla software update throughout the first half of 2021. While there have been updates over the past six months, all of them have been under the hood changes and none have provided any new features. Granted, Tesla already provides more than anyone else in regards to software features, but after having so many new updates over the years, we might be going through withdrawals.
The last substantial update was the holiday update that happened at the end of December. It is possible that Tesla is waiting for their V11 software to finally be released before pushing more fun updates. But with the Tesla V11 update looking to be tied with the refreshed Model S/X, we probably won't see it until those models have finally been released.
With the constant delays to the new models, we haven't gotten a chance to hear exactly how Tesla will handle the distribution of their planned full-fledged games to the Tesla Arcade. Is an app store of sorts still a possibility? It's still up in the air.
A slow start
It's no surprise that "Elon Time" is a meme within the community, so many are used to Tesla having to delay products and features to get things right. But with last year having both the Shanghai factory and Model Y production coming ahead of schedule, it seemed that we were no longer under the effects of Elon Time.
Alas, that is not the case. Once again I will stress that Tesla having a slow start is not unique to them and that essentially every other automaker is having issues right now. Still, looking at this list, we haven't gotten much completed, but work is being done to set the foundations. Tesla looks to have a packed second half of 2021, but how many of these things might end up being pushed to 2022?