Welcome to our weekly Tesla news recap where we discuss and share the latest Tesla news. If you don't have the time to constantly monitor Tesla and their ever-changing company, this is for you. This week Elon Musk went on a podcast where he discussed the upcoming Tesla truck along with the possibility of a Tesla bike. There was another pricing change in the lineup as well as some insight into a pretty big Autopilot feature soon to come.
---
Tesla Parts Catalog Released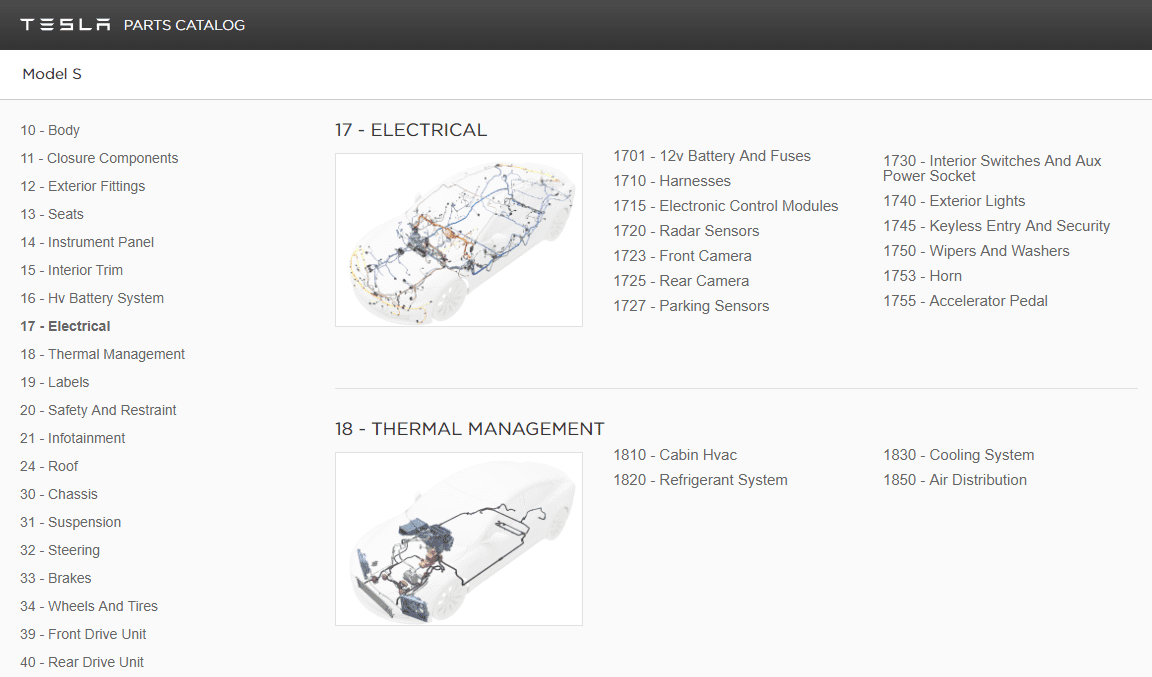 It's important to note that Tesla is not the only manufacturer making their documentation publicly available. For many years independent car repair chains have been lobbying for the "right to repair", a law that would give them the same access franchise dealers get. Massachusetts was the first to adapt it into law and so some auto manufacturers decided to simply make it a nationwide standard. Only Teslas parts catalog is available to the general public. If you live in Massachusetts, you have the opportunity to register and also gain access to additional information such as repair manuals and service documents. This is all good news if you were ever considering a used Tesla. Repairs can now be done at home or at 3rd party shops for much less than Tesla out of warranty costs.
---
Tesla Bicycle, Electric Jet, and the Upcoming Tesla Semi
Earlier this week our main man Elon sat down for a Recode Decode podcast. In that interview he mentioned the possibility of an upcoming Tesla electric bike. That could be an interesting product I'm sure many would love to get their hands on. The upcoming Tesla truck was also brought up. It's looking like it won't look like any other truck on the road.
"Well I can't talk about the details, but it's gonna be like a really futuristic like cyberpunk, "Blade Runner" pickup truck. It's gonna be awesome, it's gonna be amazing. This will be heart-stopping. It stops my heart. It's like, oh, it's great. You know, I actually don't know if a lot of people will buy this pickup truck or not, but I don't care. I mean I do care, eventually, you know. Like sure, I care. We wanna get gasoline, diesel pickup trucks off the road. But if I find, like, you know, I'm personally super-excited by this pickup truck. It's something I've been wanting to make for a long time. And I've been iterating sort of designs with Franz … It's like I really wanted something that's like super-futuristic cyberpunk. Which, if it doesn't … if I'm weirdly like … if there's only a small number of people that like that truck, I guess we'll make a more conventional truck in the future. But it's the thing that I am personally most fired up about. It's gonna have a lot of titanium."
He also goes on to talk about potential plans for a supersonic VTOL electric jet and how he's been thinking about it for 9 years now. All in all, it was a very interesting interview. You can listen to the full podcast up above or visit Recode Decode for the full transcript.
---
Tesla Summon Update
Car will drive to your phone location & follow you like a pet if you hold down summon button on Tesla app

— Elon Musk (@elonmusk) November 1, 2018
In one of Elons famous twitter sprees, he announced a few upcoming key Autopilot features. Smart Summon was actually announced with the release of Enhanced Autopilot a couple years ago. It comes with the Enhanced Autopilot package so if you have that, you will be receiving this feature through an over the air update in approximately 6 weeks Elon Time. The release of Navigate on Autopilot still hasn't been rolled out worldwide. In fact, it hasn't even been rolled out fully completed yet to non-early access users. It's good to see Tesla jumping on Autopilot updates much faster. Maybe we will even see FSD features soon?
Also, you'll be able to drive it from your phone remotely like a big RC car if in line of sight

— Elon Musk (@elonmusk) November 1, 2018
---
Autopilot Price Increase

It seems like every week we are covering a new pricing change. This week it's the after delivery Autopilot package. It has increased from $6,000 to $7,000. This is only for those who are purchasing the package AFTER taking delivery. If you purchase it out the gate, the price remains $5,000. Tesla has most likely increased the gap to entice buyers into purchasing the package up front. Not too sure why anyone wouldn't regardless. No word on whether Tesla will honor the original pricing for previous owners but that is doubtful with the new "prices are subject to change" disclaimer.