The Tesla Q1 2019 Earnings were recently released. While we were warned that Tesla would post a loss for this quarter, it was probably a bit bigger of a loss than some anticipated.
The net loss for the first three months of 2019 stands at $702 million. Of that $702 million, non-recurring charges were responsible for $188 million.
Additionally, Tesla has ended the quarter with $2.2 billion in cash and cash equivalents, this represents a $1.5 billion reduction from the end of 2018. A big contributor was the massive $920 million convertible bond repayment that they made during the quarter.
Another major reason for the lackluster quarterly numbers were the challenges that Tesla faced with delivering their cars:
As noted in our Q1 2019 Vehicle Production & Deliveries letter, due to unforeseen challenges we had only delivered half of the quarter's numbers ten days before the end of the quarter. This caused a large number of vehicle deliveries to shift into Q2.
Due to Tesla's "wave" method of producing cars, where they build cars for international market in the first half of the quarter and then cars for the local market in the second half, any delays could mess up deliveries to either market. Which is what happened, as delays will now cause a sizable amount of vehicle deliveries to count for the second quarter. Approximately 10,600 cars were in transit during the end of this quarter.
Tesla Sale Numbers
Speaking of sales, Tesla had produced roughly 63,000 Model 3s (delivered 50,900) during the quarter. This represents a modest 3% increase from the previous quarter. Tesla states this small increase was due to "changes to the production process for the introduction of new variants of Model 3, fewer working days and a supplier limitation."
Tesla continue to be happy with performance of the Model 3, stating that it outsold its closest competition in the premium car segment by 60%. Additionally, Tesla states that the Model 3 appeals beyond the premium segment, as 69% of the trade-ins for the Model 3 Standard Range and Standard Range plus were non-premium cars.
News for the Model S and Model X were not as great. Deliveries combined for only 12,100 which is significant decline from the average 25,000 quarterly deliveries Tesla had for the past two years. Tesla attributes the decline to, "weaker Q1 demand due to seasonality, pull-forward of sales into Q4 2018 in the U.S. due to the first scheduled reduction of the federal EV tax credit in Q1 and discontinuation of our 75 kWh battery pack". Their constant price shifts over the past quarter also caused them to not have the proper supply. As an example, they state that their mid-quarter price shift made the Performance versions of the S/X more desirable, but Tesla did not have the supply.
Tesla recent upgraded both the Model S and Model X, resulting in higher range, faster acceleration, faster charging rate, and better suspension. While the upgrade does make the cars an even better deal, I have to wonder if most people are just waiting for some sort of design refresh.
Production Efficiencies
In regards to production, Tesla has noted that it has learned a lot on how to streamline the production of the Model 3. Tesla plans to build a second-generation production line for the Model 3 in China that will result in at least a 50% cheaper per unit of capacity compared to the production lines in Freemont and Gigafactory 1. The upcoming Model Y will reap the same benefits as it will be built on the same Model 3 platform.
While I do not know the production cost versus the material cost (especially of the battery cells) of the Model 3 and Y, a 50% reduction in production costs sounds really great.
Lastly the gross margin of all models fell during this quarter to roughly 20%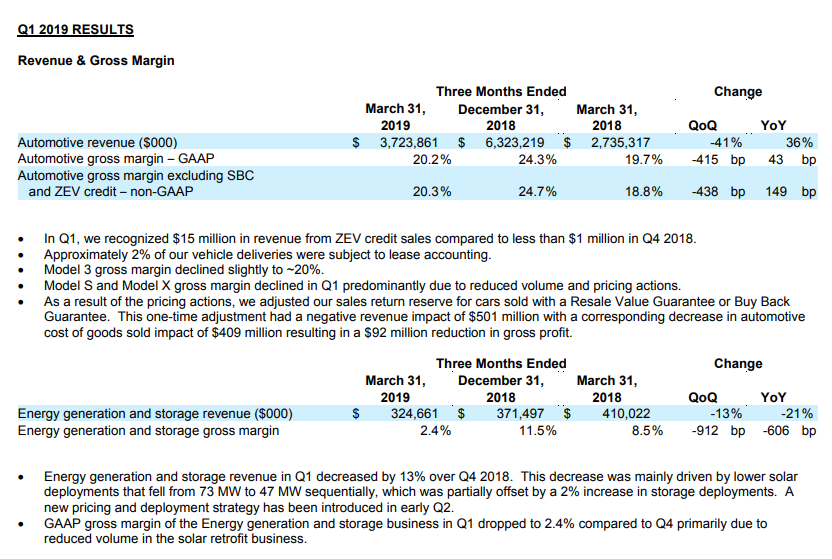 Tesla Looking Forward
Here were some of the forward-looking statements from the Tesla Q1 2019 earnings report.
Reaffirm guidance of 360,000-400,000 deliveries in 2019
Production numbers will be significantly higher as it will take some time for vehicle to be delivered (and Elon doesn't want to get in trouble on Twitter anymore with his 500,000 annual production stat)
25% non-GAAP gross margin on Model S/3/X is still being targeted.
Adjust the "wave" method of production so that vehicles don't suffer from delivery delays.
With upgraded Model S/X and global Model 3 deliveries, Tesla predicts 90,000-100,000 deliveries in Q2 2019.
Capital expenditures for 2019 is anticipated to be $2-2.5 billion to develop projects such as Gigafactory Shanghai, Model Y, Tesla Semi, as well as Supercharger and service networks.
Significantly reduce loses in Q2, profitability in Q3
What do you guys think of the numbers from the Tesla Q1 2019 earnings report? What's your outlook for the next quarter? Let us know down in the comments below.
Source: Tesla