Welcome to our weekly Tesla news recap, where we discuss and share the latest Tesla news. If you don't have the time to constantly monitor Tesla and their ever-changing company and products, this is for you. This week, the standard range Tesla Model 3 was finally made available, Supercharger V3 was unveiled, Tesla announced price cuts and layoffs, Autopilot packages got a few changes , and more.
$35,000 Model 3 Now Available
Sooner than expected, the highly anticipated Standard Range Tesla Model 3 was finally made available to the public earlier this week. The new base model has a range of 220 miles, 0-60 mph time of 5.6 sec., and a top speed of 130 mph. It comes with manual seats, a cloth interior, and a basic audio system, but everything else is the same as the higher tiered versions, including the glass roof.
For just $2,000 more, you can buy the Standard Range Plus version which upgrades you into the premium interior and sound. Additionally, you receive a range of 240 miles, 0-60 mph in 5.3 sec., and a top speed of 140 mph.
You can now order both, making the Model 3 family of vehicles complete. Tesla currently states a 6 to 8 week delivery window. The $35,000 Tesla is already in production and being delivered but we don't expect the factory to maximize output until later this year.
Gap in understanding is that $35k Model 3 production *starts* this month, but will not reach volume production until mid year. Extremely difficult to predict middle part of manufacturing S-curve.

— Elon Musk (@elonmusk) March 4, 2019
---
New Autopilot Structure
In an attempt to make up some of the margin loss of the new standard range Model 3, Tesla has reworked the Autopilot packages in order to make the FSD package seem more enticing. To simply put it, they added Navigate on Autopilot, Autopark, and Summon to the FSD package. Previously, all were included with Enhanced Autopilot and the FSD package offered absolutely zero features. To see how these changes affect you, a previous owner, check this out.
---
Model S & X Lineup Upgrades
The Long Range RWD Model 3 now shows a range of 335 miles
Model 3 performance 0-60 time has decreased to 3.2 seconds and top speed increased to 162 mph.
All Model 3s should get a ~5% increase to their peak power on March 15th.
The Standard Range Model X has been discontinued
The Standard Range Model S now has 270 miles of range
Pricing Update
Tesla has stated that they have been able to decrease the price of all their cars by an average of 6%.
Model 3

Standard Range: $35,000
Standard Range Plus: $37,000
Mid Range RWD: $40,000
Long Range RWD: $43,000
Long Range AWD: $47,000
Performance: $58,000

Model S

Standard Range: $79,000
Long Range: $83,000
Performance: $99,000
Performance + Ludicrous Mode: $114,000

Model X

Long Range: $88,000
Performance: $104,000
Performance + Ludicrous Mode: $119,000
---
Tesla Owners Upset
With the recent price changes, many Tesla owners are upset. When Tesla released the standard range Model 3, they cut prices on every model leaving some who had just purchased the vehicle at a premium a tad bit upset. While an average of a 6% drop doesn't seem like much, over seas we saw drops in pricing over $20,000.
Some owners were seen literally protesting the situation. Many felt as if Tesla coerced into picking up their new vehicles before the significant price change.
Owners in the states also felt some of the burn. In what seemed like an attempt to increase cash flow, Tesla discounted Autopilot packages for those with vehicles who have yet to purchase any FSD features. So someone who prepaid $5,000 for FSD received exactly 0 features throughout the span of a few years and now new buyers of the package can purchase it for just $2,000. Owners pre-purchased packages with their vehicles because Tesla made it out to seem that if you didn't prices would increase later. The exact opposite happened. That's just one example of the mess but all around, Tesla's PR took a hit this week.
---
Layoffs
To achieve these new lower price points, Tesla has decided to shift towards just online sales. Throughout the next few months they'll be closing many of their retail locations and showrooms.
Many see this as a bad move as Tesla has no marketing budget and the storefronts provided locations to potential customers to ask questions and touch and feel. Without test drives, Tesla will now rely on their return policy. They want you to buy the car upfront with the opportunity to return it if you don't like it.
Seeing how this system could be a turn off for many, Tesla owners have stepped in to provide free private test drives of their vehicles.
Elon Musk stated that 78% of Tesla Model 3 sales were done online and 82% of customers made their purchase without ever taking a test drive in 2018. That's completely ignoring all of those who went into a store, test drove, then purchased later on online (such as myself). It also doesn't mention S or X sales which would be a better evaluation as they were widely available and not being sold to those who waited 2 years on a reservation list. Now that list is nearing its end and Tesla will finally start having to sell to the actual mass consumer. I personally don't see this new system excelling over the previous especially with no more owner incentive to refer friends and their acclaimed zero dollar marketing budget.
---
Supercharger V3 Revealed
While the competition is working on 350 Kw charging, Tesla just released their 250 Kw V3 Supercharger. If it seems like they're behind, look again.
Oh, we're definitely going to be improving our Supercharger technology. The thing about a 350 kilowatt charger is it doesn't actually make a ton of sense, unless you've got a monster battery pack or have like a crazy high C-rate, in which case your energy density is going to be poor. So it's kind of cockamamie. Yeah, we think maybe 200 kilowatt, on a per car – also I don't know if they made 350 kilowatts for a single car, that's really pretty – you're going to frag the battery pack if you do that.
In typical Tesla fashion, they once again have proven their lead in the industry. Through an over the air software update, Tesla will push a feature that will prepare you battery for charge while driving towards a Supercharger. The company claims this alone will decrease charging times by 25% on all Superchargers.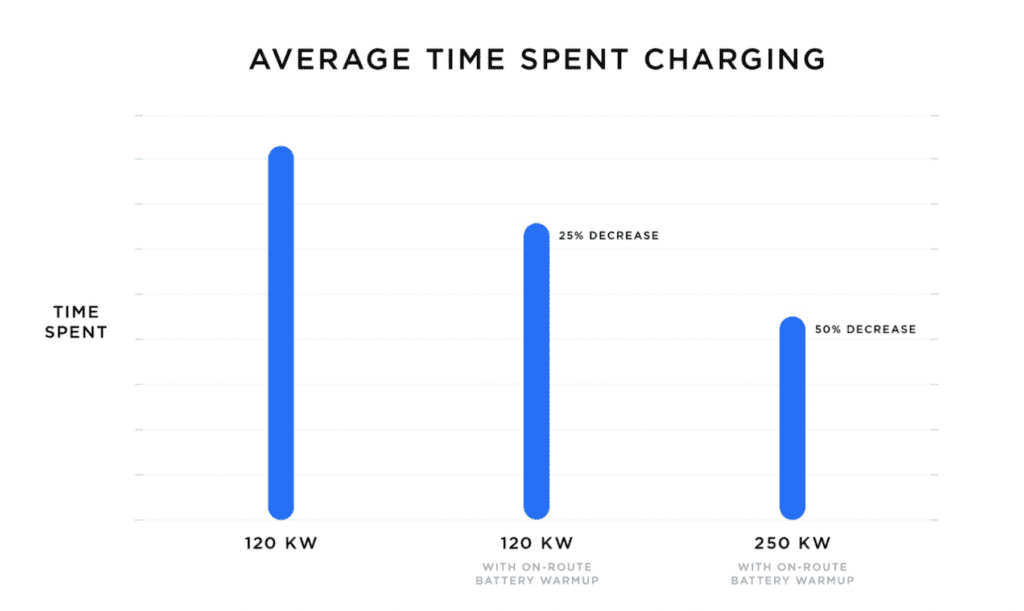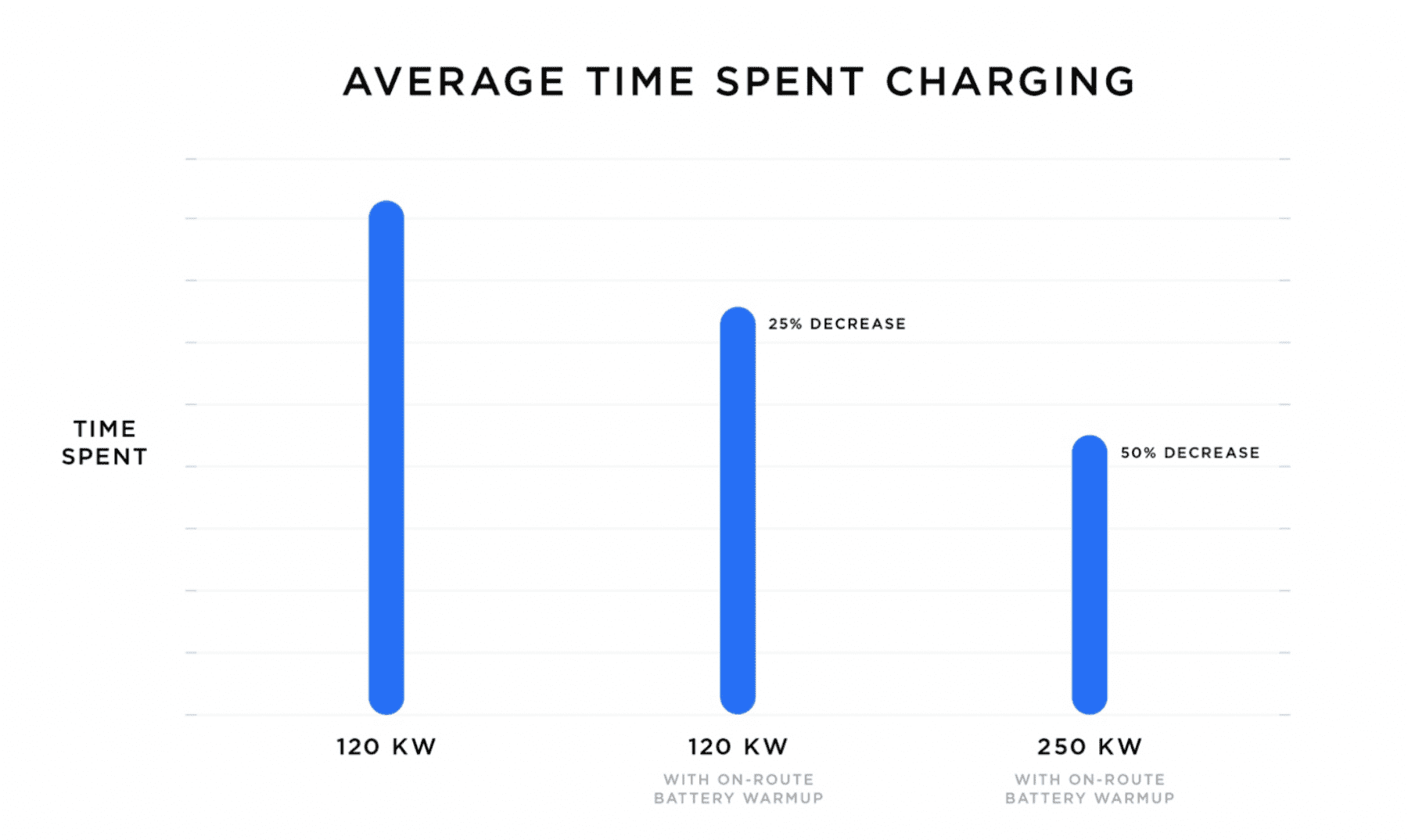 The V3 Supercharger is now run on a 1 MW power cabinet and will get rid of charge splitting. With a charge speed of 250 Kw, the Long Range Model 3 should now be able to gain 75 miles of charge in just 5 minutes. The S & X will not be able to take advantage of this speed yet. Another over the air update later this month is set to improve charge performance for all cars. We're also positive Tesla is working on swapping the on-board charger on the S & X to take full advantage of the new speeds.
At this time, V3 is still in beta and will continue to be for a few months before a wide roll-out. The first non-beta stations are set for some time in Q2.
---