The Tesla buying experience is a bit unique when compared to the traditional manufacturer's ideology. There's no sitting down, negotiating, and sometimes even no test drives. There are a few things you should probably know before walking into a Tesla store. For starters, it is not a dealership. Lets take a dive into how Tesla managed to disrupt the automotive franchise industry and how to buy a Tesla today.
Traditionally, dealership franchises are privately owned as they're required to be. Direct sales are illegal in 48 states, so individually owned franchises are tightly regulated. Many in that industry are opposed to Tesla's allowance of direct sales as they claim it to be unfair competition. Tesla is constantly fighting these states and dealers for the right to sell their cars directly to consumers, but why?
Apart from being innovative, direct sales allows Tesla to keep their costs lower for the consumer. Tesla's profit margins are closer to that of a manufacturer than a franchise. If they were forced into franchising their locations, the cost of their cars would increase giving EVs a negative appeal. By skipping the middleman, they can keep them down and turn those savings onto the consumer.
Tesla stores are not car dealerships. Dependent on the location, Tesla must oblige with a different set of rules. In some states, Tesla cannot discuss pricing or even offer you a test drive. Some even require you to make your purchase across state lines. But Tesla has found solutions for the majority of these issues. While buying a Tesla will in many cases be state dependent, the overall experience is just about the same. Lets take a general look into how to buy a Tesla.
---
The Test Drive
For many, this is as simple as walking in and asking to drive a car as you would any other. But dependent on where you live or availability, Tesla might not be able to offer you a Test drive. Instead, they rely on their return policy.
A return policy on vehicle purchases is one of the more innovative things when it comes to Tesla. Typically, you're stuck with your poor decisions or have to trade your car in for a loss. With Tesla, you can drive your new car for up to 7 days before deciding whether or not you want to keep it. This gives you the opportunity to really get a feel for Tesla especially if you didn't get a chance to test drive one before the purchase.
Tesla will accept your vehicle for return if the vehicle:
Has an odometer mileage of less than 1,000 miles at the time of return;
Has a New Vehicle Limited Warranty that has not been voided;
Has not been the subject of any submission or application for any available incentives or perks;
Is in new condition, without damage or abnormal wear and tear; and
Has not been resold or transferred to any person or entity.
There are a couple of other options if you'd rather not write the check beforehand. Some Tesla owners have been providing free test drives to those who are still skeptical. You could also use Turo, a car renatal app, to rent a Tesla for a day and come to your decision.
The Trade-In
Tesla does offer trade-ins like a traditional franchise, but they tend to offer low amounts. They do, however, match prices of large chains such as CarMax.
Because Tesla has no traditional car lots or used car sales, they have to send each and every trade-in to auction. These auctions are held privately and is where the traditional auto dealerships snag their inventory. Because of this, you're almost always better off selling your vehicle elsewhere or having them match a quote given by another franchise.
However, you should look into your state specific tax codes. In Florida for example, you do not pay sales tax on your vehicle trade-in. For instance, let us say I trade in a $20,000 car and purchase a $60,000 Performance Model 3. I would only pay sales tax on the $40,000 difference. If I sold the trade-in vehicle elsewhere, I would have to pay taxes on the full $60,000 amount.
How to Buy a Tesla
After test driving or getting over the fact that you cannot, your next step is the vehicle purchase. There is no office to sit down and wait for a salesperson to talk to. You simply go to Tesla.com, click the model you'd like to buy, configure your vehicle, and place your $2,500 deposit.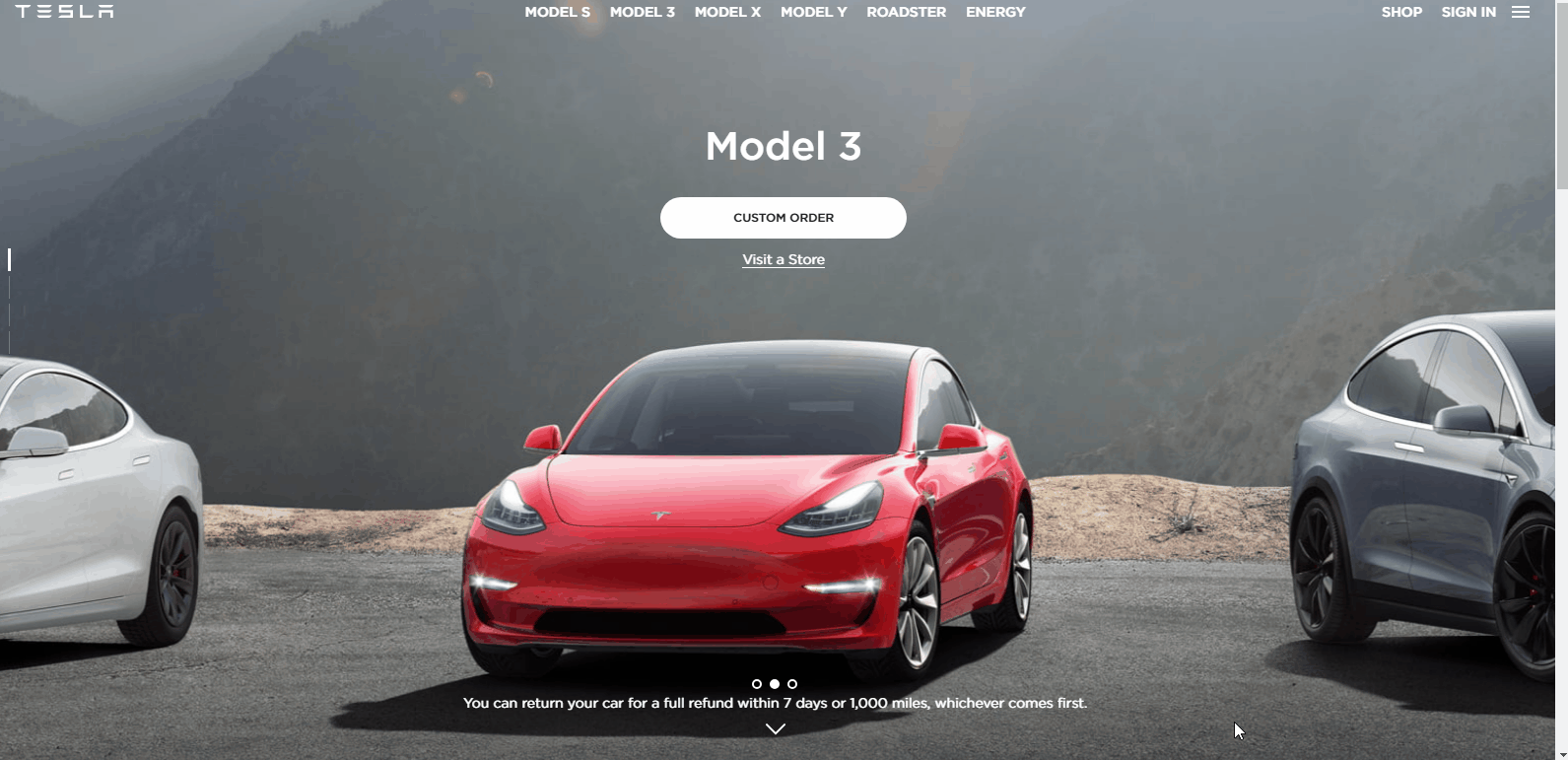 Tesla offers no discounts or negotiations. The price you see is the price you pay. Tesla prices don't change often but when they do they tend to move both directions, discounting some features while making others more costly.
Once you place your order, your Tesla account will request a few documents. Your license, insurance, etc. All of the above can be uploaded online without ever speaking with someone. If you still have some questions, a specialist will email you shortly after your order. He/she will guide you through any questions and help you buy your new Tesla. You could make the entire purchase without ever speaking to someone in person or over the phone!
Tesla Financing
After placing your order, your next step is to find financing. Typically you'd let the dealership do this on your behalf but because Tesla cannot legally do so through direct sales, it is placed on you. If you chose to buy your Tesla in cash, all you need to do is bring a check with you on your day of delivery. But if you chose to finance, you have a couple options.
Tesla offers their own in-house financing you can apply for on their site. After you create an account and place your order you will be allowed to apply for financing as long as it is within 30 days of your scheduled delivery. This is the easiest process as everything is handed to you.
Your other option is to seek financing elsewhere. You can use DCU, an online bank, for a similar experience to Tesla Finance with potentially lower rates. You could also just give your bank a call and request auto financing or stop by your local credit union. Credit unions tend to offer the lowest rates but it will not be as easy as a couple buttons on a computer as most prefer physical documentation.
Here is a spreadsheet with over 100 different banks and their loan rates created by T3slaMecca. The table is updated hourly with data taken directly from the banks websites so you can compare and find which is best for you.
If you are a bit more advanced you can take your best approval and send it to LightStream where they will match the rate and loan terms. They will then give you an unsecured loan meaning the money will be transferred directly to your bank account and you can pay cash for the car. It's much easier for everyone involved and has its benefits.
If you are unsure about your monthly payments or how much you can afford, Tesla has a handy calculator to guide you.
Tesla Delivery
You have two options when it comes to your cars delivery. You can either pick it up at your nearest Tesla store or have it sent to your home. Home delivery is location dependent so the majority have to pick up.
The process is simple. Tesla will make you an appointment and be ready for when you show up. Your car will be on display for you to do a full walk through. You hand them your check or the draft provided to you by your bank, sign about 3 documents, and drive off. The entire process can be done in as little as 5 minutes. If you have a trade-in, this is where you would hand them the keys.
We fully recommend you do a thorough walk-through, as Tesla has been known to mess a few things up. Reddit user jeffherb has made an interactive delivery checklist to help you make sure everything is in order.
That is it! You just drove away with your brand new Tesla without any headaches. As you can see, buying a Tesla is not like buying other cars. Although it takes some getting used to, it's the way the industry is heading as a whole. Franchise or not, online sales with no in-person contact is the future of car sales.
How to Buy a Used Tesla
If you were looking into a used Tesla rather than new, the process is almost identical. You can visit Tesla's used inventory site and scroll through everything available. You can even narrow it down to your zip code for a faster delivery. Once you pick out your car and place your deposit, everything else is done exactly the same.
Tesla no longer has a CPO program so all used vehicles come as-is. Once you're in contact with your delivery specialist you can request pictures of the vehicle before making any final decisions. There is no return policy on used inventory.