BMW has just revealed new information in regards to their upcoming 330e iPerformance plug-in hybrid. After unveiling the seventh generation 3 Series compact sedan at the Paris Motor Show earlier this year, BMW has finally given us a closer look at the electric vehicle's specification.
According to the German automaker, the 330e plug-in hybrid will feature BMW's latest eDrive Technology capable of enhancing both efficiency and performance. BMW revealed that the 330e will come equipped with a 12 kWh battery, allowing for an all-electric range of approximately 60 km (roughly 37 miles), nearly double that of the previous generation 3 Series plug-in.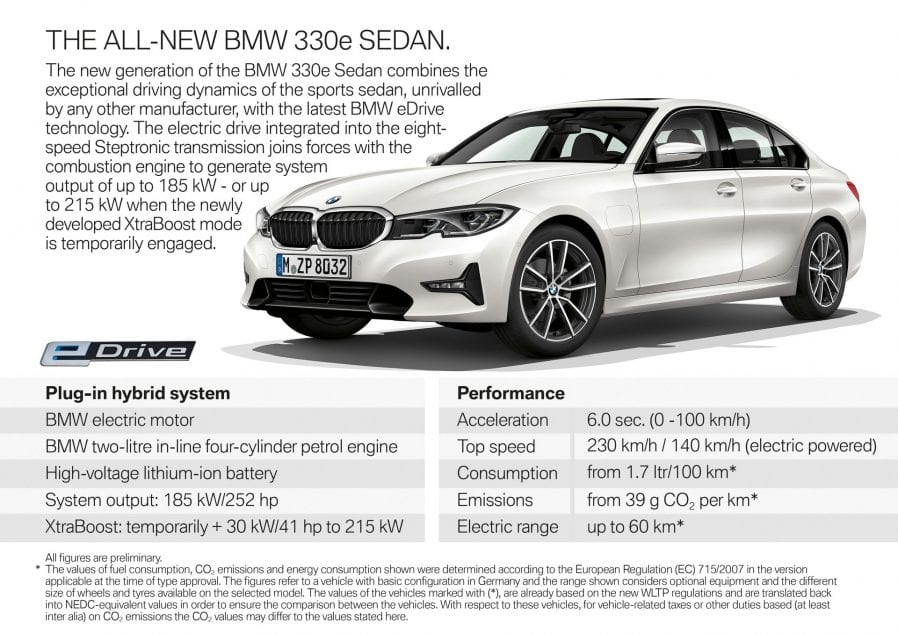 The 330e sports a 2.0-litre 4-cylinder petrol engine with BMW TwinPower Turbo Technology and an output of 184 horsepower (135 kW) along with an electric motor which generates a continuous output of 68 horsepower (50 kW) and a peak output of 109 horsepower (80 kW). Both drive units provide a total system output of 252 horsepower (185kW) and maximum system torque of 420 Nm.
Together, the engine, motor, and transmission allow the 330e to accelerate from 0 to 100 km/h (0 to 62 mph) in 6 seconds. The vehicle sports a top speed of 230 km/h (143 mph) and 140 km/h (87 mph) in all-electric mode.
One of the most interesting additions to the 330e is the inclusion of BMW's new XtraBoost, a system that will allow the electric vehicle to increase its system output temporary by up to 41 horsepower (30 kW). In their recent press release, BMW explained:
"The additional XtraBoost makes for a more intense acceleration experience than in a conventionally powered vehicle with a comparable engine output. The XtraBoost can be used up to the minimum charge status of the high voltage battery. It is also available for kickdown manoeuvres and in the M/S position of the gear selector lever."
With the XtraBoost system, the 330e's 252 horsepower (185 kW) output will be able to jump to a staggering 293 horsepower (215 kW).
The BMW 330e is expected to launch in summer 2019. At launch, BMW claims that they will provide a new digital service that will make it "more attractive and convenient to charge the battery" of the vehicle by utilizing the navigation system to pinpoint public charging stations at nearby hotels, restaurants, cafés, tourist attractions, and cultural institutions in real time.
Source: BMW