The BMW i4 is set to release in 2021, but it will take up a much more conventional look than the eccentric i Vision Dynamics Concept that it will be based on.
Concepts always tend to have their designs scaled down to make them easier to produce and/or to fall in line with the rest of the company's line-up. However, it is no secret that the i3 and i8 stick out like a sore thumb in BMW's lineup. They have very few parts that they share with other models and as such are more troublesome to produce. So it's no wonder that some people are curious to see how BMW will handle the production version of the i4.
When AutoExpress asked BMW head of i division, Robert Irlinger on whether or not the new i4 will have a more conventional look, he responded:
"Yes, you could put it that way. The vehicles will be closer to the cars we have already in market. Look at the iX3; it's really an i but it's also an X3. Look at the i4 and you'll see it's clearly an i but it's close to a car whose name may begin with 4. We have to be prepared that our customers could say, 'I don't want to have a specific car. I want to have my BMW that I love, in an electrified version.'"
From a production standpoint this makes sense. We are getting to the point where the relatively low volumes of the i3 and i8 will not be enough of an electric push from BMW. Hence, treating the i4 as simply a variant of a 4-series rather than its own thing will make production easier.  The i4 is said to be built upon BMW's new CLAR platform which underpins most of their line-up. This in itself will make producing the i4 a simpler task rather than having bespoke parts made for it.
In terms of release date, Company Boss Harald Kruger had the following to say:
"…In 2019 we'll launch the MINI Electric. In 2020 the BMW iX3 will come. Then in 2021 we will launch the BMW iNEXT and the i4, so by that year we will have five core electric vehicles on the ground. This underlines our strong commitment to future mobility."
We are already seeing the more conventional looking i-series cars in the design of the iX3. Which truly just looks like a regular X3 with a few minor changes.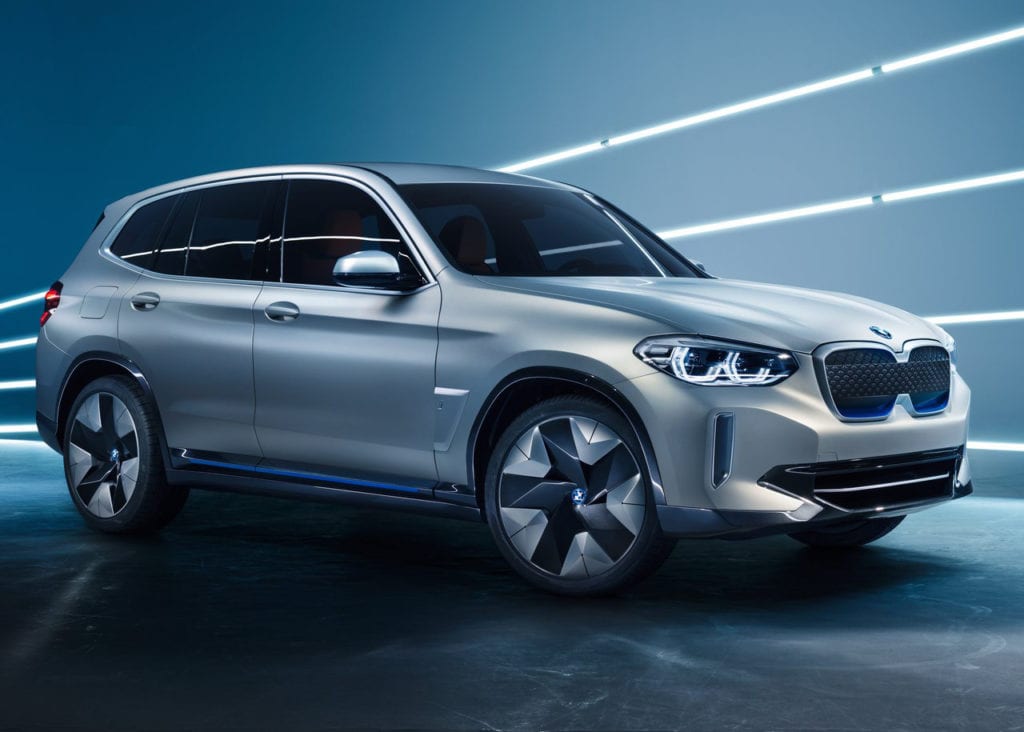 In terms of range BMW is aiming for a WLTP rated range of 375 miles (600 km). But Irlinger is saying that BMW is toying with the idea of having battery options:
"It could be that different ranges are a good solution," he said. "If it's true that 300km is enough for some customers, then it could be wise to do a 300km version and a 600km version. We'll have to look at demand, of course, because up to now, what we've found is that the customers tend to always buy the bigger battery anyway. But if you live in a city and do most miles there, and you have your own charging point or good infrastructure nearby, then 300km at a cheaper price could be fine."
I don't know how attractive 300 km (186 miles) will be in 2021 as I don't see the i4 as a city car. But having options is always a good thing. A range of 375 miles is also seriously competitive.
And while the i4 and iX3 look to have normal designs, there is nothing normal about the iNEXT that is being released in between them. As BMW design director Adrian van Hooydonk said:
"We will still, when we feel it makes sense, do a complete, bespoke, standalone car. Not all cars have to happen on the CLAR platform."
So what do you guys think of the upcoming BMW i4? Let us know down in the comments below.
Source: AutoExpress