We have often criticized the Stellantis sub-brands for dragging their feet when it comes to electrification. While they may be a little late to the party, the planned specs of their upcoming EVs aren't half-baked. RAM finally unveiled the look and specs of their electric pickup contender, the RAM 1500 REV, and it looks pretty good.
RAM is looking to start out on the right foot with its first electric pickup truck. While it's behind its rivals, with Ford already releasing their F-150 and Chevy already revealing their Silverado EV, RAM believes that they have its historic enemies beat.
RAM brand CEO – Stellantis, Mike Koval Jr., said at the 1500 REV unveil:
We believe in bringing the right range of powertrain solutions to our customers and will continue to redefine the pickup truck segment. Our all-new Ram 1500 REV pushes past the competition in areas customers care about most, including range, towing, payload and charge time.
Big words for a vehicle entering a competitive market segment. Pickup trucks have already been very numbers driven when it comes to who has the best payload, towing, etc. You add in the standard electric vehicle metrics of range, charging speed, and battery degradation, and the potential for bragging rights doubles.
RAM 1500 REV Specs, Range, Towing Capacity
So what has RAM cooked up? They lost out on being a first mover in the segment with the F-150 Lightning and R1T beating them. If you can't be first be better, as they say.
Built on an all-new STLA platform, the 1500 REV will be offered in two battery configurations. The standard range will have a 168 kWh battery and target a 350-mile range. The Long Range features an eye-watering large 229 kWh battery pack and boosts the range up to 500 miles.
The 1500 REV also is capable of 350 kW charging, achieving 110 miles of additional range in just 10 minutes. With such a battery pack, bi-directional charging also becomes useful allowing you to charge any tailgating appliance, a car, your house, and probably a small village. The bed has a 7.2 kW output while the frunk has a 3.6 kW.
Of course, the electric pickup features all-wheel drive courtesy of two 250 kW motors. RAM is targeting a 0-60 mph time of 4.4 seconds. While it's short of the 3.7-second metric achieved by its TRX gasoline-powered cousin, it's still crazy fast for a vehicle this big (and I'm 100% expecting an electric TRX model in the future).
In terms of towing capacity, RAM is aiming for 14,000 pounds and a payload of 2,700 pounds.
1500 REV vs. F-150 Lightning vs. Silverado EV vs. R1T
So just by the numbers, how does the new RAM look?
RAM 1500 REV
F-150 Lightning
Silverado EV
R1T
Range
500 Miles
320 Miles
400 Miles
400 Miles
Towing
14,000 lbs.
10,000 lbs.
10,000 lbs.
(20,000 model
later)
11,000 lbs.
Payload
2,700 lbs.
2,000 lbs.
1,300 lbs.
1,760 lbs.
By the numbers, the 1500 REV does beat out the competition. There is of course the constant caveat that this truck is at least a year and a half away. Things may not go to plan, and competitors may improve. And maybe the Cybertruck might finally be built. Maybe.
RAM 1500 REV Design
The truck community is known for its loyalty and preferences, so it's no surprise that the electric RAM doesn't make a major design departure from its gasoline sibling.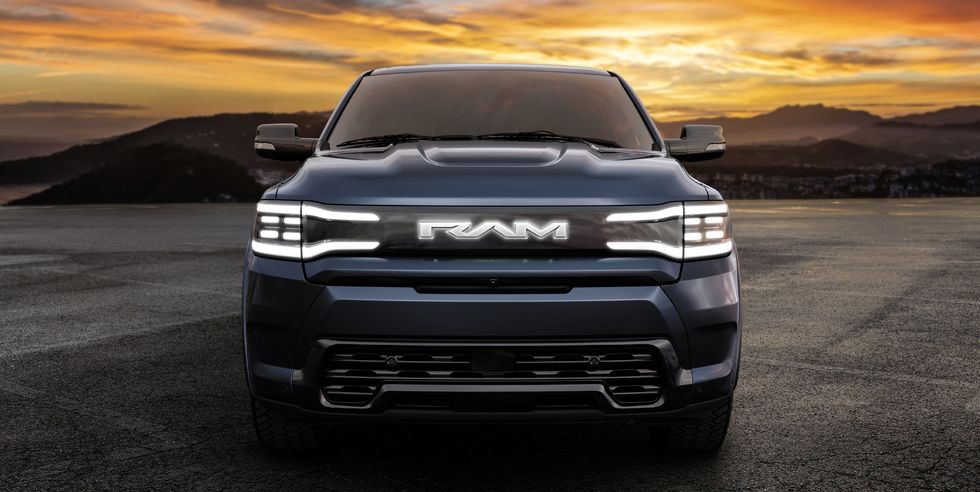 The front end features plenty of prominent lines, forgoing the clean look that many new EVs are going for. Making their presence known is the pair of headlights that RAM has described as "tuning forks", elevating the design and introducing some modernity into the front. And if you ever forget what car you drive, don't worry, the RAM wordmark is not only prominent, but it lights up too. If someone comes up to you and asks "What car is that?", you can confidently recommend that they might need an eye exam.
Strong body lines are found along the side of the 1500 REV and culminate in a rear end that also isn't too crazy in its design. On the power tailgate sits a RAM wordmark that may be even larger than the one in the front. Don't worry, it lights up too (but only on the highest trim).
Interior and Tech
The current generation of RAM trucks have often been praised for their interior comfort and quality. RAM intends to keep these compliments coming with the 1500 REV. A mix of leather, metal, and carbon fiber will be found on the top-end trims, but we're sure the base trims will also be plenty comfortable.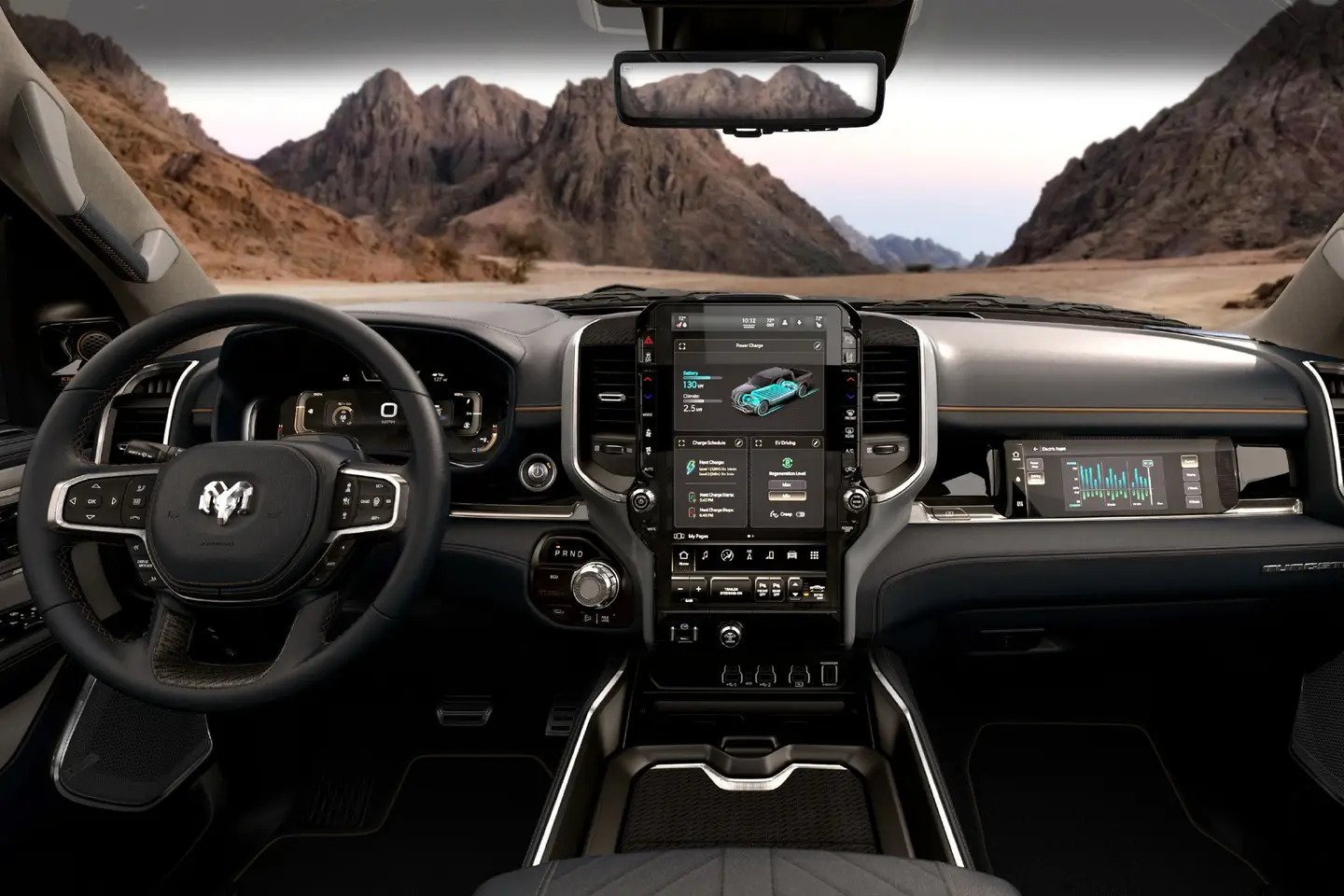 To flex their technological muscles, the RAM interior team offers up to three screens in the 1500 REV dashboard. Behind the steering wheel sits a 12.3-inch digital gauge cluster. In the center sits a large verticle 14.5-inch infotainment screen that runs the latest Uconnect 5.
Lastly, a 10.25-inch passenger screen is also offered. The screen will offer three major functions. A co-pilot function that will display items such as navigation and device management. The second is the ability to view the electric truck's external cameras. Thirdly, and most interesting, is entertainment. An HDMI plug allows the passenger to plug in a tablet or some other device and use the screen for consuming media. As this screen is only visible to the passenger, it should be usable even when the truck is moving.
In regards to autonomy, the 1500 REV comes with Hands-free Active Driving Assist and ParkSense Automated Parking System. Active Driving Assist enables both hands-on and hands-off driving/eyes-on-road driving using lane centering with adaptive cruise control.
When Is The RAM 1500 REV Coming?
RAM is looking to start production of the electric pickup at the end of the year with deliveries starting in 2025. No pricing has been given.
With battery supply still being a constraint on many EVs, it's a bold decision to have the RAM 1500 REV carry such gigantic battery packs. While the HUMMER EV features a 200 kW battery, it has historically and still comes in significantly under the production numbers of an F-150, Silverado, and RAM 1500. Will the RAM 1500 REV even be able to compete with the F-150 Lightning and Silverado EV? Or will it try to position itself as a more premium alternative?
Source: RAM