Kia has finally unveiled a refresh for its hamster-loving Kia Soul EV. What was once a decent EV at time of release, was starting to show its age as time went on. But the new 2020 Soul looks to be competitive once again.
Just as a quick refresher, the original Kia Soul EV came out in 2014 with a 30.5 kWh battery that gave a range of 93 miles. At the beginning of this year Kia bumped up the battery to 31.8 kWh and a range of 111 miles. Initially it was a decent buy for someone that was in the market for a relatively cheap EV.  At the time the only cars that could have competed with it was the Nissan LEAF and BMW i3, so not many other options.
However as time went on, more EVs came to compete. The Chevrolet Bolt and Model 3 came about, and both the Nissan LEAF and BMW i3 will get battery upgrades. The Soul's styling was an acquired taste and its range wasn't noteworthy anymore.
So now we arrive to the 2018 Los Angeles Auto Show where Kia has unveiled its refresh of the Soul model-line, including the EV variant.
On top of a more aggressive style that might win over more people, the Soul EV got a much needed boost in both power and range. Replacing the old electric motor which produced 109 hp and 210 lb-ft of torque, is a new motor which produces 201 hp and 291 lb-ft of torque. A very significant bump in power.
Additionally the Soul EV will receive the same 64 kWh battery that is in the Kona EV. While Kia is expecting a range of over 200 miles (which makes sense as the Kona EV has an EPA range of 258 miles), they are expecting more precise results in early 2019.
Pricing will be announced closer to the actual release date of the car.
Speaking of which, there will seem to be two trims of the Soul EV: a standard version, and a 'Soul EV Designer Collection'. The designer collection includes the following:
Two-tone paint: Gravity Grey with a Platinum Gold roof; Cherry Black with an Inferno Red roof; and Neptune Blue with a Cherry Black roof
Power-folding gloss-black heated, power-adjustable outside mirrors with signal repeater
10-speaker Harman/Kardon premium audio with external amplifier
Wireless phone charger
Leather-wrapped steering wheel
Heated front seats with SofinoÒ premium non-animal seating upholstery
Auto-dimming rear view mirror
We don't know how many of the above features will be options on the standard Soul EV. But if I had to guess, the two-tone colors might be something that will stay exclusive to the 'Designer Collection'.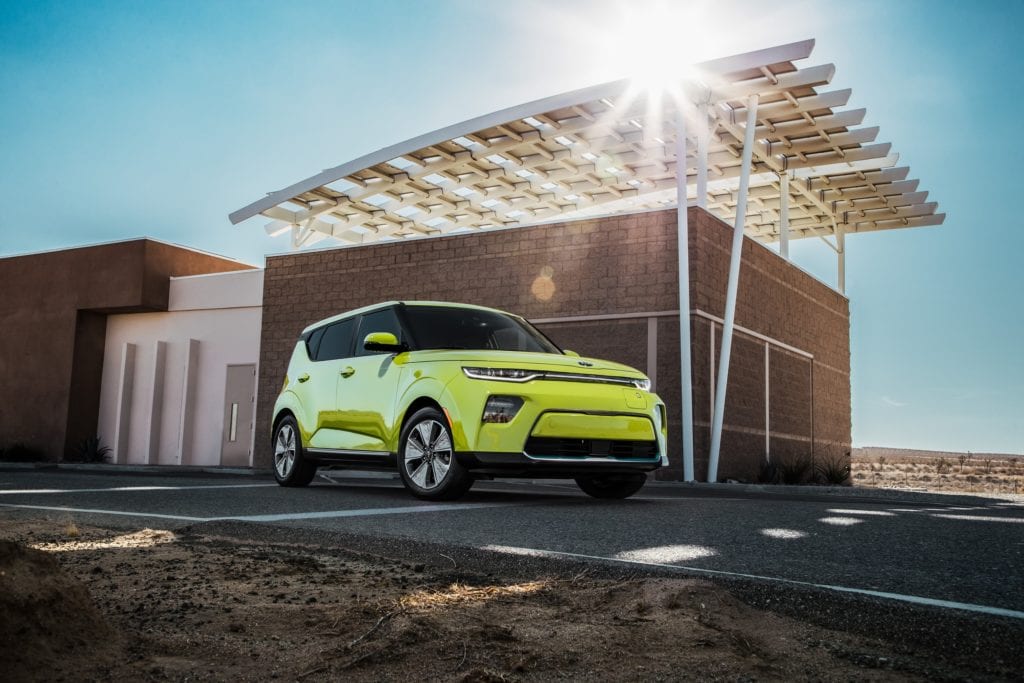 Overall I think Kia did a great job with this. They gave the Kia Soul EV  a much needed boost in both its range and performance. Additionally they improved on the styling without getting rid of its quirkiness that made it loved so much by its original customer base. As long as it can get a good range rating and competitive price, it will be a great competitor to the Chevy Bolt and upcoming 60 kWh Nissan LEAF (you know, if it ever gets announced).
What do you guys think of the new Kia Soul EV? Let us know down in the comments below.
Source: Kia