While the Consumer Electronics Show (CES) is more known for showing off advancements in appliances and gadgets such as televisions, smartphones, and everything in between, automakers make their appearance at the show to show off any new technologies that will be found in their future cars. With electronic cars having a more 'technological' feel to them as compared to gasoline cars, they seem more in place being showcased at CES and certain automakers made sure to show off some electric concepts to the public.
As always remember that a lot of concepts are either exaggerated forms of what cars they will turn into or are just thought experiments about where technology will be in a decade or more from now. Here are some of the electric vehicles that were shown during CES 2020.
Sony Vision-S
Sony…wait what? I was here for the PlayStation 5 and new TVs, what is a Sony-branded car doing on stage? Well, Sony weirdly enough decided to showcase a car featuring some of their technologies and wanted to emphasize their use in three different categories: Safety, Entertainment, and Adaptability. The first, safety, had Sony demonstrate their 33 sensors (13 cameras, 17 radar/ultrasonic sensors, and 3 Lidars) that maintain a 360-degree view of the entire car. Sony states that the sensors will be capable of giving the car the usual slew of autonomous features like those found in Tesla's Autopilot and says that with the proper software it will be enough to reach at least level 4 autonomy.
Their second point of emphasis was the entertainment aspect with both a "360 Reality Audio" and a panoramic screen in the dashboard. The 360 audio leverages speakers that are within the seat themselves to give you the feeling that you actually there. The panoramic screen actually appears to be three screens taking up the entirety of the dashboard which is reminiscent of the Byton M-byte (except that did not have any divisions). It will be interesting to see if this will become the trend in cars releasing in a few years as it does give the front passenger a much more comfortable experience.
Lastly, adaptability, Sony shows off their efforts to personalize the car to its driver as much as possible. Of course, there is an app, there is always an app, that connects your phone to your car and is envisioned to do neat little things like continuing to play any music that you might have one your phone when you enter your car or load up the map that you are looking at into the GPS whenever you walk it. The car also, of course, has an AI which wants to "keep learning, whether it is about preferred cabin temperatures, music, driving settings, routes, or various other driver and passenger preferences. The aim is to develop a car that learns each time people board it, and develops into an intelligent partner.".
Even more surprising is that Sony decided to share some specifications for the electric vehicle powertrain, citing dual 200 kW motors giving the car all-wheel drive and a 0-62 mph time of 4.8 seconds, no word on the range.
I remain doubtful that Sony is planning to enter the electric vehicle game. They might be a huge corporation, but I don't believe that it is worth their time trying to get into manufacturing. With that being said, we might see some automakers possibly end up using Sony's sensor bundle to power their autonomous features, or perhaps have Sony speakers in their seats to give an amazing music listening experience. It does, however, remain weird that they decided to develop an electric car rather than use an existing car or shell to illustrate their technologies. Who knows, maybe my next Sony purchase will be a car.
Uber-Hyundai Air Taxi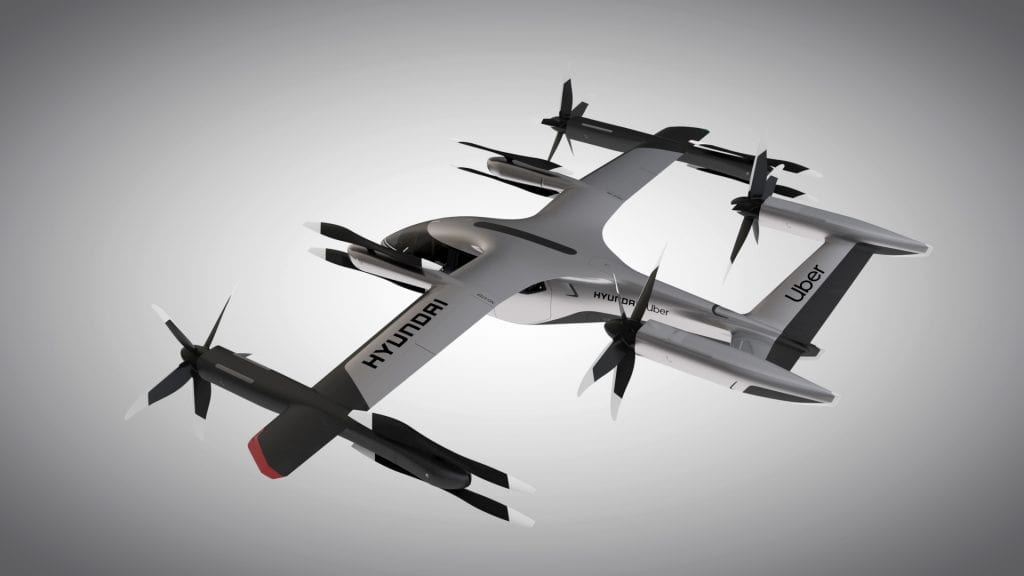 If the above Sony car was not enough of an oddity for you, then let me present this electric Vertical Takeoff and Landing vehicle (eVTOL). While not necessarily an electric car it is an electric vehicle. The partnership has Hyundai building the craft while Uber Elevate (Uber's aerial rideshare concept) will handle all the management of the craft.
The following specifications were released:
It is designed for a cruising speed up to 180 miles/hr (290 km/hr), a cruising altitude of around 1,000-2,000 feet (300 – 600 mt) above ground, and to fly trips up to 60 mile (100 km).
The Hyundai vehicle will be 100% electric, utilizing distributed electric propulsion and during peak hours will require about five to seven minutes for recharging.
Hyundai's electric aircraft utilizes distributed electric propulsion, powering multiple rotors and propellers around the airframe to increase safety by decreasing any single point of failure. Having several, smaller rotors also reduces noise relative to large rotor helicopters with combustion engines, which is very important to cities.
The model is designed to take off vertically, transition to wing-borne lift in cruise, and then transition back to vertical flight to land.
The Hyundai vehicle will be piloted initially, but over time they will become autonomous.
The cabin is designed with four passenger seats, allowing riders to board / disembark easily and avoid the dreaded middle seat with enough space for a personal bag or backpack / rider.
While the companies said that they will continue working on the project, there is no timeline given about when we might see the S-A1 in action.
While it seems unlikely, Uber Elevate is targetting 2023 as their starting point and there is already a team-up of Porsche and Boeing who are exploring flying cars as well, so there must be something to it.
Mercedes-Benz VISION AVTR
See, this is what I'm talking about when I say the concepts here tend to have exaggerated features and give a look at technology over a decade from now. Yes, the AVTR does take some inspiration from the Avatar movie and Mercedes states that it influences the "new interaction between human, machine and nature".
So here a look at what Mercedes engineers envision for the future of cars. Apparently no doors for one thing. A dashboard that is absolutely packed with technology that can tell who is driving the car simply from the handprint and is able to project an interactable menu on your hand as if you were Iron Man and JARVIS was your copilot. The car is powered by a graphene-based battery that has no rare Earth materials and is recyclable, additionally, the entire interior is sustainable.
While the AVTR will in no way be an actual production car in the future, it does serve as an in your face map of what Mercedes wants to accomplish in the future. A supremely luxury car with the highest level of technology and as many sustainable and recyclable materials as possible.
Previously shown EV concepts such as the Nissan Ariya, Audi AI:ME, and Byton M-Byte were also shown off to show off their respective technologies
What do you guys think? Were there any weird EVs that we missed? Let us know down in the comments below.