When the Porsche Taycan Turbo and Turbo S were initially revealed, there were many people that were taken aback by the pricing, as they were hoping that they would start at a more competitive price with the Tesla Model S. Well those people now have their wish with a much cheaper Taycan 4S being announced without too many compromises.
While we were waiting for the Taycan to be finally unveiled, there were many rumors of a cheaper model being released that would possibly only come with only one motor, rather than the two motor setup in the Turbo and Turbo S.  The newly unveiled Taycan 4S keeps the two motor setup, so there is a possibility that Porsche might eventually release an even cheaper Taycan in the future.
But that's for a different time, what are the differences between the 4S and Turbo/Turbo S? Well, the main difference will be found in the power available to you, so the 4S will be slower. There will also be two battery options, the base version with 79.2 kWh and a Performance Battery Plus version which has a 93.4 kWh pack which is the same that is found in the Turbo and Turbos S.
The performance and pricing breaks down as follows:
Turbo S

$185,000
616 hp, 750 with launch control
WLTP Range: 256 miles
270 kW charging
0-60mph: 2.6 sec.

Turbo

$150,900
616 hp, 670 with launch control
WLTP Range: 280 miles
270kW charging
0-60mph: 3.0 sec.

4S with Performance Battery Plus

$110,380
482 hp, 563 with launch control
WLTP Range: 287 miles
270kW charging
0-60mph: 3.8 sec.

4S Base

$103,800
429 hp, 522 with launch control
WLTP Range: 252 miles
225kW Charging
0-60mph: 3.8 sec.
With this new addition, the 4S with Performance Battery Plus becomes the Taycan model with the most range at 287 miles. Of course, all of these numbers are based on the WLTP standards, so expect the EPA range to be lower across the board for all of these. We are also unsure if the 4S with performance battery will be able to do 350 kW charging like the Turbo models. Considering that they both share the same battery, we imagine that it might be the case.
Porsche states that there are a few exterior differences on the 4S models.
Distinguishing features of the Taycan 4S compared with the Turbo and Turbo S include the aerodynamically optimised 19-inch Taycan S Aero wheels and the red-painted brake callipers. The front apron with new geometry, side sills and rear diffuser in black ensure further visual differentiation. LED headlights including Porsche Dynamic Light System Plus (PDLS Plus) are equipped as standard.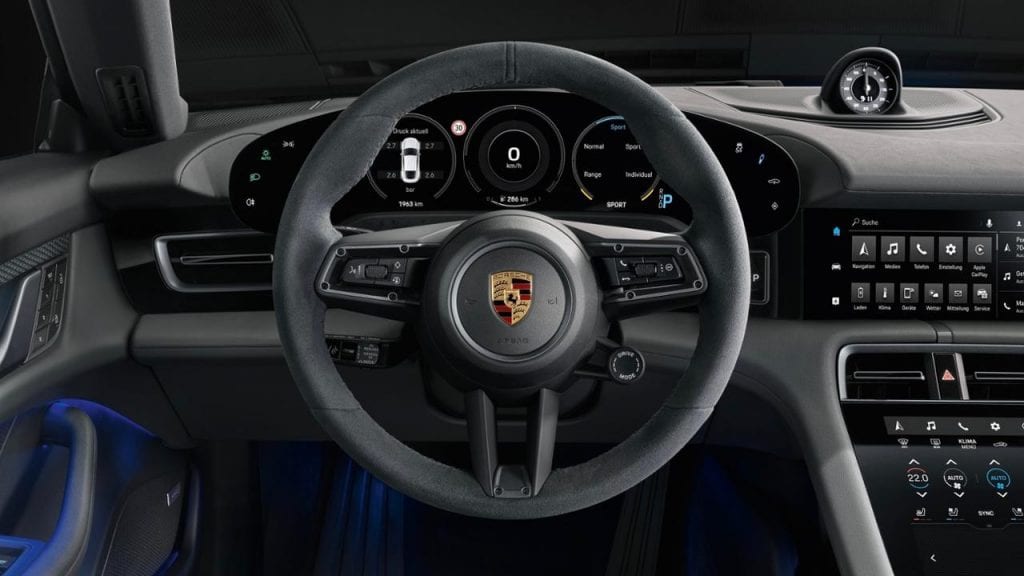 Expect the Taycan 4S to make its way into European showroom in January and then in US showrooms in Spring 2020.
This is a very good move on Porsche's part. While most people seemed to really like the Taycan, the big negative for many was high cost. Now that Porsche has knocked off $80,000 from its top tier model, it will hopefully have more people consider the Taycan in the future. Admittedly it is still not in the sub-$100k range and on paper, the Model S is still the better car. But as we talked about before, for some, it's strictly not about the numbers.
Rumors of a single motor Taycan are still floating around. Given Porsche's naming schemes, there is room for two more models below the 4S as there is no Taycan or Taycan S. We imagine Porsche would like to sell the higher margined Turbo models before bringing out their cheapest version of the Taycan.
What do you guys think of this move? How do you feel about the specs and pricing? Let us know down in the comments below.
Source: Porsche