Up until this point, the Nikola Motor Company had exclusivly been working to bring Semi trucks to market with either fully electric or fuel cell powertrains. The Nikola One and Nikola Two semis seemed to be the closest competitors to the upcoming Tesla Semi, but now the company looks to bring a competitor for the Cybertruck and other electric trucks with its Badger electric truck.
Today the company revealed its Badger concept which looks to rise to the top of the upcoming electric truck market. The Badger uses hydrogen, but can also be used adequately on battery power alone. When used in conjunction with hydrogen, the Badger has a range of 600 miles. When used on battery power alone, the truck can still travel a respectable 300 miles.
The Badger is looking to have itself be useful to construction work as well, citing a goal to "exceed every electric or petrol pickup in its class." The Badger sports a peak HP of 960, 0-60 mph time of 2.9 sec., towing capacity of over 8,000 pounds, and a 15 kW power outlet for any heavy-duty tools.
Nikola is also putting an emphasis on the performance aspect of the Badger, much like Porsche has done with the Taycan recently with its goal to have minimal performance loss throughout the cycle of the battery. The company states that" the Badger was designed to handle 0-100 mph launches with minimal loss of performance and to operate on grades up to 40% through advanced software blending of batteries and fuel-cell."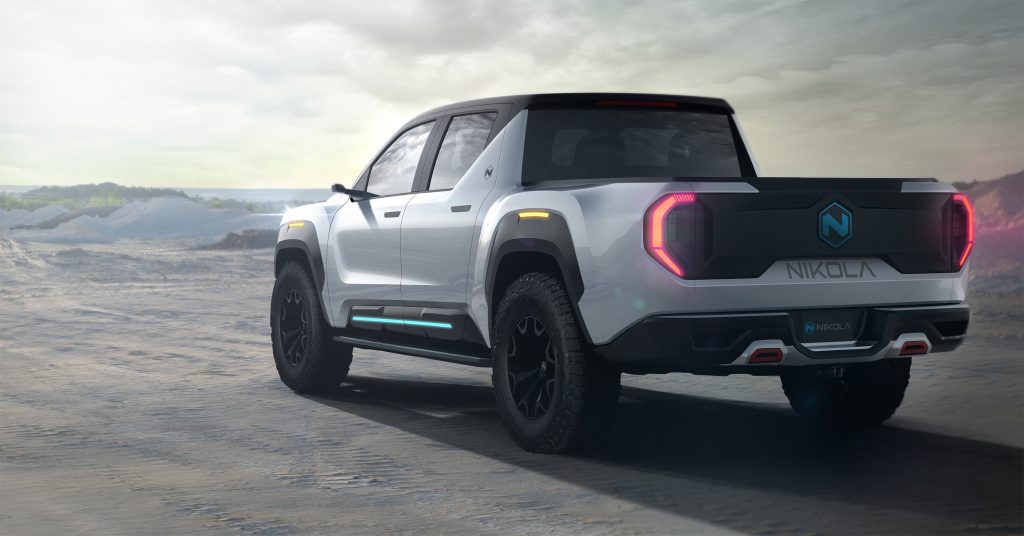 Trevor Milton, CEO of Nikola Corporation, had the following statement:
"Nikola has billions worth of technology in our semi-truck program, so why not build it into a pickup truck? I have been working on this pickup program for years and believe the market is now ready for something that can handle a full day's worth of work without running out of energy.  This electric truck can be used for work, weekend getaways, towing, off-roading or to hit the ski slopes without performance loss. No other electric pickup can operate in these temperatures and conditions."
The current specifications are as follows:
600 miles on blended FCEV / BEV 
300 miles on BEV alone
Operates on blended FCEV / BEV or BEV only by a touch of a button
906 HP peak
455 HP continuous
980 ft. lbs. of torque
160 kWh, flooded module – lithium-ion battery
120 kW fuel cell
Advanced Supercapacitor Launch Assist that blends with lithium-ion and fuel-cell
 -20F operating environments without major performance or SOC losses
Towing capacity of over 8,000 pounds
Operating targets without motor stalls up to 50% grade
15 kW power export outlet
Compatible with industry-standard charging for BEV mode
Five seats
Truck dimensions: 5900 mm long x 1850 mm tall x 2160 mm wide a 1560 mm bed width
Nikola makes note that the Badger will be built in conjunction with another manufacturer and utilize their parts and manufacturing facilities. It will be interesting to see who the other part will be.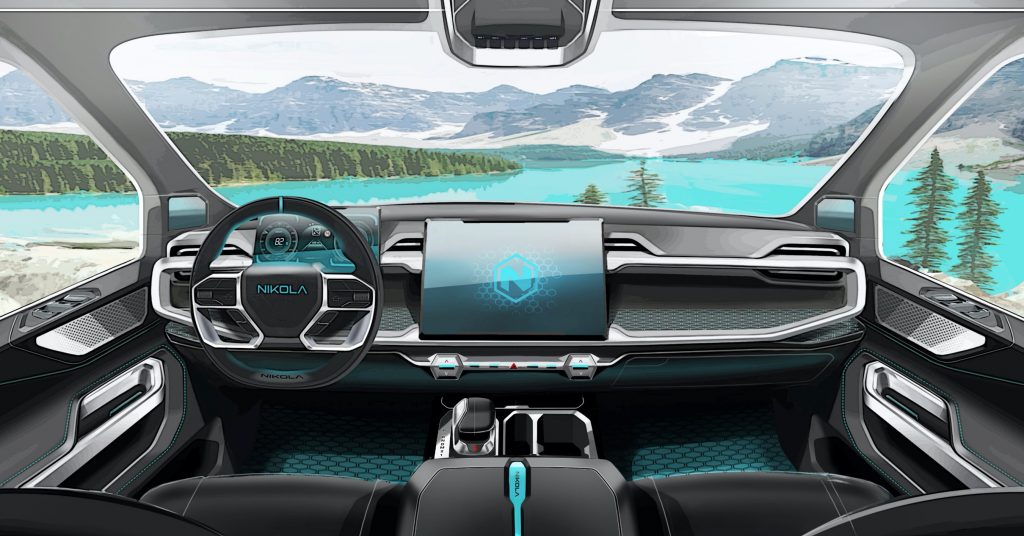 As you all know at this point, I am not the biggest fan of hydrogen when it comes to moving resources away from fully electric powertrains. However, the fact that the Badger can still go a respectable 300 miles without the use of hydrogen is definitely a plus. Nikola already has plans to build 700 hydrogen stations throughout the country for their Semi fleet, so I cannot say that it doesn't make sense for their truck to have a fuel cell powertrain if they are building an underlying hydrogen network.
Overall its a very interesting concept and we hope that there can be a useful hydrogen network for it to use upon its release. There is no word on release, but Nikola states that it will show off the prototype for the first time this coming September.
What do you guys think of the truck? Let us know down in the comments below.
Source: Nikola