Whoever at Kia came up with name for this electric car concept must be very proud of themselves. Playing on the current Niro name, the Kia HabaNiro is the most in-your-face electric car we have seen.
I would just like to begin by saying that Kia is taking a lot of pride in their HabaNiro concept.
From the press release:
The HabaNiro concept is a fully-electric, all-wheel drive, four-seat wonder car with an All Electric Range (AER) of more than 300 miles, level-five autonomous mode, butterfly wing doors and more advanced tech than what helped land men on the moon.
Kia considers the HabaNiro not "easily defined" in terms of what industry category it belongs to. As such, they have taken upon themselves state that it is "essentially an all-electric Everything Car or ECEV".
Tom Kearns, vice president of design for Kia Design Center America (KDCA) had the following to say:
"We wanted this concept to be comfortable navigating city streets, carving turns on a coastal road and off-roading with confidence to remote wilderness adventures. We imagined a car for everyone and nearly everything."
I do not know how much more utility the HabaNiro has against other small crossovers, but it definitely is noteworthy for its styling.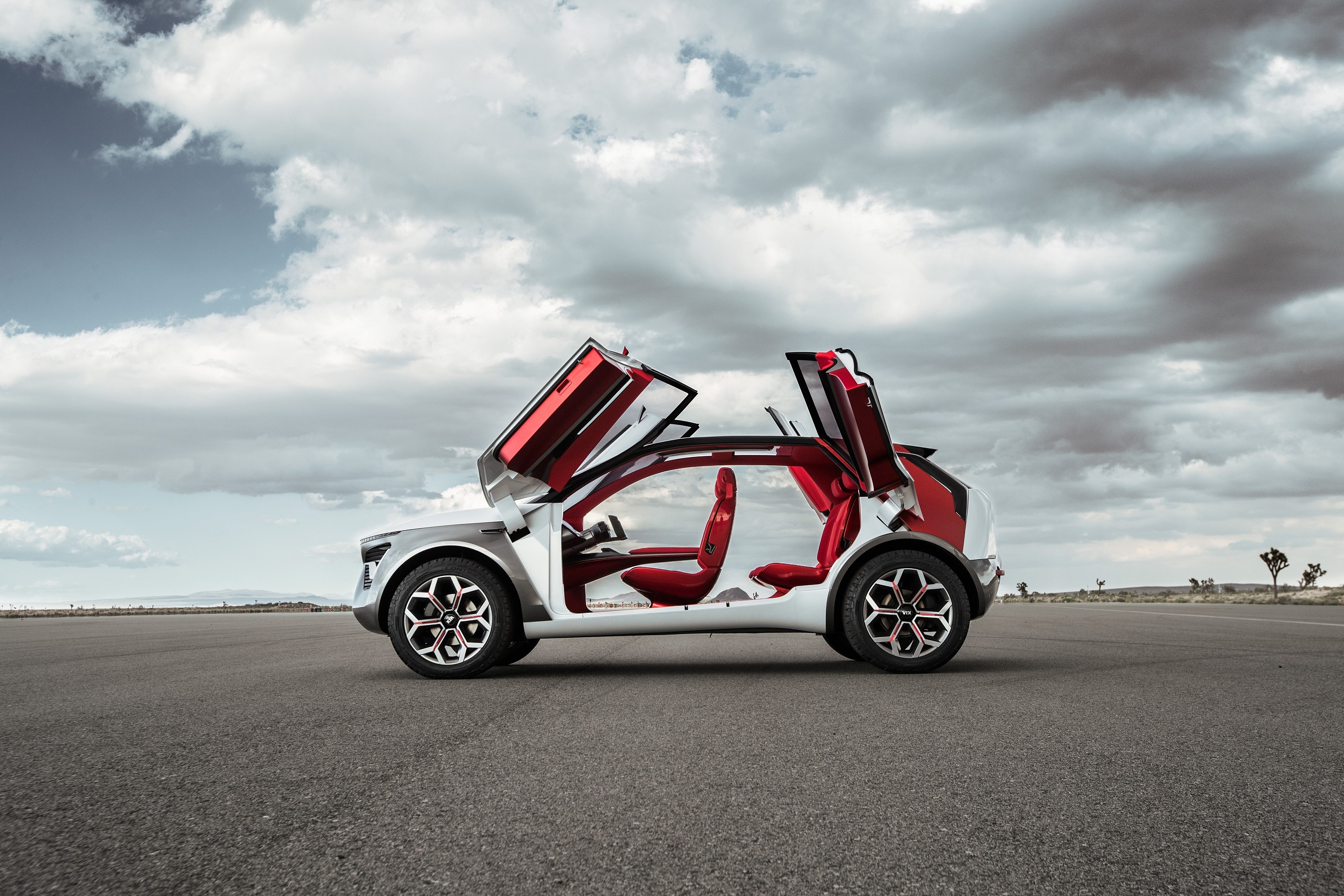 The Kia HabaNiro features two sets of butterfly doors that open to a B-pillar-less cabin, allowing for a completely open cockpit. The doors open to blindingly red interior that Kia calls "Lava Red". Of course being the uber futuristic car that it is, the HabaNiro does away with any sort of knobs or screens.  Instead your screen will be a Heads-Up Display (HUD) that takes up the whole windshield and controlled by a touch sensitive acrylic panel that spans the whole dashboard.
In terms of other high-tech interior features, the HabaNiro features a retractable steering wheel when the car is utilizing its Level 5 autonomy. Additionally it feature's Kia's new Real-time Emotion Adaptive Driving (R.E.A.D.) System. The artificial intelligence monitors the driver's emotional state and can tailor the interior according to its assessment, "potentially altering conditions relating to the human senses within the cabin and in turn creating a more pleasurable and safer driving experience."
You might notice that there is not rear view mirror. That is because the R.E.A.D. system has eye-tracking as well and will display a rear view display when it sees the driver look up to where the mirror would be.
The exterior is not to be outdone compared to the interior. The HabaNiro's styling is what Kia would call "spicy" with a bright Lava Red streak going down the C-pillar. Kia describes the front grille as resembling a shark's snout, "snout, complete with a slit-like gap full of gloss black aluminum "teeth" similar to the cooling blades found on high-end electronic equipment".
Truth be told, I am a fan of wild cars like this. The styling is loud, aggressive, and I can see that the design team had fun with it. However, the production version of these types of concepts are always toned down for the understandable reason of either being too expensive (i.e. double butterfly doors), or having features not yet ready (i.e. Level 5 autonomy). Despite this however, Kia has addressed the sentiment and suggests that the features and styling of the HabaNiro will make their way into production in some capacity.
But this is no fanciful supercar that will likely never be built, but a prescient look into the future of mobility where automobiles will seamlessly integrate design, capability, usefulness and creativity.

….

Some will assume the HabaNiro concept will never be built, but we don't advise betting the farm on it. In the past 18 months, Kia has launched two vehicles, the Stinger and the Telluride, from concepts that fully captured the public's imagination. The HabaNiro's butterfly doors? Maybe not today, but the future is an exciting place and Kia is ready to lead the automotive industry into this spicy world of possibility.
I wish you the best of luck Kia, and I hope you continue to bring the heat.
Specifications:
Dimensions

Length: 4430 mm/ 171 inches
Height: 1600 mm/ 63 inches
Width: 1955 mm/ 77 inches
Wheelbase: 2830 mm/ 111.5 inches

Powertrain and battery

e-AWD supplied by two electric motors, fore and aft
300+ mile All Electric Range (AER)
Advanced state of the art battery technology

Exterior Features

Snowdrift Pearl White tri-coat exterior paint
Satin Metallic Granite Grey cladding
Anodized "Lava Red" aero panel
265/50R20 tires

Interior Features

Heads-Up Display Features:

Navigation system with augmented reality graphic directions
180° rearview video display in place of physical mirrors
Full windshield entertainment video system with surround sound
3D speed readout display
Full width acrylic touch panel with Sensory Light Feedback (SLF) with Technical Option Sharing System (TOSS) feature provides interaction with HUD

AI-based R.E.A.D. technology
Eye Tracking System (ETS) enables 180° rearview video display
So, what do you guys think?  How many features will see their way into production? Let us know down in the comments below.
Source: Kia