Hyundai's newest electric model, the Kona Electric has finally received a range from the EPA. The car was found to have a very respectable range of 258 miles squeezed out from its 64 kWh battery.
Along with the range rating the Kona was given an MPGe of 120 combined, 132 city, and 108 highway. That 120 combined MPGe places it in third place after the Ioniq Electric (136 MPGe) and the Model 3 Long Range (130MPGe). It also puts it right in front of one of its biggest competitors, the Chevy Bolt (119MPGe).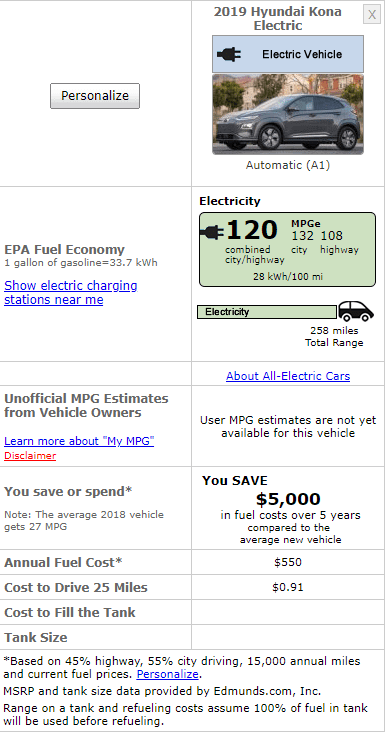 When the Kona Electric was announced, Hyundai claimed a range of "up to 292 miles" for the larger battery version. Unfortunately, like a lot of automakers that figure is based on the more lenient European standard. But when accounting for the less demanding tests most estimated the Kona to have around a 250 mile range on the EPA test. And it delivered right on the money with its 258 mile rating.
For the time being only the longer range version of the Kona is being produced, but there will be one with a smaller battery and lower range coming after.
The long range version boasts a 64 kWh battery as opposed to the 39.2 kWh battery pack found in the short range model. Along with the battery, the motors are also switched out between each version. The long range has a 150 kW motor (7.6 second 0-100km/h), while the short range has a 99 kW motor(9.3 second 0-100km/h).
This results in what Hyundai claims to be a range of 186 miles for the short range version. Of course if this number is based on European standards, then the EPA rating will most likely be in the 150-160 mile range, which is still very serviceable.
There has not been any word of the price for either version of the car in the US. Rumors have the short range version starting in the low $30,000s while the long range version is expected to be starting around $40,000. This will put the long range version in the ballpark of the Chevy Bolt, which Hyundai will compete against for the affordable EV market while the $35,000 Model 3 has not started production.
What do you guys think about the Kona Electric? Let us know down in the comments below.