Over the air (OTA) software updates have been garnering more attention as electric cars come out thanks to extensive Tesla software updates adding anything from more range to new video games. Of course, a company will prioritize something like their EVs powertrain over quirky features via software updates, but nonetheless, no automaker has really expanded the use of OTAs past bug fixes. The new Ford Mustang Mach-E received its first software update following its launch, but don't get your hopes up for something exciting just yet.
The news comes from Ford documentation being sent out detailing its first software update for the Mach-E as well as the F-150.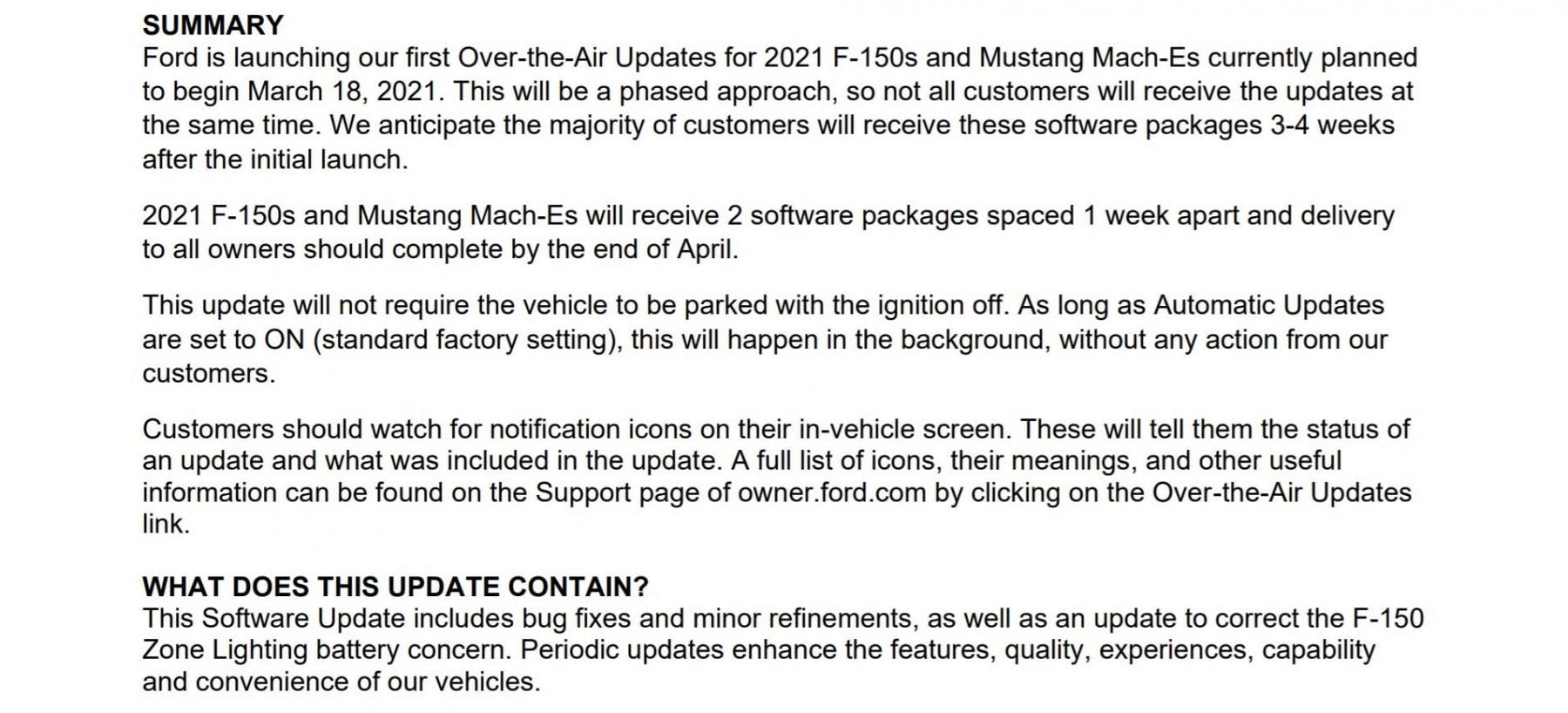 The update is currently being pushed out and should be completed for both Mach-E and F-150 owners by the end of April.
For those that were hoping for some sort of flashy new features right out the gate, you might be disappointed to see that it is just a general bug fix update:
The Software Update includes bug fixes and minor refinements, as well as an update to correct the F-150 Zone Lighting battery concern. Periodic updates enhance the features, quality, experiences, capability and convenience of all vehicles.
Unfortunately beyond the standard "bug fixes" line, there isn't anything more specific being told. So if you are the type that likes to get down in the nitty-gritty of what small things were fixed then you are out of luck. Unlike video games or other computer software, naming all the individual bug fixes is less common when it comes to car software.
That being said, we have all become spoiled by Tesla and their updates, but it's important to have a good foundation before moving on to more fun things. The cars should now be in more people's hands who are using the system in ways that Ford perhaps has not tested. Ford CEO Jim Farley has told us that Ford would be using their software updates to introduce new features, so we remain hopeful that we'll get a chance to see another automaker use OTA updates in creative ways.
Do you guys have high hopes for future Ford OTA updates? Let us know down in the comments below.