Byton has not had the best 2020. The Chinese EV startup had plans to debut their M-Byte electric SUV in 2019 but then the double whammy of 'making a car is hard' and the world ending in late 2019 both hit in once. Since then the company has not been able to make much progress and has fallen behind a whole year, furloughing employees and burning money. However, it now looks like the startup will be getting some much-needed cash and guidance from an unlikely source.
Foxconn Technology Group, best known for assembling Apple iPhones and a plethora of other consumer electronics has signed a strategic cooperation deal with Byton along with the help of the Nanjing Economic and Technological Development Zone, reports Bloomberg.
According to a source familiar with the matter, the deal will see Foxconn injecting $200 million of much-needed cash into the company and will "supply Byton with its advanced manufacturing technology, operation management expertise and supply chain resources." The goal is to have the M-Byte start mass production by the first quarter of 2022.
While it may seem odd that a consumer electrics company not named Apple would be interested in pursuing electric cars, the move is not completely out of left field. The Taiwan-based company revealed their plans for an EV platform of their own that will feature a solid-state battery a few months ago. Foxconn will most likely take this opportunity to get some experience with vehicle production by helping Byton. In fact, according to another source the company is reaching out to other Chinese EV automakers to open up more collaborations. Given their close ties with Apple it wouldn't be shocking if Foxconn is trying to get as much exposure as possible to auto manufacturing to help Apple with their supposed future electric car.
As a refresher, the Byton M-Byte is an upcoming electric SUV that comes with either a single or dual-motor setup producing 268 hp and 402 hp respectively. Also, there will be two battery options, a 72 kWh and 95 kWh, giving a range of 267-341 miles (NEDC) depending on the configuration. The car's claim to fame is its absolutely gigantic 48-inch display that takes up the entirety of the dashboard.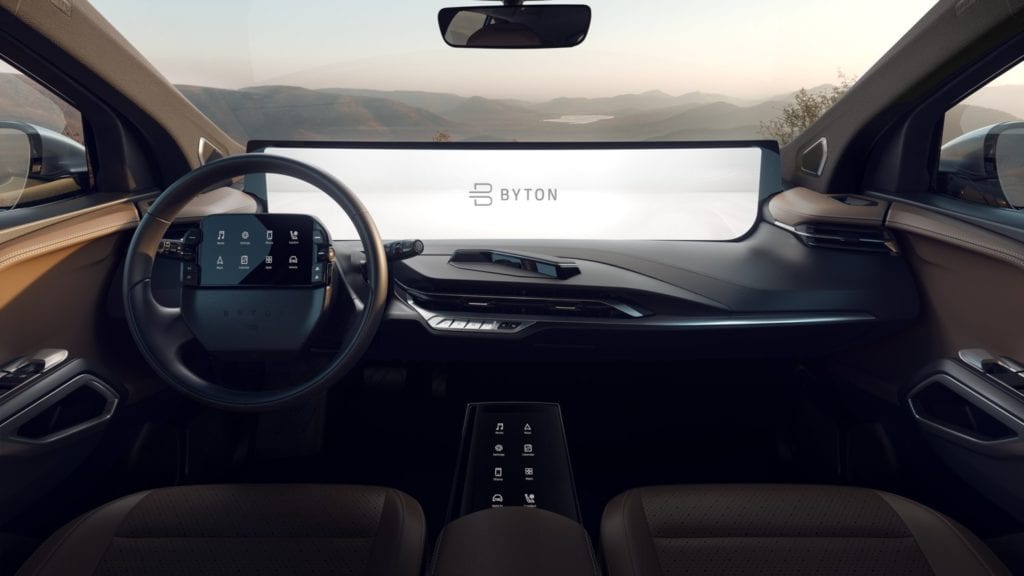 What do you think Foxconn's plan is and do you think Byton will make their Q1 2022 goal? Let us know down in the comments below.