If you are waiting to get your hands on an electric Subaru anytime soon, I have some bad news, it's going to be quite a wait as the company revealed its future roadmap.
If you like that EV mockup that's posted above that Subaru is co-developing with Toyota, then I hope you really like it, because you will be waiting around half a decade for it to make its debut.  The Japanese automaker presented the mockup during a technology briefing, but it is safe to say that with so much breathing room between now and the planned production date, the design could shift multiple times as trends and technology changes.
While Subaru is committing itself to electrify its lineup, it will not do it in a hurry (as evidenced by not having any fully electric cars for the first half of the 2020s). The automaker released a statement with a simple roadmap of its goals over the next few decades in regards to lowering its carbon emissions.
By 2050: Reduce average well-to-wheel CO2 emissions from new vehicles (in operation) sold worldwide by 90% or more compared to 2010 levels.
By 2030: Make at least 40% of Subaru global sales electric vehicles (EVs) or hybrid electric vehicles (HEVs).
By the first half of the 2030s: Apply electrification technologies to all Subaru vehicles sold worldwide.
Subaru joins the club of automakers who do not separate their fully electric vehicle goals from their simply "electrified" models, meaning that for all we know they could only envision 5% of their sales be from BEVs in 2030. It really is a pet peeve of mine and while hybrids are better than nothing, battery electrics are better than that. However, with their first electric car oriented goal being a whole decade away, I'm sure that Subaru isn't even really sure about what the split between hybrids and BEVs will be.
President Tomomi Nakamura stated:
"Even in this once-in-a-century period of profound transformation, Subaru's strong commitment and dedication towards car-manufacturing that we have cultivated throughout our history remain unchanged. With the aim of making Subaru different from other brands, we will further hone the distinctive qualities that make a Subaru a Subaru, maintaining the unique attributes our customers have come to expect. At the same time, as we work to fulfill our social responsibilities, including the protection of the global environment, we will leverage Subaru's unique character and technological innovation to contribute to the creation of a carbon-free society."
All in all, it's not the absolute worst plan I have seen with an electrified version of each model by 2030 and almost half of new sales being electrified (how many fully electrics though?). Subaru has however decided to have a much later start than most.
While Subaru is one of the few independent automakers left, they are part of a larger Subaru conglomerate and are working with Toyota, one of the largest automakers in the world. Resources should not be too much of an issue for the company (at least not enough of an issue for it to take so long to release an EV). So it is pretty safe to say that this is just a company decided to work on EV technology at a moderate to slow pace.
Nakamura has been very hesitant of the demand for electric cars in the United States, saying:
"The U.S. market is really tough. I think that the market for electrified vehicles will take some more time to form in the U.S. Only Tesla's EVs are selling well. We need to watch carefully how the market trend will change, going forward. But I think a trend toward electrified vehicles will emerge, without doubt, so we would like to make preparations for that."
While I understand the sentiment, citing the low sales of the Crosstrek plug-in a pretty weak argument to me.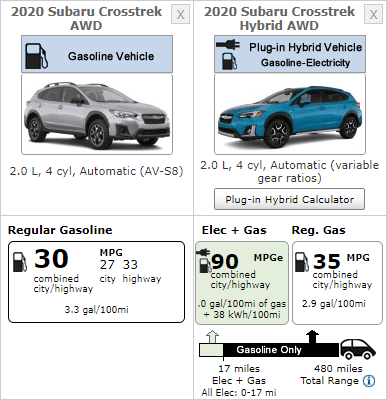 There is a significant price difference between the bottom trims of the Crosstrek and the hybrid version of it. The base Crosstrek is one of the cheapest new cars that you can buy with All-Wheel Drive standard, making it a perfect choice for someone who just needs a utility vehicle that can get through the snow alright. I'm willing to bet that a lot of sales for the Crosstrek comes at the lower trim levels from people that want to save money and want a car that just works. Why would anyone want to spend almost double the money from the base model to get a hybrid version that quite frankly does not even deliver that much more gas savings? The extra five combined gas milage and 17 miles of electric range is simply not worth the  $17,000 premium.
So if this is the best effort that Subaru can muster up at this point, then I can see why they want to take their time. But if this is them just phoning it in, then their electric future is worrying. While Tesla EVs might be the 'only one's selling well' it is because they are the best electric cars that are currently offered, whether you agree or not. If Subaru could make a better electric car then it too would sell well. And if you're not trying to make the best car you can, why are you making cars?
What do you guys think of the upcoming electric Subaru? Electric Subaru prospects? Let us know down in the comments below.
Source: Automotive News