When the Porsche Taycan was first announced I was almost certain it would be my next car. It was expected to compete directly against the Tesla Model S in both price and specs. A 300 mile range with a price starting at $90,000 and going as high as $130,000. The company even stated plans to produce 20,000-30,000 vehicles annually putting it neck and neck with the Tesla Model S. We then saw Porsche benchmarking the Taycan against a Tesla and it was all but confirmed, the Porsche Taycan would be the first actual 'Tesla Killer'.
Through $2,500 reservations the Taycan sold out its first year of production. The legacy automaker made it clear that they were converting Tesla owners into Taycan enthusiasts. They continued to throw jabs at Tesla through pre-production comparisons. This excited many as competition would only mean overall growth for sustainable vehicles.
I was just about ready to make the switch over to Porsche. Don't get me wrong, I love my Model S. At the time, coming from other luxury vehicles, all I could see was the lack of comparable features. Sure, it excelled through innovations such as Autopilot, over-the-air updates, and an industry leading entertainment system but there was so much still missing. When strictly comparing quality and quirks to other luxury automakers Tesla couldn't come close.
One thing was for certain, I wouldn't be making the switch back to a petrol powered vehicle. Electric cars simply drive better, are more convenient, and fit my lifestyle. Which is why I was ecstatic to see the Porsche Taycan come to fruition. The best of both worlds.
Sadly, after the Taycan was officially unveiled, it was clear that Porsche took a different approach. The base model of the electric car has an EPA range of just 192 miles with a starting price of $103,000. That number drastically shoots up to $185,000 for the performance option with range capping at just 201 miles. These are the vehicles at the bare minimum, not even the charger is included. If you'd like some of the features expected from a luxury automaker you can pick and choose from the six figures worth of options.
My configuration on the base model would come out to $140,640, nearly twice the price of my Tesla Model S.
The Porsche Taycan has leaned both ways since its release. Some are calling it the worst electric car available today while others believe it tops all other electric sports cars. Porsche took this vehicle in a certain direction, one they know best.
The Porsche Taycan is not a daily driver, it's not a car for road trips, its definitely not a family sedan. The Taycan is a performance vehicle built solely for the track. That's perfectly fine for those into that niche, it's just not for me. It has a slower 0-60 than a Tesla Model S, a lower top speed, and a much lower range. But it can still outperform any Tesla in most racing scenarios. It arguably also looks better and feels more luxurious in general.
Even so, the Porsche Taycan is just not what I expected. It's not a matter of low range, that doesn't actually matter. No one really needs a split second faster 0-60 time and unless you race cars for a living you'll never see your cars top speed. Simply put, for twice the price I expect twice the car and I don't see that value made up anywhere, at least not for me personally. A Porsche crest alone is just not worth six figures in my book.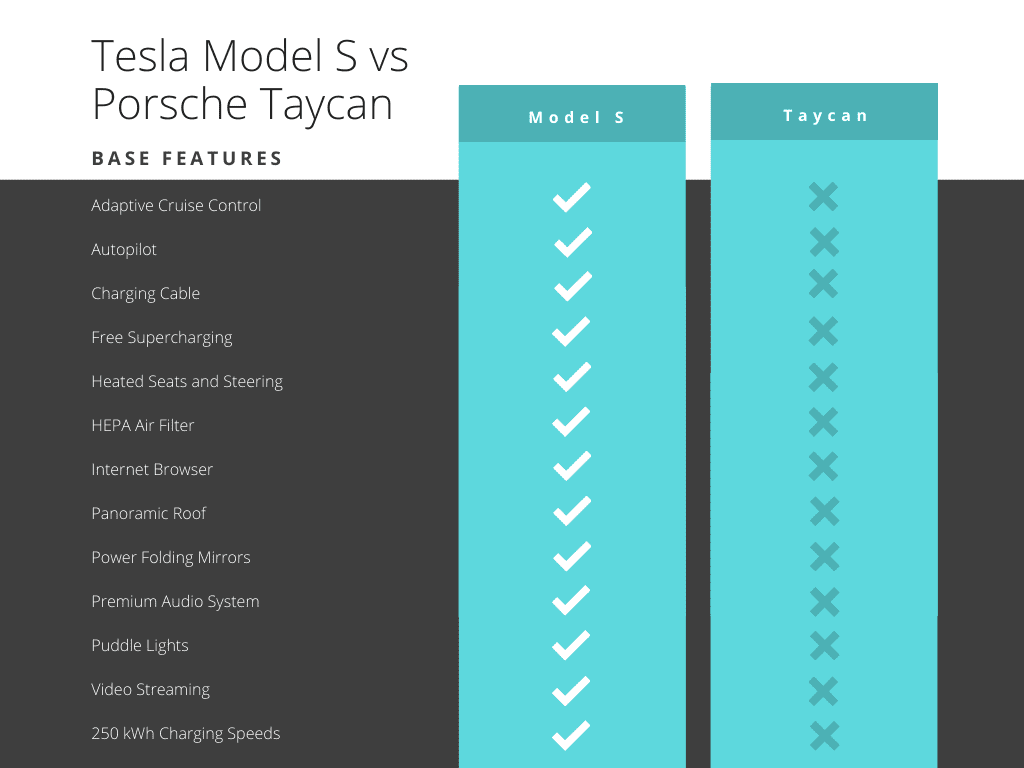 I will still be trading in my car this year as planned. Because of lack of options I will most likely go from a 2018 Tesla Model S to a leased 2020 Tesla Model S. I know, boring. But the new Raven powertrain, battery, camera system, and MCU will give me a faster car, a smoother ride, over 100 miles of extra range, an Autopilot system that's future proof, and entertainment features such as Netflix and in-car video games from the Tesla Arcade. All of this for the same monthly payment I'm currently on. Half the payment of a Porsche Taycan that has half the features.