We tend to focus on electric cars as we transition into this all-electric future but motorcycles manufacturers have been making just as many moves. Harley Davidson, one of the most popular names in the industry, has pledged to invest $150-$180M on electric vehicle development through 2022. They have announced a few electric motorcycles and one is even set to release this year, the LiveWire, an electric sport bike.
Lightning is one of those companies who was able to spring up before legacy manufacturers got word of our shift towards sustainable energy. They have been around since 2006 and have been making headlines since.
In 2013, the Lightning LS-218 was able to best all the gas powered motorcycles at Pikes Peak, bringing home the record. In in 2011 at the Bonneville Salt Flats, they ran a speed of 215.907mph, being the first electric bike to break 200 mph. The LS-218 still holds that speed record today.
The LS-218 is a consumer bike expected to run you $38,888. With their latest electric sport bike, the Strike, Lightning is entering the affordable market. The Lightning Strike will start at just $12,998 with more than impressive specs. The Lightning Strike will boast a respectable top speed of 150 mph (241 kmh) with a range of 150 miles(241 km).
This electric sport bike will offer all three charging levels, allowing you access to an abundance of energy locations. On a level 3 charger, the Lightning Strike can charge 100 miles in just 20 minutes. A full charge can be done in just 35 minutes. That is almost twice as fast as the upcoming Harley Davidson LiveWire for half the price.
"A major objection of electric motorcycle ownership has always been slow charging – often requiring many hours and limiting all-day riding and long distance touring ability. With the upcoming launch of the all-new Strike, Lightning intends to put an end to the era of slow electric motorcycle charging."
[gdgallery_gallery id_gallery="92″]
If you are looking for an electric sport bike, at just 12,998, the Lightning Strike is the best buy. The Harley Davidson LiveWire starts at $29,799 with only a 110 mile range and a 95 mph (153 kmh) top speed. Then there's the Zero SR, an actual respectable bike still coming in slower and more expensive than the Strike with a similar range option, but slower top speed, for a starting price of ~$20,000.
This electric sport bike offers three trim levels. The first starting at the base price with a range of 100 miles in the city or 70 miles on the highway and a 3.3 kilowatt charger. You can upgrade to a 6.7 kilowatt charger to slice that charge time in half. For $4,000 more, you can upgrade to a range of 150 miles in the city or 105 miles on the highway. Both trims offer a top speed of 135 mph. The highest trim brings in a top speed of 150 mph and comes standard with the 6.7 kilowatt charger at just $19,998. This model is dubbed the Carbon Edition for its design and comes with a larger battery and engine as well.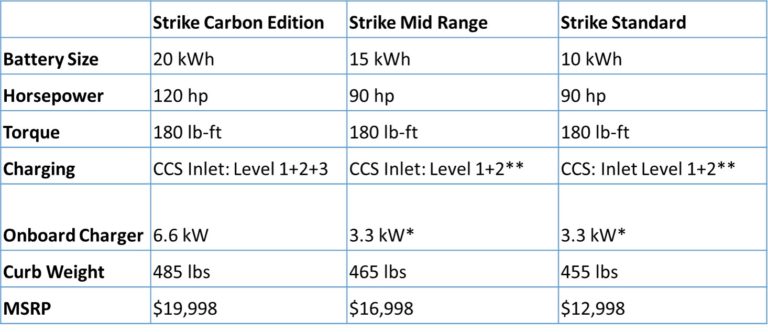 The Strike is an electric sport bike from a company who has achieved the impossible and continues to do so. We expect to hear more about them and their records as we evolve into a more sustainable future.