Improved Voice Command Reliability
We have improved voice command reliability, including in areas with poor connectivity. Note: to use voice commands, simply tap the right steering wheel button and speak your command after the beep – there is no need to press and hold the button.
| | | |
| --- | --- | --- |
| First Noticed 2020.8 (March 2020) | MCU 1+ | AP 1+ |
Further quality of life improvements have been pushed with improved reliability with voice commands, hopefully cutting down on the amount of times you yell at your car for not properly understainds what you just said.
---
Additional Vehicle Information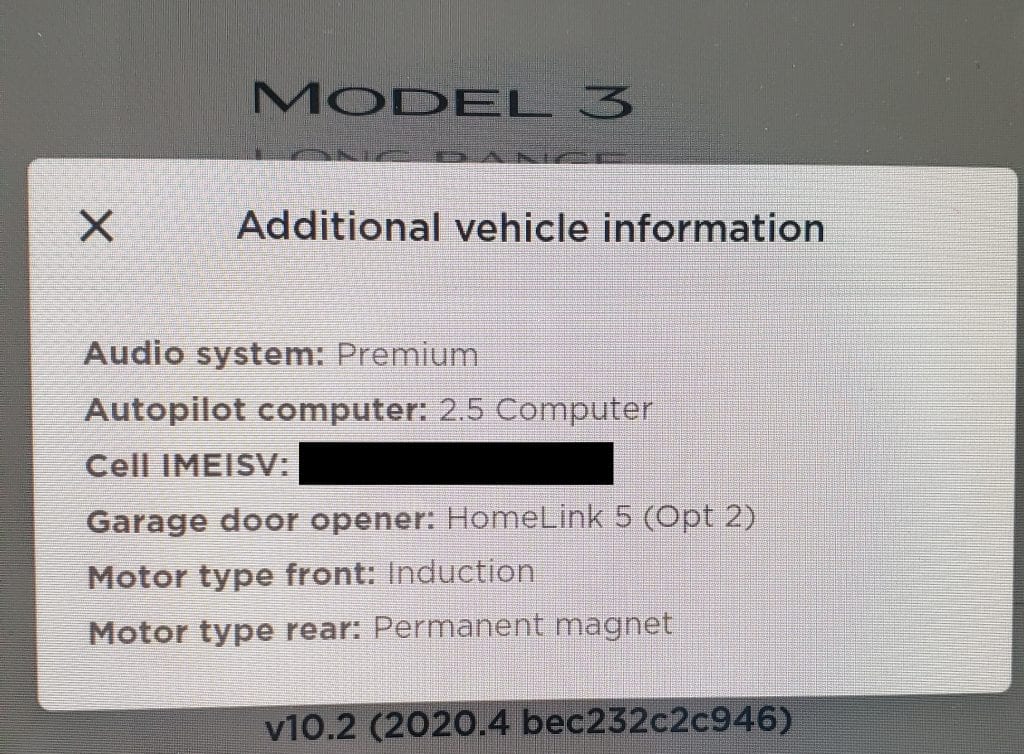 View additional information regarding the configuration of your car by tapping Controls > Software > Additional vehicle information.
| | | |
| --- | --- | --- |
| First Noticed 2020.4.1 (January 2020) | MCU 1+ | AP 2+ |
A very small update for the likes of North America, Europe, and Australia, the new update gives you a new screen that gives you a new screen with small tidbits of additional infromation. The new screen gives you infromation that you didn't think you would want, such as what type of motors are in the front and rear of the car. It certainly not the most useful feature in the world, but it does give you just that much more information about your car. On the other hand, the Chinese Market recieved a much more substaintial update that included games such as DouDiZhu and MahJong along with adding BiliBili and YouKu to the Chinese Tesla Theater. Aside from enterntainment additions, the Chinese update also recieved and Air Quality Index and Weather and most excitingly the beta version of Smart Summon which is making its Chinese debut.
---
Driving Visualization Improvements
The driving visualization can now display additional objects which include stoplights, stop signs and select road markings. The stop sign and stop light visualizations are not a substitute for an attentive driver and will not stop the car. To see these additional objects in your driving visualization, tap Controls > Autopilot > Full Self-Driving Visualization Preview.
| | | |
| --- | --- | --- |
| First Noticed 2019.50.1 (December 2019) | MCU 1+ | AP 3+ |
As a further refinement of the Stop Sign Warning that was featured in the previous update, the driving visualization will now attempt to show you even more objects such as stoplights, stop signs, and other road markings. Once again it will not respond to stop signs at this point, but you will be able to gauge how accurate Tesla's latest iteration of Autopilot is really like.
---
Voice Commands
Voice commands have been rebuilt to understand natural language. For this initial release, we focused on commands that minimize having to touch the screen so you can keep your eyes on the road. A few areas and examples of what you can say are:

Climate: "Set the temperature to 70", "Turn on the passenger seat heater"
Vehicle: "Adjust my right mirror", "Open the glovebox"
Navigation: "Let's go to work", "Where are the nearby supercharging stations"
Media: "Play the Beatles", "Search for Joe Rogan podcast",
Communication: "Call Davis Lewis", "Send a text message to Evan"
Other: "Show me the rear camera", "Open Autopilot settings"

Anonymized voice commands will be captured to further train and improve the system in future software updates.
| | | |
| --- | --- | --- |
| First Noticed 2019.40.50.1 (December 2019) | MCU 2+ | AP 2+ |
In an effort to have you sound less like you're giving orders to a robot, Tesla has started to revamp its voice command structure to understand "natural language" better and encourage you to use voice commands instead of the touch screen so that you keep your eyes on the road. As always Tesla will continue to try and improve on this feature and release more refined versions in future updates.
---
Phone Improvements
You can now read and respond to text messages using your right scroll wheel button. When a new message is received press the right scroll wheel button to have your text message read out loud and press again to respond by speaking out loud. You will also be able to view messages as they come in via the "Cards" section of the touchscreen.

To view messages that have been received while your phone is connected via Bluetooth, tap the Application Launcher > Call > Messages. You can read and reply to a message by tapping an entry in the Messages list. To enable this feature, tap the Bluetooth icon on the top of the display, and enable "Sync Messages". Once enabled, you can also choose to play a chime whenever a new text message is received by enabling "Chime on New Message".

Additionally, if you have favorite phone contacts on your device, you can now easily access them from the Favorites tab of the Phone app.

Note: Notifications need to be enabled on your device from the phone's Bluetooth settings to send and receive text messages. Due to the limitations of Bluetooth support from your device, you will not be able to send group messages. As usual, Bluetooth behavior may depend on make and model of your device.
| | | |
| --- | --- | --- |
| First Noticed 2019.40.50.1 (December 2019) | MCU 2+ | AP 2+ |
In another effort to have a more hands-free experience, Tesla now added the ability to have your text messages read out loud and will also allow you to respond to text messages by speaking out loud. Additionally, you will be able to view messages directly as they come in via the "Cards" section of the touchscreen. While our update was rather small, the Chinese market got a much hefty update that included games such as Happy DouDiZhu and Magjong along with additions to the Tesla Theater which included BiliBili and YouKu. There was also an Air Quality Index and Weather and a ready to go QR code that you can bring up and schedule a service via WeChat. Last but not least, Smart Summon appears to have made its way to Chinese shores.
---
Camp Mode
Your car can now maintain airflow, temperature, interior lighting, as well as play music, and power devices when Camp Mode is enabled. To enable Camp Mode, tap the fan icon at the bottom of the touchscreen and set Keep Climate On to CAMP while your car is in PARK. Big batteries rock.
| | | |
| --- | --- | --- |
| First Noticed 2019.40.50.1 (December 2019) | MCU 1+ | AP 2+ |
Feel like camping out in Tesla? Tired of having to tap your screen every time your screen goes dim so that your car doesn't power off? Well, Camp Mode might just be the thing for you! Turning on the option will allow your car to maintain all of its functions while in Park so that you can comfortably chill out without having your music or air conditioning stop.
---
Tesla Theater Twitch
You can now watch Twitch in the Tesla Theater app. To launch Tesla Theater, tap the Entertainment icon in the Application Launcher and select the Theater tab while your car is in PARK. Note: Premium Connectivity is required to stream videos over cell. To subscribe to Premium Connectivity, please visit your Tesla Account online.
| | | |
| --- | --- | --- |
| First Noticed 2019.40.50.1 (December 2019) | MCU 2+ | AP 2+ |
Can't leave home without watching your favorite Fortnite stream? Tesla's got you.
---
Stardew Valley
You've inherited your grandfather's old farm plot in Stardew Valley. Armed with hand-me-down tools and a few coins, you set out to begin your new life. Can you learn to live off the land and turn these overgrown fields into a thriving home?
| | | |
| --- | --- | --- |
| First Noticed 2019.40.50.1 (December 2019) | MCU 2+ | AP 2+ |
As a holiday bonus, Stardew Valley becomes the second modern full-fledged game to make its way onto the Tesla…console? Stardew Valley might be the perfect way to kill tens of minutes while your charging as the whole game revolves around you building up and managing your farm. Need 10-20 minutes to charge up? Why not go pick some of your crops or figure out your next expansion plot. Above you can find a video of some gameplay.
---
Backgammon
Two players, two sides, one is light, one is dark. Play Backgammon against your passenger or challenge your Tesla to a game. Move by dragging and dropping the checker pieces during your turn. As with all Tesla Arcade Games, you can play when your car is in PARK by tapping the Application Launcher, then tap Entertainment > Arcade and select your desired game from the menu.
| | | |
| --- | --- | --- |
| First Noticed 2019.40.50.1 (December 2019) | MCU 1+ | AP 2+ |
Need a more classic game to get you through your wait? Challenge your friend to one of the oldest board games in human history, all in the comfort of your futuristic electric car.
---
Voice Keyboard
You can now use dictation to input text in your car. Simply tap the microphone icon on the keyboard to input text via voice control.
| | | |
| --- | --- | --- |
| First Noticed 2019.40.50.1 (December 2019) | MCU 1+ | AP 2+ |
Another feature to keep your eyes on the road. You will now be able to speak out your text input after tapping the microphone icon on the keyboard.