Nissan has long been overdue in regards to introducing another electric car to the mix. With Nissan having such a head start with the LEAF being released almost ten years ago, Nissan is in danger of falling behind in a market that they entered in extremely early. Thankfully, it looks like an electric crossover from Nissan will soon join the fray.
According to a report from Automotive News, Nissan had given U.S. retailers their first look at the upcoming electric crossover which is expected to arrive in the second half of 2021. It will be one of the eight electric models that Nissan has planned to release over the next few years.
According to the dealers who saw the vehicle, the electric crossover will have a range of around 300 miles and have a 0-60 mph time of under five seconds. The battery specifics were not disclosed, but given the range target, expect the battery to be in 75-85 kWh range.
The exterior size was said to be comparable to Nissan's compact Rouge, but thanks to the skateboard chassis design that is allotted to electric cars, the interior space is said to be closer in size to the midsize Murano. The interior was reported to look "futuristic" and "like nothing on the market". Once again, the dashboard is reported to be made up of high resolution screens like the Model 3 and Taycan, continuing on the industry trend to get rid of physical buttons and switches, in favor of screens.
We are sure that the electric crossover will take design cues from Nissan's IMx concept that was shown off at the 2017 Tokyo Motor Show. We will expect to see a more production-ready design to be shown off at the upcoming Tokyo Motor Show later this year.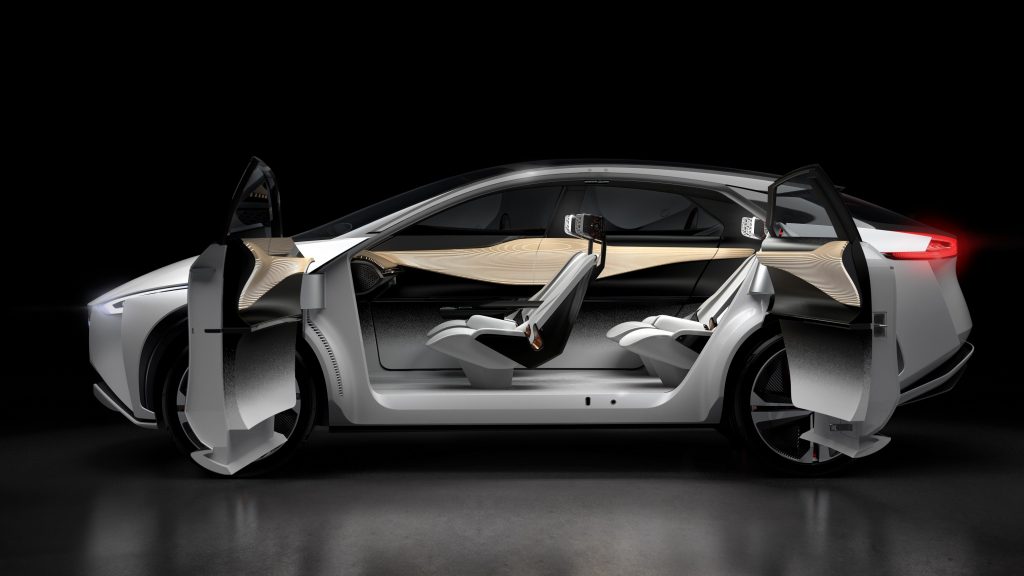 Nissan will be entering a highly contested market with this IMx-inspired electric car. The landscape is not as barren as it was when they first introduced the LEAF. Now all the major players are getting in on the action. By 2021 Nissan will have to duke it out with the Audi e-tron, BMW iX3, BMW iNEXT, Mercedes EQC, Jaguar I-Pace, Tesla Model Y, VW ID CROZZ, Ford's Mustang-inspired crossover, as well as other models that have not been officially announced yet.
Keep your eyes peeled at the upcoming Tokyo Motor Show on October 23rd to see what Nissan has planned.
What do you guys think of the concept? What would you like to see from the upcoming crossover? Let us know down in the comments below.
Source: Automotive News