EV startup Canoo has thrown its hat in the ring of upcoming electric trucks. While the company first started with its shuttle minivan, it has been quickly expanding over the past year. The Los Angeles-based automaker has already announced an electric delivery van and now an electric truck, with more cars still to come.
The company was formed in 2017 by two former members of EV-peer Faraday Future. Its first product is simply known as the Canoo and is an electric minivan that can seat seven people. The minivan segment is not particularly the hottest classification of vehicles so the company didn't receive the same hype that something like Fisker or Nikola did. Nonetheless, the company impressed enough that in early 2020 Hyundai Motors announced that they would partner with Canoo to jointly develop an electric vehicle platform. Since then Canoo has been able to reveal a delivery van and went public through a reverse merger.
Now we have an early look at a new electric pickup that is yet unnamed. One of the reasons Canoo has been to churn out new models at this pace is their EV platform, which they are quite proud of. The company writes:
The pickup truck is the third vehicle that will be based on the company's proprietary multi-purpose platform architecture, enabling the accelerated development timeline. Canoo's EV platform functionally integrates all the critical components of an electric powertrain to be as flat and efficient as possible. Traditional EV platforms have power units, shock towers and mechanical steering columns that protrude into the vehicle and take up space. By incorporating steer-by-wire and other space-saving technologies, Canoo's thin platform, with no need for an engine compartment, allows the company to offer a flatbed size comparable to America's best-selling pickup truck on a smaller footprint.
So that brings us to the Canoo electric truck. What do we know about it so far?
Canoo Electric Truck Design
Canoo has so far kept a very consistent design language between their planned vehicles. Canoo's vehicles give off a futuristic vibe, but not in the same way that something like the Cybertruck does. While the Cybertruck takes inspiration from Blade Runner the Canoo electric truck looks perfectly at home next to the Audi RSQ from iRobot, a much cleaner but still futuristic aesthetic.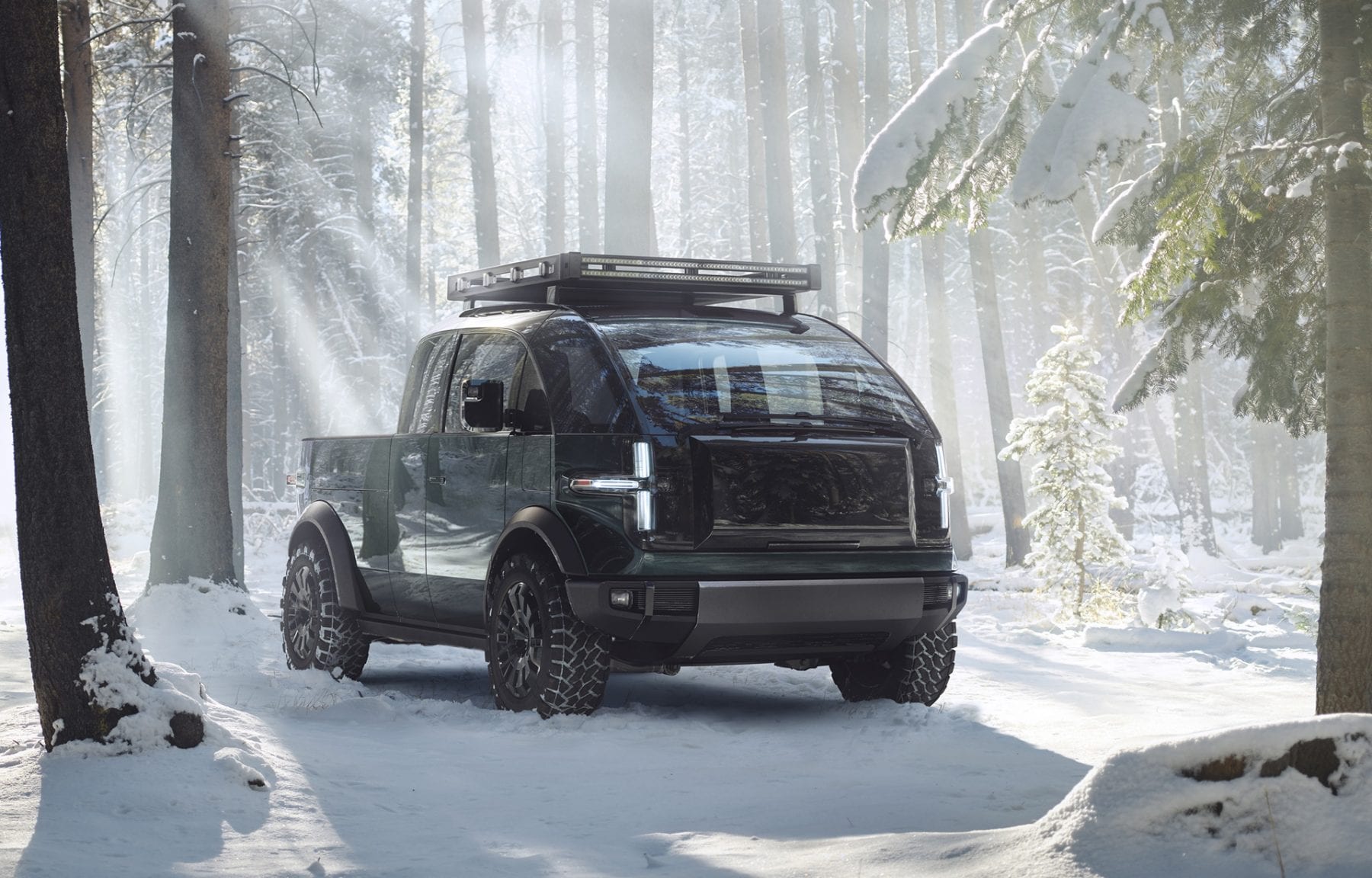 One of the most prominent visual aspects of the truck is of course the headlights and taillights. While the crosshair design is distinctive enough on their own, they also serve as the brand's logo, serving double duty. While the production version might change, there are no wordmarks on the truck. While the truck is visually very similar to the van, it has been beefed up with larger trim pieces along with wheel wells and bumpers, along with skid plates on the bottom of the car. It doesn't look like there's crazy ground clearance, but it should be good enough for most off-roading that doesn't involve climbing mountains.
The real fun with the Canoo electric truck is all the handy features that aren't immediately noticeable.
For instance, while the truck bed is six feet long, the bed can actually be extended to allow for eight feet of usable space. Along with the extension, the tailgate splits in the middle and swivels out with secondary brake lights so that you can still drive in this configuration. Additionally, both sides of the bed can be folded down to provide a work area close to the truck's embedded power outlets for your tools. There is also an extendable side step on the side of the vehicle in roughly the same location as the storage tunnel on the Rivian R1T. However, it is not only a step, but also another storage area that can hold a first aid kit, a cooler, and laptop storage. The concept has also been shown with a divider system that can allow you to further optimize your cargo space. Lastly, a small touch but a nice one, the third brake light at the top of the cabin can act as a spotlight so that the contents of your truck bed can be easily illuminated.
If you don't like working in the rear vehicle then you can work in the very front as there is a foldable panel in the front of the car. This non-traditional frunk allows for storage and yet another work area that is close to power outlets for your tools.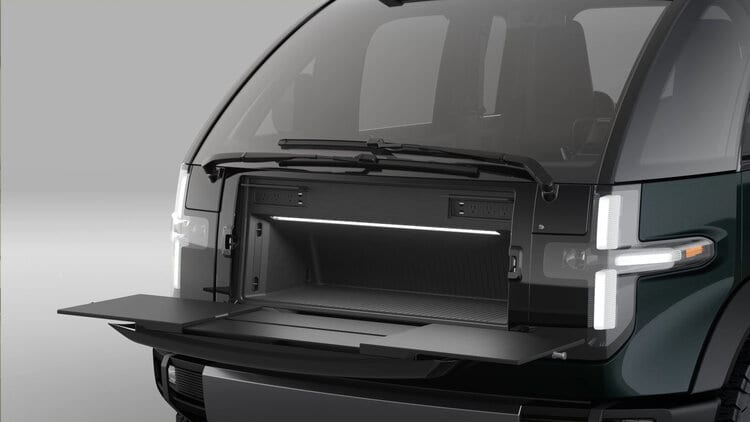 Canoo will also offer an optional roof rack as well as a camper shell.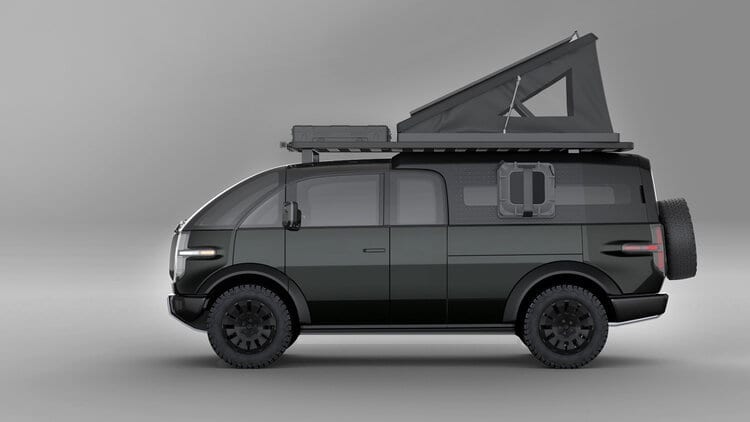 Interior wise the Canoo electric pickup is much less clear as no photos were given. All that was written about the interior was that it would be made with durable materials and that the extended cab version could either have two seats in the rear or "support additional purpose-built use-case configurability".
Canoo Electric Truck Specifications
As of now, these are the specifications that have been provided about the truck.
Dual or rear motor configurations
Up to 600 hp and 550 lb-ft of torque with dual motors
Vehicle payload capacity of 1800lbs
200+ miles of battery range
Wheelbase: 112.2 inches/ 2850 mm
Overall length: 184 inches/ 4677 mm (with bed extension: 213 inches/ 5400 mm)
Width: 78 inches/ 1980 mm (with mirrors: 87 inches/ 2209 mm)
Height: 76 inches/ 1920 mm (with roof rack: 82 inches/ 2085 mm)
Bed W,L: 64 inches/ 1627 mm x 72 inches/ 1817 mm (with extension: 64 inches/ 1627 mm x 102 inches/ 2600 mm)
Bed depth: 21 inches/ 522 mm
Power metrics look a little light, good enough with up to 600hp and 550 lb-ft of torque. The cheaper single motor version is obviously gonna have significantly less power, but I don't think you're going to take this car to the drag strip. There is a blemish when we look at the range. The truck is still a few years away so there's no point in trying to give a precise answer right now. Technically 300 miles is still "200+ miles" so it's possible to launch with a competitive range. It is worrying however that Canoo's EV platform page shows that the maximum battery size for their platform is 80 kWh. It's quite possible that that's simply illustrative and not a hard limit, but it certainly lowers hopes of maybe a 300+ mile range in something heavy like an electric truck.
While low 200 miles should be enough for most people's daily commutes, if Canoo truly believes that their truck can be used for off-road adventures far away from still limited chargers, I don't believe that's enough range. But perhaps that's just me nitpicking promotional material.
In regards to size, Canoo did a great job at packing a lot of utility in a relatively small size. While the dimensions of the truck are roughly that of a Ford Ranger, with the bed extension the Canoo electric truck has bed space that starts to compare with the Ford F-150.
Canoo Electric Truck Price & Availability
The electric truck will open up its reservations in a few months and will start deliveries in 2023. With the truck still a few years away, the specifications are still tentative and we will get full finalized specification numbers closer to the production start.
Pricing is also up in the air and will be an important factor for Canoo as there are a lot of options coming in the next few years. We do know that Canoo's delivery van will have a starting price of $33,000. A commercial van is more barren than a consumer truck, so the truck should be noticeably more expensive. With different options of motor numbers and possible different battery sizes, there is going to be a wide range. However, I would go out on a limb and say that the base Canoo electric truck could get in the low $40,000 range before incentives, making it yet another compelling offer in the space.
As always, let's see where this goes.
What do you guys think of the Canoo electric truck? Let us know down in the comments below.