The new Electric Mini is slated to come out in 2019 in time for MINI's 60th anniversary, but we still don't know what it looks like. Instead we'll have to settle for some design sketches.
BMW and MINI have been teasing us a lot with their next electric car. Frankly the car has been overdue at this point. Not only is it the ideal size, but it was BMW's first EV concept, the MINI-E. The program had led to the BMW i3, but never an electric Mini.
But it will finally be time. Last year BMW unveiled a Mini Electric concept along with an all-electric version of the classic Mini to excite us.
A couple days ago, after BMW confirmed that the iX3 would be produced and China, and alongside Elon Musk signing a deal for Tesla to build a Gigafactory in China, BMW added another car to be produced in China, the new Electric Mini.
BMW and Great Wall Motor had signed a joint venture agreement for the production of MINI electric vehicles in China.
"Today's signing represents a new level of cooperation between China and Germany," said Harald Krüger, Chairman of the Board of Management of BMW AG, during the signing ceremony. "This strategic partnership is a clear win-win for the BMW Group and Great Wall Motor, enabling us to contribute to China's ambitious plans to ramp-up new energy vehicles and reduce emissions in the mobility sector," elaborated Krüger.
The new Mini will still be made in the main plant in Oxford, but additional units will be produced in China. Which plant will be used and production capacity has not been stated. Obviously this is a good way to tap into the Chinese market as they are and will continue to be the largest market for electric cars.
So while we wait for any more additional info on the Electric Mini (like what it's going to be called) MINI was kind enough to tease us with two design sketches, a grille and a wheel to hold us over,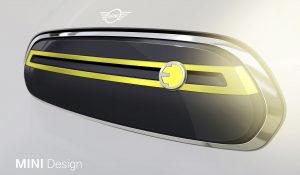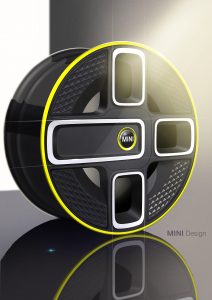 BMW had the following to say about the grille design:
Its hexagonal form is a signature MINI design element, but the closed-off interpretation is all new. Behind the grille, cooling elements are conspicuous by their absence – which means the grille can stay closed and therefore improve airflow. A yellow accent bar with an E badge in the same colour produces a powerful contrasting effect and identifies this as an electric MINI.
I wish we were given more info about the car or more revealing pictures, but we'll just have to live with these. What do you guys think about the electric MINI? Let us know down in the comments below.