Lucid Motors has announced that their first factory has completed construction and will look to start production of the Lucid Air in the coming months in time for their Spring 2021 delivery window.
The new factory in Casa Grande, Arizona will be known as the AMP-1 (Advanced Manufacturing Plant) and is currently undergoing the commissioning of production machinery and other equipment for the production of their upcoming Lucid Air. Trying to gain any small advantage they can over Tesla, Lucid was proud to state that the AMP-1 factory is the "first greenfield, dedicated electric vehicle factory to be built in North America", as it did not take over a previously built factory, like Tesla with Freemont or Rivian with their old Mitsubishi plant. Of course, Tesla will have their own once their Austin factory is completed (and their Shanghai Gigfactory already counts if we account for international factories).
Regardless, building a factory from scratch allows for more flexibility and fewer issues by having to work around already present layouts and architecture. Lucid has built its factory to adhere to a 'Future Ready' principle and will see four construction phases from early 2021 to 2028 where it will reach its final form. The current configuration has about 999,000 square feet of space and an annual production capacity of about 30,000 cars. By the end of 2028, the factory is planned to expand to 5.1 million square feet of space and be able to produce 400,000 cars annually.
The next phase of construction, which will start next year, will allow Lucid to start producing its planned electric SUV in 2023.
Peter Rawlinson, CEO and CTO, Lucid Motors had the following to say regarding the completion of the plant:
"We broke ground on the 590-acre Lucid AMP-1 site in Casa Grande, Arizona, on December 2, 2019, and slightly less than a year later we have completed the first purpose-built EV factory in North America. The effort and agility demonstrated by this team is truly astounding, as we're already commissioning equipment compatible with the Lucid manufacturing system to start production of the next-generation EV, the Lucid Air, in just a few months.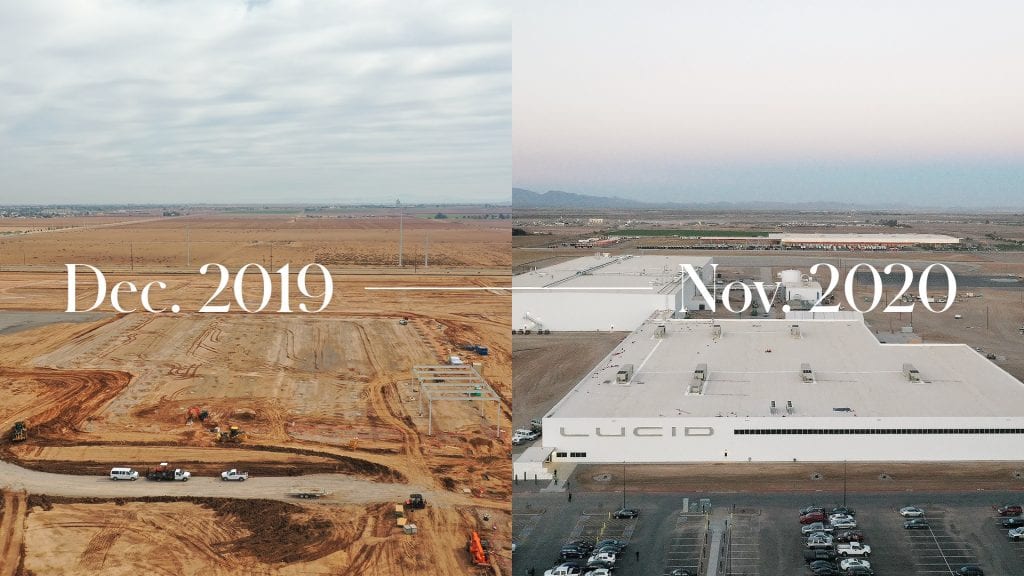 Arizona is looking to becoming a hub of electric car manufacturing as time moves on, Lucid states that their location choice was part in due to "infrastructure, talent, geographic location, and pre-existing automotive supply chain". One other possibility less obvious reason for the Southwest location choice might be due to the amount of sunlight this area receives. It's not too far fetched to say that an EV company would like to function with as much renewable energy as possible, with solar panels being the biggest way to harvest energy. So why not put your factory in a place that has the best chance to harvest the most sunlight in the United States?
So far things have been going smoothly for Lucid and they have been doing all the right things. We will now all wait in anticipation regarding how well their production line will work and if the final product will live up to its grand expectations.