Lucid unveils four different trim levels.Specs for base model not known at this point.

Price ranges from "below $80,000" for base, all the way to over $160k for top-end model.
The drip-feed of information regarding the upcoming Lucid Air has come to an end as the luxury electric car has finally been revealed to us after having its unveil delayed due to autoshows being canceled. While a lot of information was presented to us over the past month giving us a good picture of what the car will be able to offer, it doesn't make the reveal any less impressive.
There have been a handful of 'Tesla Killers' already that have failed to make a significant dent, but if Lucid can make good on all their claims and deliver production cars without any major hiccups, then the Air might be the first electric car that brings the fight to Tesla and its Model S.
Peter Rawlinson, CEO and CTO, Lucid Motors had the following to say regarding the reveal:
"Lucid Motors is driven to make the electric car better, and by doing so, help move the entire industry forward, towards accelerated adoption of sustainable mobility. The goal of this relentless approach to developing the world's most advanced electric vehicle is to benefit all mankind with sustainable, zero emission transportation, and to also attract new customers to the world of EVs," said Peter Rawlinson, CEO and CTO, Lucid Motors. "With the Lucid Air, we have created a halo car for the entire industry, one which shows the advancements that are possible by pushing the boundaries of EV technology and performance to new levels."
The Lucid Air no doubt looks like a car of the future with heavy use of long and thin strips of lights adorning the front and rear of the car. Speaking of the lights, the Air's headlamps are using a Micro Lens Array system that is composed of thousands of "light channels". Lucid states that the benefit of this type of system is found in its increased brightness as well as the ability to move the lights in different directions to improve safety while driving.

The Air features an interesting roofline as it ends very far back and allows very little trunk lip, but isn't exactly a station wagon either. Some might find the design a bit awkward, but I do like the relative uniqueness of it. You might also notice that to open the trunk, you basically open the entire rear of the car so that you can get a pretty low load level for those instances where you need to put something heavy in the trunk.
Overall the look is sporty, but not one that I would classify as overly-aggressive.
However, even if you are not a fan of the exterior, it will be hard to argue against the fact that Lucid was able to get the drag coefficient down to only 0.21, making it the most aero-efficient luxury car, no doubt playing an important role in getting the car over 500 miles of range.
Any car that claims to be a luxury car should have some good things going on in the interior, and the Lucid Air delivers. One of the most prominent features on the Air is the windshield that goes all the way above the heads of the driver and passenger before being interrupted by a beam and then continuing the panorama to the rear passengers. It's not exactly new as this is seen in the Tesla Model X, but it's definitely a nice feature to have.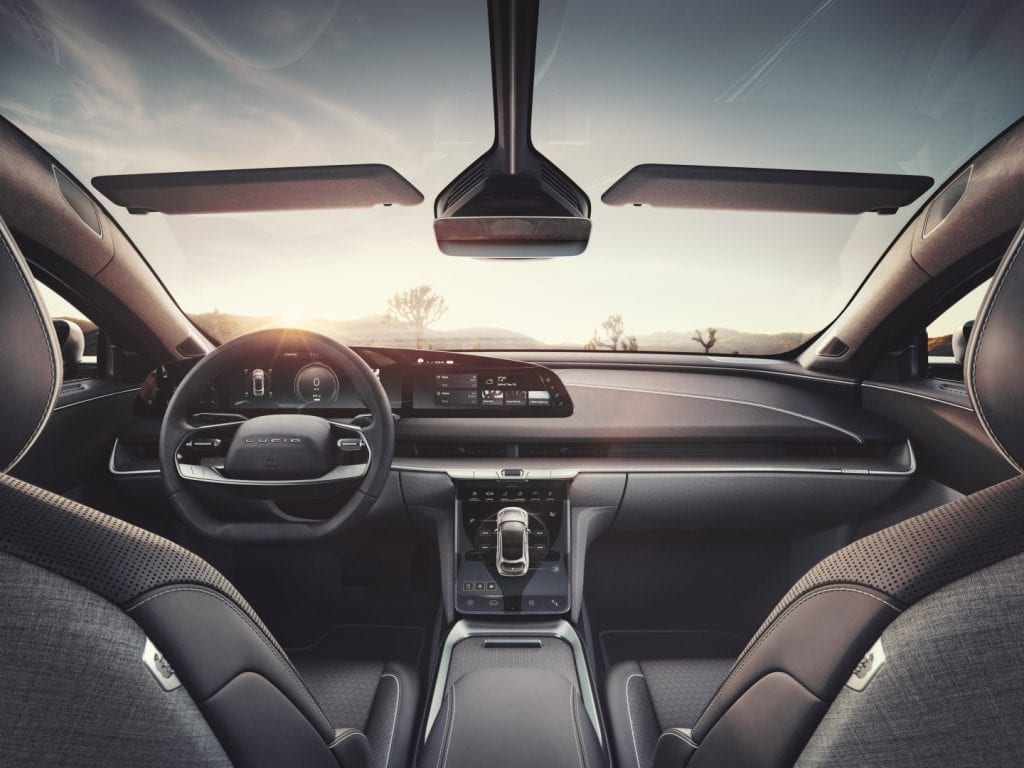 Sitting down in the driver seat, and you are unsurprisingly met with a lot of screens and technology. You have one large 34-inch screen that doubles as the gauge cluster and main center console screen as well another screen at the bottom of the center console. What makes this screen interesting, and a first as far as I know is that it also acts as a lid for the storage compartment behind it can be retracted. Lucid had the following to say regarding their multiple screens:
The interior of the Lucid Air reflects a revolution in how next-generation free form displays are elegantly integrated into the design architecture of the cabin, providing a beautiful and seamless way of interacting with the vehicle software and human-centric user interface. In front of the driver is a 34-inch curved Glass Cockpit 5K display that "floats" above the dashboard, contributing to the light and airy feel of the interior. In addition, a retractable central Pilot Panel sits in finger-tip reach of the driver and passenger for deeper control of the vehicle's systems and functions. To complement the digital displays, several highly tactile, precision-milled physical controls are present, including ribbed turbines for steering wheel functions, a volume control roller, and alloy toggle switches for tuning climate settings.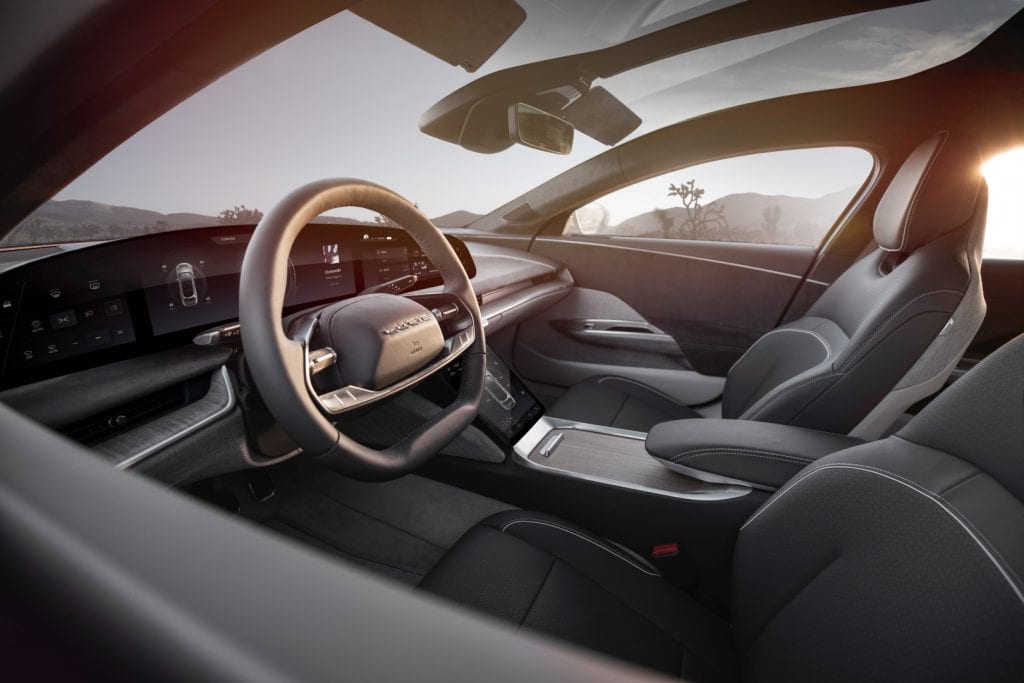 Lastly, if you are worried about space, then do not worry, as Lucid has crammed as much storage space as they possibly could. They previously stated:
…with a capacity of over 280 liters, which is 89 percent larger than the current leader in the Lucid Air's vehicle class and 40 percent larger than the current EV leader in the SUV class. In combination with its trunk, the Lucid Air offers a total of 739 liters of luggage space, best in class for both electric and internal combustion engine vehicles by some margin.
At first glance looking around the car, it might not be noticeable, but once you see the hidden compartment in both the trunk and frunk that look like they almost reach the floor of the car, then it starts to make sense.
SEATING

STORAGE

5 seats

26 cu. ft.
This is where the real fun begins, the Lucid Air is coming with some serious specs that might make it the EV leader when it releases next year. The Lucid Air will come with 3 different trim levels (plus one special edition trim) that will range in price, range, and power.
Model
Price (USD)
Est. EPA Range (up to)
HP
Performance (est.)
Availability

Base

0-60 (sec)

1/4 Mile (sec)/ Speed (mph)

Top Speed (mph)

Air

Below $80,000

TBA

TBA

TBA

TBA

TBA

2022

Air Touring

$95,000

406**

620

3.2

11.4 / 123

155

Q4 2021

Air Grand Touring

$139,000

517**

800

3

10.8 / 133

168

Q2 2021

Air Dream Edition

$169,000

465 (21" AeroDream wheels); 503 (19" wheels)

1,080

2.5

9.9 / 144

168

Q2 2021
While we more or less knew the complete specifications of the Air Dream Edition and Air Grand Touring, we did not know about their pricing, nor the existence of the Air Touring and the regular Air.
As we see the top end Air Dream Edition is not in fact the range leader, but it is not too far off by when using 19-inch wheels and having a range of 503 miles or only 465 miles when on the large 21-inch wheels. It is however the leader when it comes to performance as it is the model that can reach 0-60 mph in only 2.5 seconds and is the holder of the sub-10 sec. 1/4 mile time.
The next step down, the Air Grand Touring is the projected current range leader with a range of 517 miles, but it does sacrifice some performance by having a 0-60 time of 3 seconds and a 1/4 mile time of 10.8 seconds.
Both of those models are $100,000+ cars, so while their specs are top-tier, many people will not be able to afford them. The Air Touring is not exactly an affordable car in itself, but it does price directly with the Model S Performance. While it does win out on range, it does come in slower than the Performance with a 0-60 time of 3.2 seconds and a 1/4-mile of 11.4 seconds (Model S Performance is somewhere in the mid-10 seconds.).
We are aware that the Air Dream Edition and Air Grand Touring have a 113 kWh battery, but we are not sure of what the battery capacity is on the Air or Air Touring.
The bottom trim level is unfortunately the one we have the least information about. Lucid revealed that there will be a base Air that will start at "below $80,000" and after accounting for the $7,500 EV tax credit (which every trim is eligible for), the base Air will be cheaper than the Model S Long Range. There however are not further specifications given and who knows what the Model S will look like or cost in 2022 when the base Air is set to launch. However given that the mid-tier Air is the one with barely over 400 miles of range, it is extremely doubtful that the base Air will be able to match the range of the Model S when it comes out. Though a lot can happen in two years.
Along with all the specifications listed about, every Lucid Air trim will be capable of charging at least 300 kW with a peak charging time of 1200 mile per hour, or an average of about 300 miles per 20 minutes, making it the fast-charging electric car when it comes out, as long as you can find a 350 kW ultra-charger. It may not be as fast as filling up at a gas station, but we are getting close.
Aside from the abundance of screens, the Lucid Air is filled with other technology features that you come to expect from a luxury electric car.
Firstly, yes, the car will come with Over-the-Air (OTA) updates, so hopefully new features will be added to the car throughout your ownership. Secondly, for all my Alexa people, the Lucid Air will also come with support for Alexa to help with you little day-to-day things while your driving.
In regards to advanced driver-assistance systems (ADAS), Lucid has coined theirs as the DreamDrive. The layout of its 32-sensors are very familiar with what you would find out of Tesla and its Autopilot system. One major difference however is that Lucid has included LIDAR in its sensor suite, which Tesla has famously rejected in favor of relying on cameras. Proponents of LIDAR have talked about its accuracy while opponents have stated that it too expensive. Well, Lucid has become the first production car that will include a LIDAR, so we might be able to finally see if Musk and Tesla made the right call.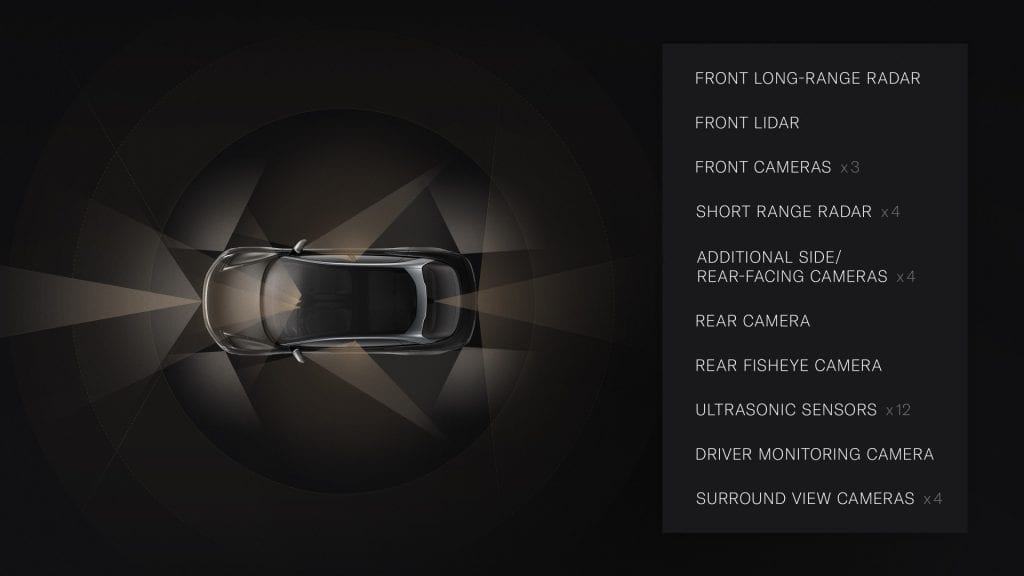 The DreamDrive suite includes 19 different ADAS features, with eight more that will make their way via OTA updates. Some of the different features that Lucid shared include:
Safety

Surround View Monitoring
Blind Spot Display
Cross Traffic Protection
Traffic Sign Recognition
Automatic Emergency Braking
Alerts for distracted or drowsy drivers

Driving

Full Speed Highway Assist (Adaptive Cruise Control and Lane Centering)
Traffic Drive-Off Alert
Headlight Assist

Parking

Autonomous Parking Assist
Pullout Control
Maneuver Comfort Braking
Looking at the feature list (which again, is not complete), we can assume the Lucid Motor has at least matched Tesla's base Autopilot, which is the most used feature. At this time it does not seem like there is a Navigate-on-Autopilot feature at this point. Currently, Tesla's most advanced feature allows for the car to recognize traffic lights and stop signs and act accordingly. While it seems like the Lucid Air will be able to recognize traffic signs, it is unclear if traffic lights are included and/or if the car will be able to react to them autonomously.
With no Level 3 features available right out of the gate, the Lucid Air will probably not have some features that Tesla's Autopilot will have in 2021, but the disparity might be lessened with feature updates that allow for Level 3 autonomy.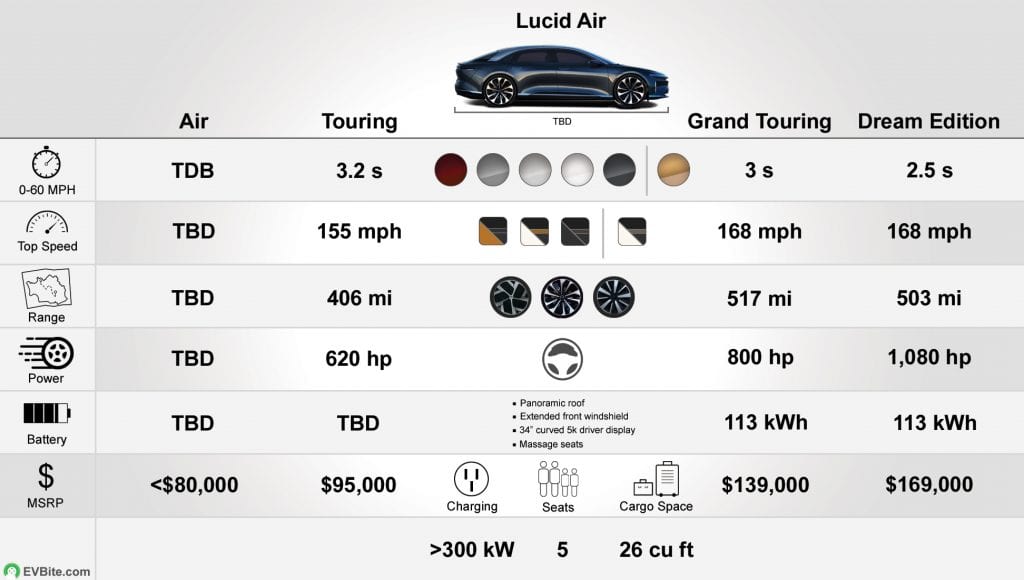 A special edition of the Lucid Air will be made with not only increased power (as seen above) but also some cosmetic additions. Lucid describes the limited edition trim as follows:
The Lucid Air Dream Edition will feature a unique combination of Lucid attributes and technology, combining incredible performance with exceptional range. The 1,080hp luxury EV sedan will be available in Stellar White, Infinite Black, or a Dream Edition-exclusive, Eureka Gold finish. Each color will come with an exclusive "Santa Monica" themed interior trim, including full Nappa grain, Bridge of Weir leather throughout with silvered Eucalyptus wood. The Dream Edition will also feature a unique 21-inch "AeroDream" wheel design and be highlighted by special badging and trim that marks its position as a limited-production halo edition of the Lucid Air.
EFFICIENCY

RANGE

BATTERY

243 Wh/Mi

465 miles

113 kWh
The price of the four trims are as follows:
Air: "Under $80,000"
Air Touring: $95,000
Air Grand Touring: $139,000
Air Dream Edition: $169,000
All prices above are shown before any incentives such as the $7,500 EV tax credit.
| | | | | | |
| --- | --- | --- | --- | --- | --- |
| | Eureka Gold | | Infinite Black | | Stellar White |
| | Cosmo Silver | | Quantum Grey | | Zenith Red |
According to Lucid, production of the Air will begin in the coming months in their new factory in Casa Grande, Arizona. Reservations have opened for customers in the US, Canada, and certain European and Middle Eastern countries. You can put down a $1,000 deposit for an Air or $7,500 deposit for the Dream Edition, both of which are refundable.
Do keep in mind that only the Air Grand Touring and Dream Edition will be available when deliveries initially start in the middle of next year. You will have to wait towards the end of next year if you are wanting the Touring model and even longer into 2022 if the base Air is your flavor of choice.
Pros

Cons

Looks to have a lot of interior space

Even base price is too expensive for the average person

Class leading Range of 517 miles is insane

You are going to have a long wait if you want the cheapest base version of the car

Looks to be the first real competitor to the Tesla Model S
Lucid Motors will be opening up 20 Lucid Studios throughout next year, so check to see if a city in your area is on the list if you are interested in seeing the car in person.