Kia Motors has had a few well-received electric cars already in the Kia Nero and Soul. However, those electric cars were just electrified versions of existing models rather than being built from the ground up to be electric. We now get a chance to see Kia's first electric built on their and Hyundai's new EV platform, the E-GMP. While the EV6 has yet to be fully revealed, Kia has given us a look at the design of their new electric car.
To go hand in hand with the newly unveiled Ioniq 5 from their sister brand, Hyundai, Kia will soon reveal their EV6 electric car. While we don't have the specifications of the EV6, we are able to see its new design.
The Kia EV6 represents a chance for Kia to try a new design language which they call 'Opposites United' which in Kia's words, "takes inspiration from the contrasts found in nature and humanity." The new design language is supported by the following five pillars:
Bold for Nature is based on interaction with nature, informed by the details, shapes and proportions found both in the natural and human worlds. This design pillar creates organic, yet technical structures and finishes for vehicle interiors; exterior designs are characterized by a combination of clear and simple lines with bold, ever-changing surfaces.

Joy for Reason focuses on the feel and ambience of Kia's future vehicles. Future designs will fuse the emotional with the rational, creating vehicles that influence the mood of passengers, by relaxing and inspiring. It will also influence the adoption of new organic materials and more daring colors, expressing a sense of youth and playfulness.

Power to Progress builds on the brand's current design strengths. By drawing on and developing the skills and expertise learned throughout Kia's recent era of design-led transformation, the designs and layouts of the brand's future products will continue to evolve. Future designs will draw on experience and creativity to invent and innovate new designs.

Technology for Life embraces new technologies and innovations to foster positive interactions between humans and machines. The brand's future vehicles will adopt a next-generation in-car user experience (UX) through design and innovation and advancements in lighting, feel and in-car connectivity – to help customers engage with their cars.

Tension for Serenity evokes the tension between opposing forces and creative contrasts, and recognizes the design equilibrium that comes from two opposing forces. It delivers striking design concepts that use sharp, highly technical details to create surface tension – and realize a harmonized, future-oriented design vision.
Moving on to the car itself, we are greeted with a station wagon silhouette that is a bit more angular than most cars we have seen revealed, especially the rear light bar which protrudes rather aggressively. Speaking of the lights, Kia has not shied away from having thin LED lights. The headlights are surrounded by a strip of lights which Kia calls 'Digital Tiger Face". The rear has perhaps the widest lightbar that I have seen to date, and I absolutely love it.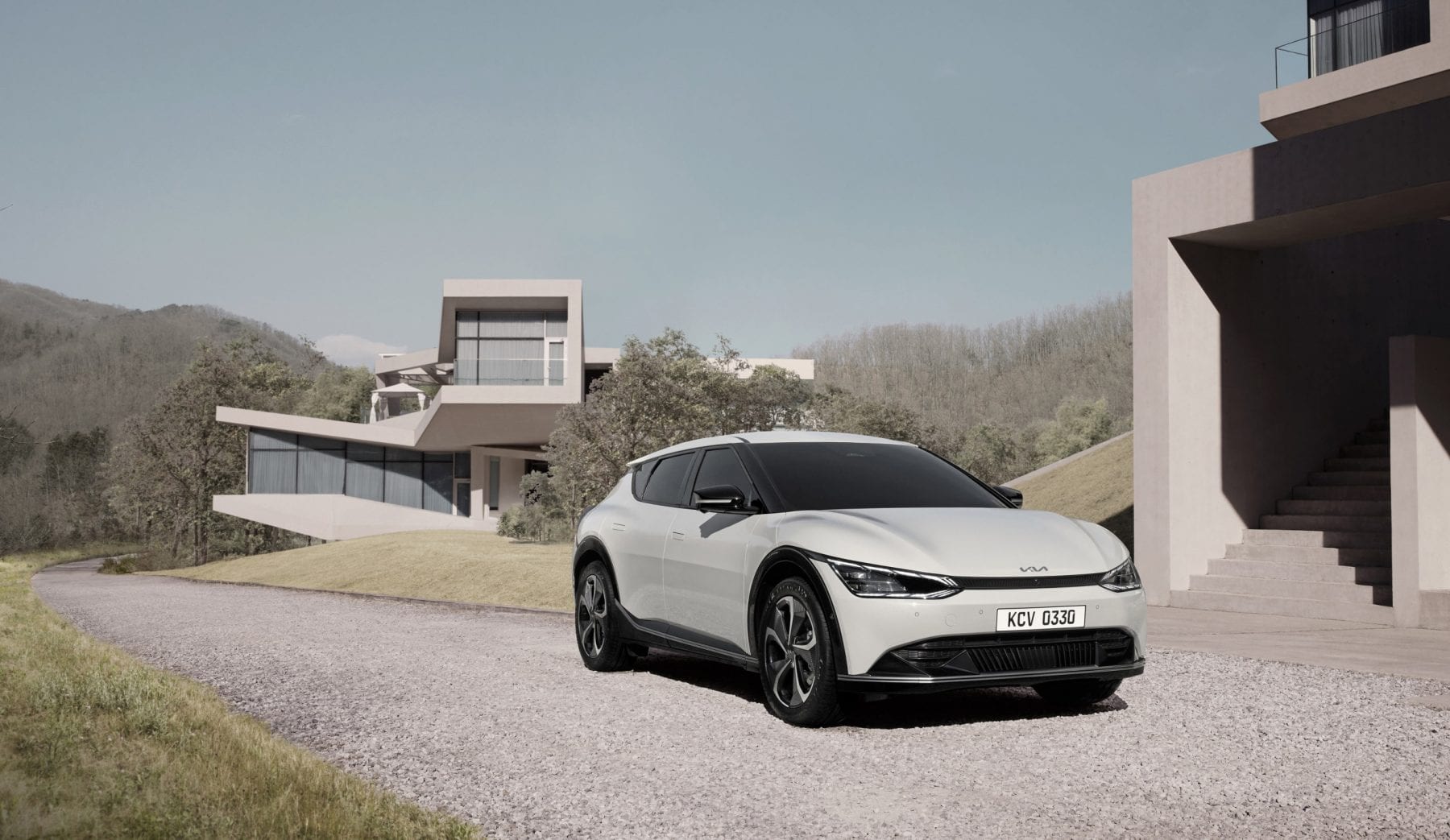 Overall the exterior manages to be quite angular and aggressive without looking too boxy, the EV6 certainly looks more premium than what you would typically expect from the Korean automaker.
Looking inside we see something much less aggressive and inviting. As is the case with EV platforms, Kia boasts the increased space as compared to their gasoline cars. Kia has chosen to go with the singular large screen route for their center console. The large screen is split between the instrument cluster and infotainment system. Regular buttons are also found around the cabin, so the move to larger screens hasn't made the interior more spartan. The EV6 also uses a less commonly used two-spoke steering wheel rather than a three-spoke. It's not like that changes anything, but I just felt the need to point that out.
Lastly, it wouldn't be an electric car without some of the material within the car being made from recycled plastics, which Kia says is the case.
The design effort for the EV6 was truly a global effort as the design studios in Namyang (Korea), Frankfurt (Germany), and Irvine (California, US).
Specifications have not been unveiled, but we do know that the E-GMP platform which is also found on the Hyundai Ioniq 5 allows for 300+ mile ranges, ultra-fast charging, and 3 second 0-60 times. We won't have to wait long for more information about the EV6 however as Kia plans to reveal more of the car sometime this month.
What do you guys think of the design of the EV6? Is it a potential Model Y competitor? Let us know down in the comments below.
Source: Kia