General Motors and Chevrolet were busy previewing their electric future at their recent EV Day and one of their teasers had a very familiar silhouette. Quickly flashing in one of their videos we see the roofline of a potential sport coupe, could this be an electric Camaro?
With the announcement of the Ford Mustang Mach E, the first of the big three muscle car names has gone electric, leaving the Chevy Camaro and Dodge Challenger to see who can come in second place in the race of electrification.
Chevrolet engineers have toyed with the idea of an electric Camero last year with the Camaro eCOPO. However that was more of a thought experiment than an actual indicator that GM would move forward with an electric Camaro, but nonetheless we were able to see that the idea of electrifying their muscle car was on the table for Chevy.
But perhaps the idea has been reignited again during GM's EV day. One user on the Hummer Chat forum had noticed that the roofline of one of the EVs being teased bared a strong resemblance to the roofline of the current Camaro.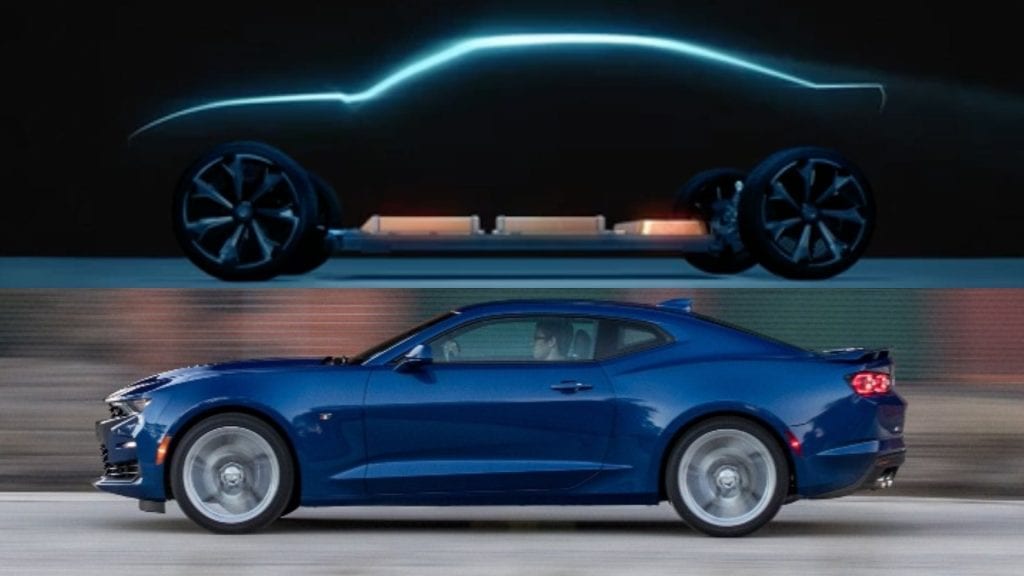 This is pure speculation at this point, but the thought of a reignition of the battles between muscle cars, but this time electric, is a great one.
There have been reports that the next-generation Camaro project has been put on hold and that there is a strong possibility that Camaro production would stop in 2023 without a new generation. It will be interesting to see if the project will be restarted with a purely electric version, or perhaps Chevrolet will go with a similar approach as Ford has and use the Camaro name for an electric crossover.
What do you guys think? Is there an electric Camaro coming soon, or will it morph into an electric crossover like the electric Mustang has?