Not too long following the news of the Mercedes EQS reveal, Audi followed up with a luxury electric sedan reveal of their own (although an A8 e-tron would be the correct competitor to the EQS). This time it was the electrification of their long-tenured A6 luxury sedan.
The biggest news surrounding the upcoming Audi A6 e-tron is that it is being built in their new Premium Platform Electric (PPE) platform that they have been co-developing with Porsche. As the name implies, the platform will be used for Audi's more premium offerings while using VW's MEB platform for some of their cheaper models.
A premium platform deserves premium specifications, and Audi states that that the A6 e-tron will be able to reach a WLTP-estimated range of 434 miles and their fastest trim will hit 62 mph in less than four seconds. The A6 e-tron is capable of holding around a 100 kWh battery and the concept is shown with a dual motor setup outputting 469 hp.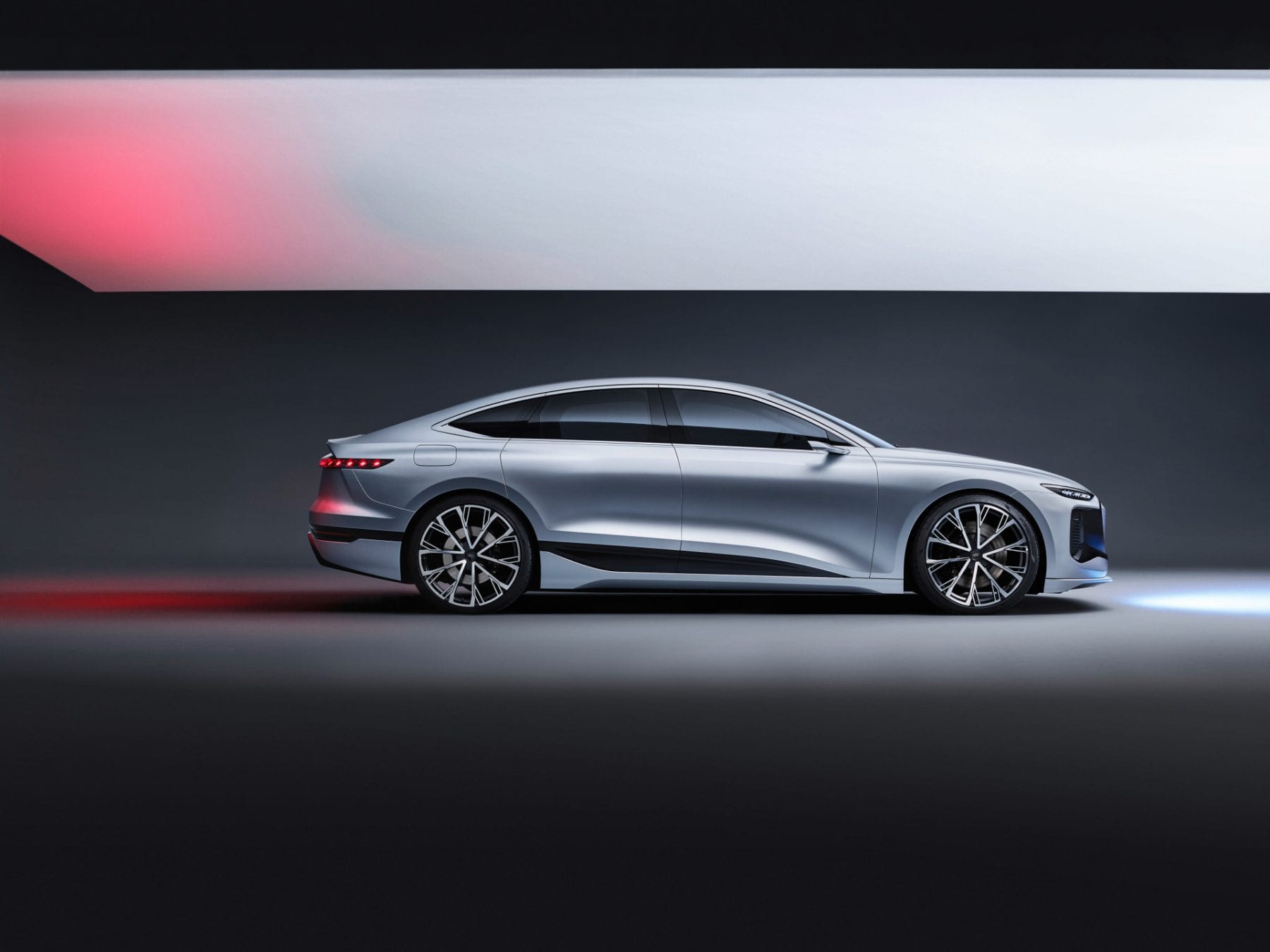 A carryover from the Porsche Taycan, the A6 e-tron (and all future PPE models) will be able to charge at a rate of 270 kW. This means that a 5 to 80% charge can be done in about 25 minutes.
From the exterior, the A6 e-tron is unmistakably an Audi and doesn't deviate from the A6's dimensions at 195.2 inches long, 77.1 inches wide, and 56.7 in high. The fastback design allows for an aerodynamic shape and the A6 e-tron scores a drag coefficient of 0.22, which is very good but falls short of the Mercedes EQS and Lucid Air. For further efficiency Audi claims that the concept is covered in paint that "offers tangible technical benefits that reduce energy consumption" and reflects a significant amount of thermal energy, decreasing how much A/C occupants use.
Keeping in mind my love for Audi's design I think that A6 e-tron looks great and I will refrain from gushing over the rear lightbar.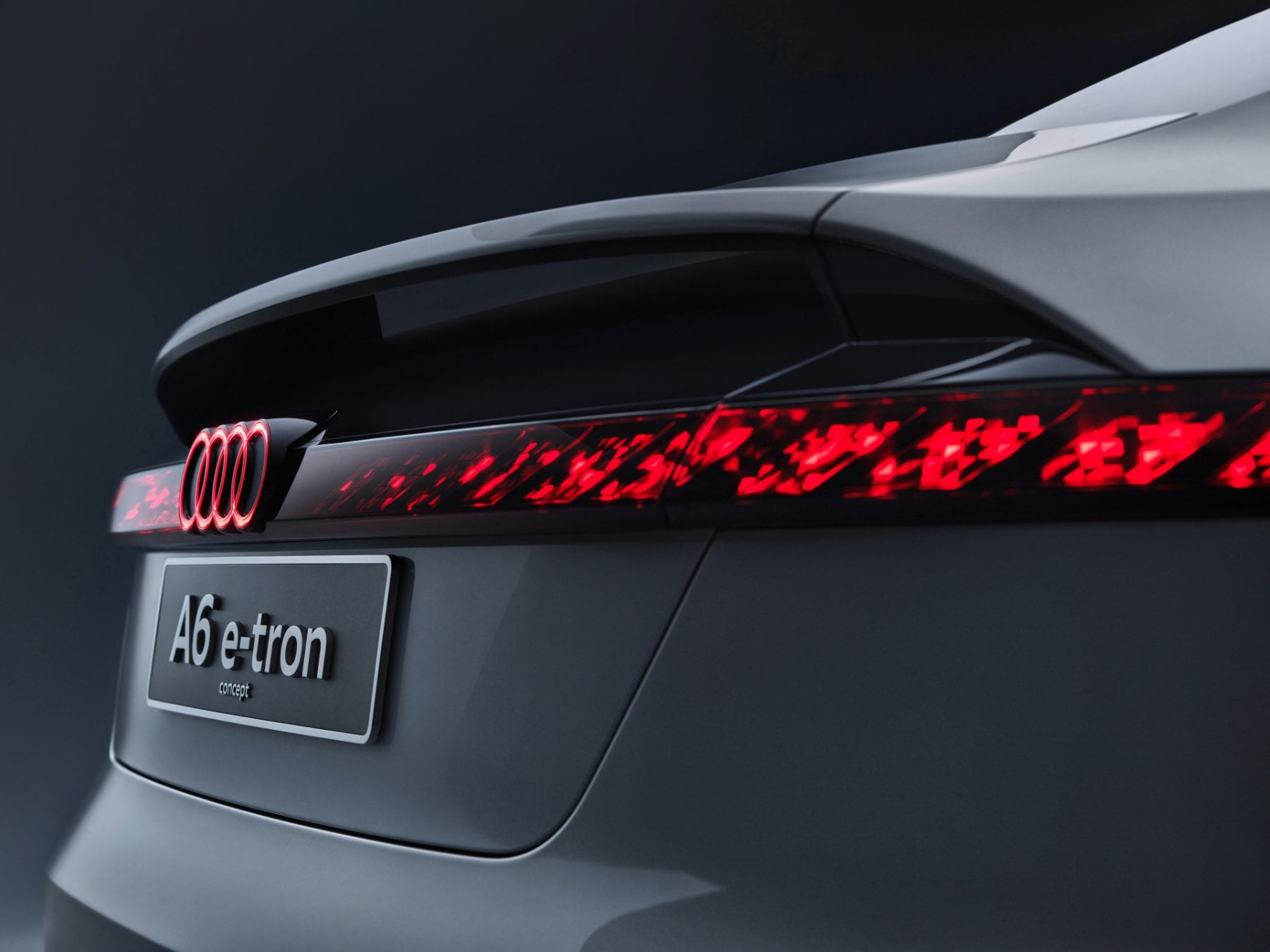 Speaking of lights, Audi devoted a lot of attention to the lights of their new electric sedan, particularly the headlights. The "Digitial Matrix LED" front headlights provide what Audi calls, almost cinematic quality. Sure they can function as regular headlights, but they can also be used as projectors for warnings, or more light-hearted things, such as displaying a video game on a wall that can be played through your smartphone.
These LEDs are not only found in the headlights, however. They are also found on all four corners of the car and display turn signal projections. Additionally, there are three on each side of the car that can display welcome messages or warnings for bicyclists who might collide with an upcoming door opening. The features are certainly neat, but it will be interesting to see how much use they'll get in practice, that is, if they even make it into the production version of the A6 e-tron.
With the starting price of the regular A6 starting in the mid $50k range, we expect the A6 e-tron to be considerably cheaper than its more high-performance e-tron GT sibling when it hits the road in 2022.
What do you guys think of the A6 e-tron? Let us know down in the comments below.
Source: Audi