Kia has released the full details about its upcoming 2024 Kia EV9. The South Korean-automaker has been on an absolute roll with its EV strategy, and the EV9 will be it's all-important flagship three-row SUV entry.
Kia EV9 Design
There are no surprises when it comes to the design, as Kia had already shown us what the EV9 would look like a few weeks back. To summarize, the EV9 features a very bold and angular exterior appearance while the cabin is comfortable and airy, featuring swiveling second-row seats. Overall, it's a very eye-catching design and Kia still retains its trademark "tiger face" motif even in the electric age.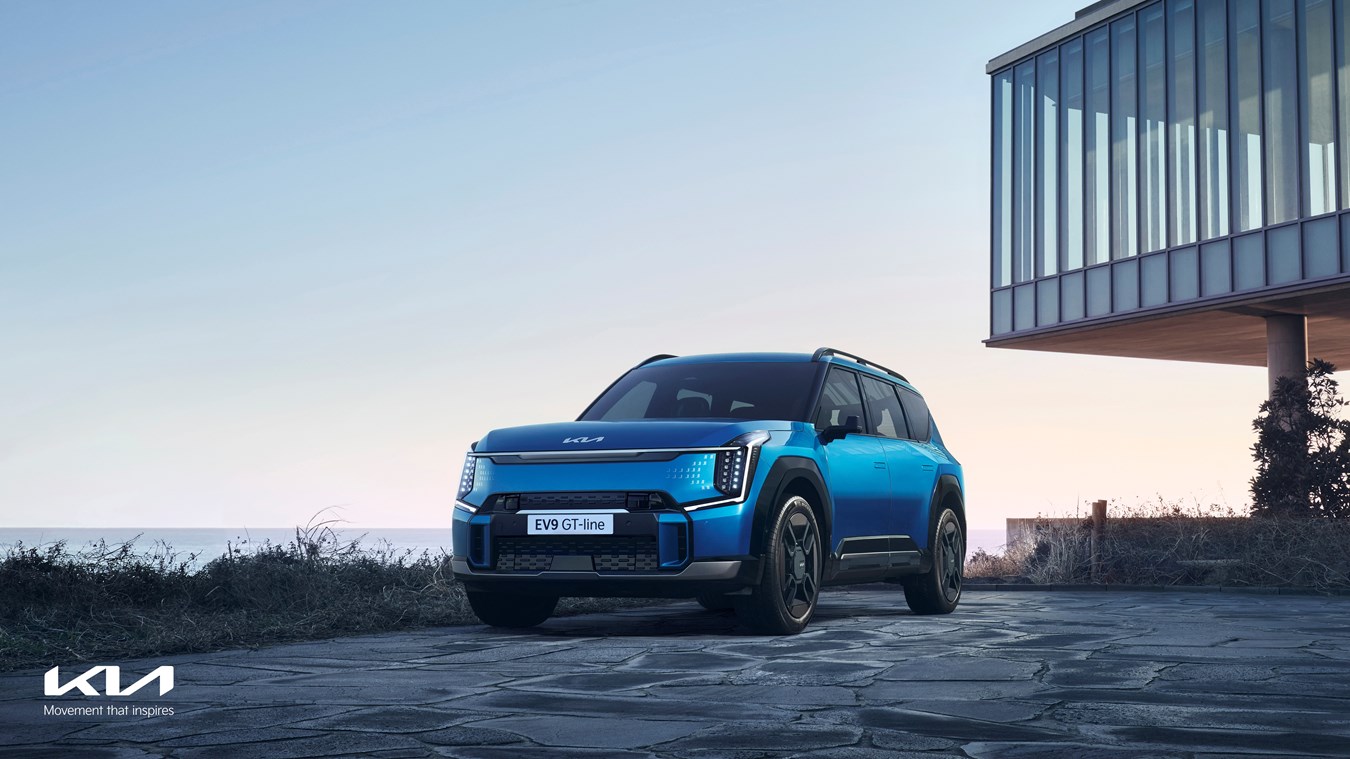 Kia did reveal a new piece of news when it comes to design. This comes in the form of their GT-line trim. The new model trim finishes all the exterior trim pieces in black, giving an even sportier and more imposing aesthetic than the base model has. In addition, it also includes an exclusive "Digital Pattern Lightning Grille" which further elevates the design.
Kia EV9 Specs
We know what the electric SUV will look like, but what kind of specs can we expect from it? The EV9 will be offered with two battery sizes, a 76.1-kWh, as well as a 99.8-kWh version. A single motor RWD layout can be had with either battery size, while the AWD layout is exclusively equipped with the larger battery. The breakdown is as follows:
RWD Long Range

Single 150 kW (201 hp) motor paired with 99.8 kWh battery
Est. 0-62 mph time is 9.4 seconds

RWD Standard Range

Single 160 kW (214 hp) motor paired with 76.1-kWh battery
Est. 0-62 mph time of 8.2 seconds

AWD

Two motors totaling 283 kW (379 hp) paired with 99.8 kWh battery.
Est. 0-62 mph time of 6.0 seconds.

Optional Boost feature can be purchased at a later time to increase the available torque and decrease 0-62 time down to 5.3 seconds.
It is unclear which or if all of these configurations will make it to the North American market.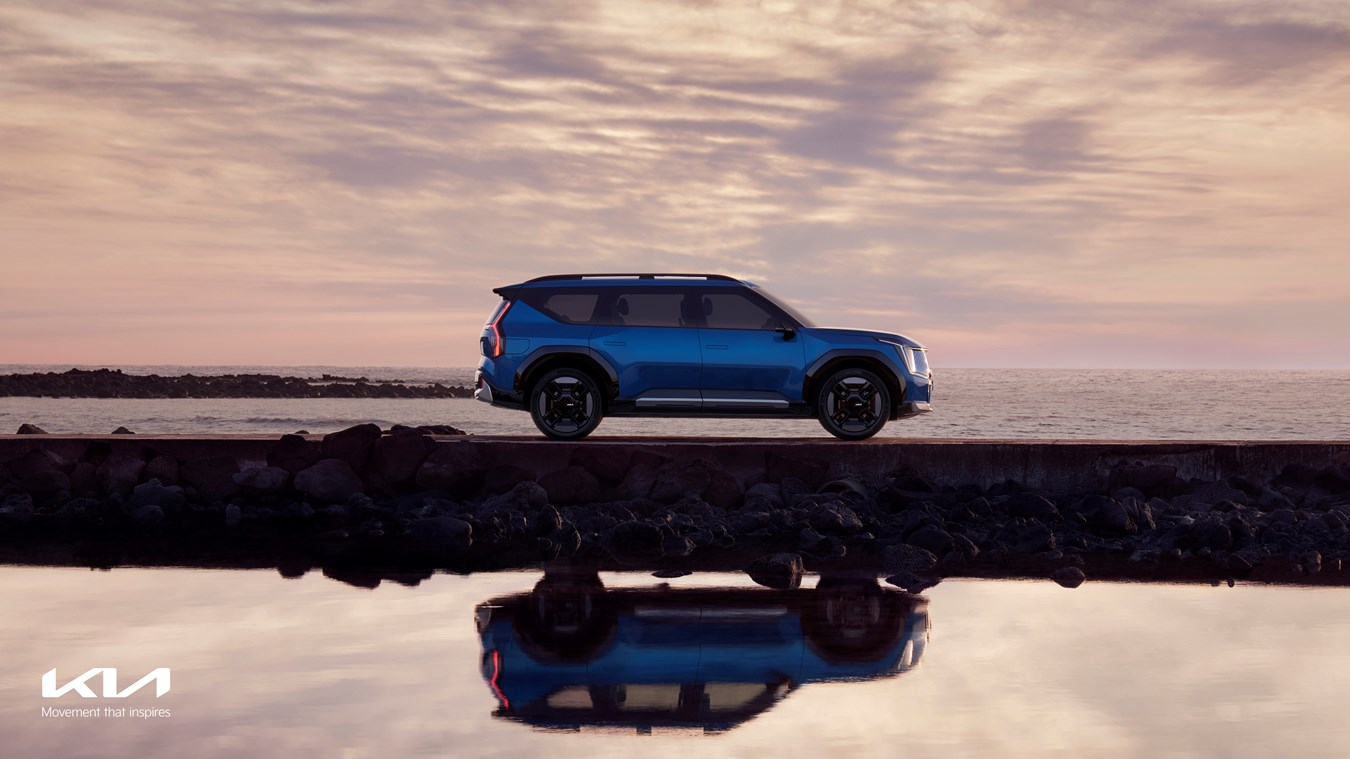 And the range, you ask? Kia has not given us the range metrics for the EV9 aside from estimating that the RWD Long Range with the smallest wheels would achieve a WLTP-rated range of over 336 miles. Taken as the upper bound, we can expect the EPA-rated range to be closer to 300 miles on the top-ranged model and probably in the 220-250 mile range for the lowest-ranged configuration.
Kia did state that the EV9 would be equipped with an 800V charging platform that will allow the SUV to gain about 149 miles of range within just 15 minutes. Bi-direction Vehicle to Load (V2L) also allows the EV9 to deliver 3.68 kW of power to other devices such as a laptop or camping equipment.
A Kia Online Store
Unlocking features in your electric vehicle is becoming a more prominent practice, for better or worse. As mentioned above, the EV9 will have a boost option. It's unclear if the boost option will be a one-time purchase, subscription-based, or your choice.
Kia envisions the store as a place to let owners further customize their cars (such as changing the pattern on the digital grille), without having to take them to the dealership. Another feature Kia mentioned would be behind the store is Kia's Remote Smart Parking Assist 2.
Level 3 Autonomy, Eventually
For the EV9, Kia is upgrading their Highway Driving Pilot (HDP) to level 3 autonomy. The SUV will be equipped with fifteen sensors, including two LIDARs to give a comprehensive 360-degree view. Do keep in mind that details have been vague regarding the areas that the system that will be capable of Level 3 autonomy. Additionally, HDP won't be available at launch but is planned to eventually be equipped on the GT-line model.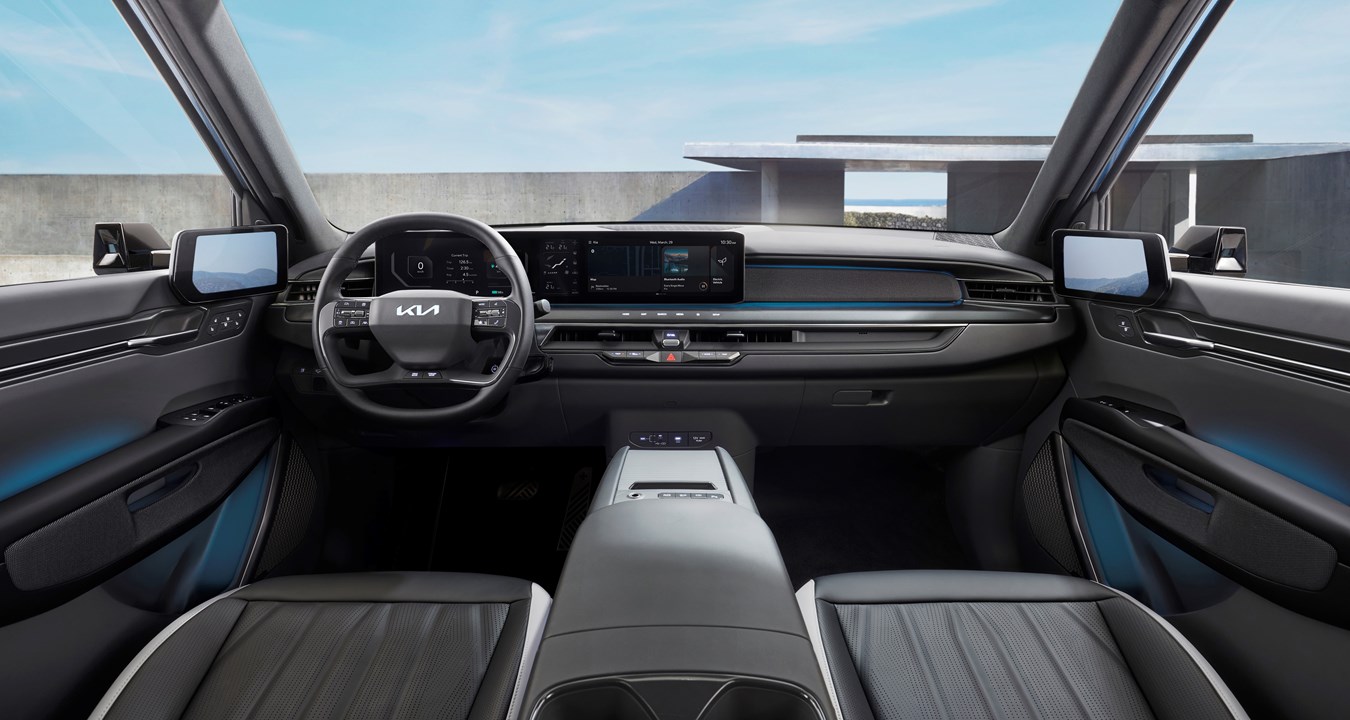 Along with HDP, the EV9 will come with the same suite of driver's assistance features that you would expect out of a forward-thinking electric car. Features such as Blind-spot collision avoidance, lane-keeping assist, and adaptive cruise control are all found on the EV9.
EV9 GT
Following this reveal, Kia CEO Ho Sung Song confirmed that the brand is working on a GT version of the EV9, mirroring the development of the EV6 GT. So if you were disappointed with the 0-62 mph numbers, don't worry an EV9 GT will make its way into production in the next two years.
No further details were given, but given the EV6 GT features a duel motor setup that outputs 576 hp and a sub-4 second 0-62 mph time, we can expect a substantial increase over the AWD model.
EV9 Pricing
We don't know.
Kia has not given us a price, but given the three-row EV landscape consists of the Mercedes EQS SUV, Tesla Model X, and Rivian R1S, Kia has a lot of room to play with to undercut the other options. There is no mistaking that the EV9 will probably be the most expensive car that Kia has created yet.
With pre-orders opening up in South Korea in Q2 and everywhere else in the second half of the year, I'm sure we'll eventually know the price.
Source: Kia