The Tesla Referral Program has always been a quick way for Tesla to help push sales of its vehicles. Right now we seem to be seeing another push for sales for this quarter. Recently Tesla has increased the free Supercharger miles from 1,000 miles to 5,000 mile for anyone who purchases a Tesla through referral.
Tesla's original referral program was much grander in its original state. The original referral program allowed you to win wall connectors, new wheels, and a discount for the upcoming Tesla Roadster which became free after 55 referrals. As you can imagine this was very expensive as Tesla was now on the hook for giving away over 80 Tesla Roadster that start at $250,000.
Tesla then closed its referral program, before bringing it back a month ago in a different version.
The new version now gives an entry into winning either a Model Y or Roadster with each referral. Additionally everyone who buys a Tesla through a referral will receive 1,000 miles of free Supercharging for themselves and the referrer.
While the rewards aren't as interesting as the original iteration, it is more sustainable for Tesla while giving some sort of reward for referrers.
To sweeten the deal, Tesla has now increased the free Supercharging by five times. From now until May 28th, you will be eligible for 5,000 miles of free Supercharging.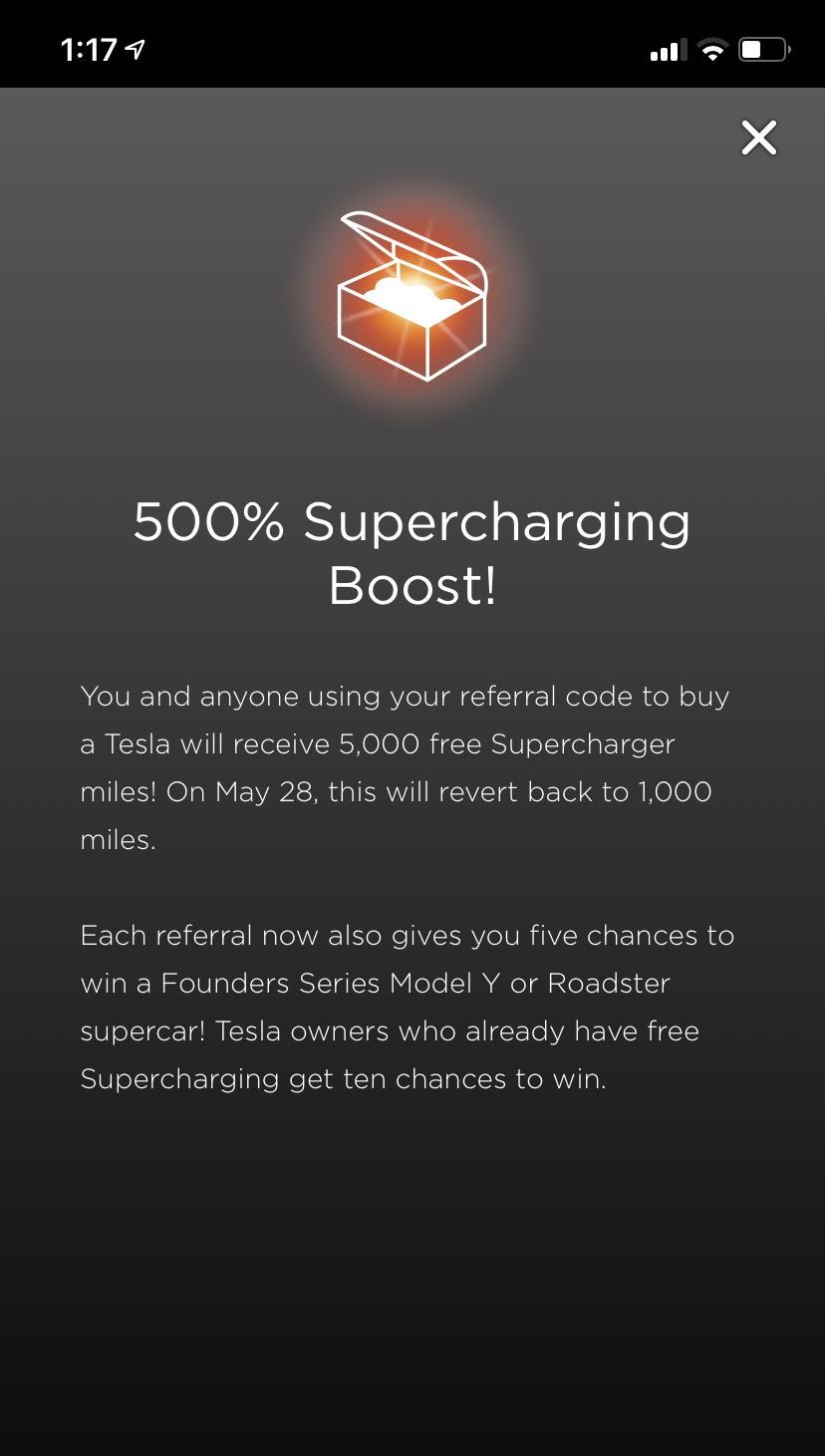 Not only does the 500% boost apply to the Supercharger miles, but it also applies to the number of entries you will receive for the Model Y or Roadster.
Obviously with a change like this, it becomes fairly transparent that Tesla is trying push more cars. It is especially true after reviewing their disappointing Q1 2019 Earnings Report.
Truthfully it should not cost Tesla too much to offer this boost. The Supercharging credit expires after 12 months, so unless an owner is right next to a Supercharger, they will most likely not use up all the miles.
So, if you have been on the fence regarding the purchase of a new Tesla, maybe this will push you over.
What are your thoughts on the Tesla Referral Program? Let us know down in the comments below.