In a decade long battle, electric cars have lost to the U.S. All electric vehicles must emit some sort of sound when traveling at less than 18.6 mph (30 km/h) in order to warn pedestrians. According to Congress, pedestrian safety in regards to electric vehicles has been an ongoing issue. These measures must be met by all electric car manufactures by September 2020. By September 2019, this year, a minimum of 50% of cars being delivered must meet the requirements and emit some sort of noise to alert pedestrians.
The creator of the DÆrik Youtube channel, a Tesla specific channel, posted a picture of their Performance Model 3 at an interesting angle. The belly of the car, if you will.
My Performance Model 3 is up @ColoradoDetail ! Here's a quick look at the undercarriage of a Model 3! #tesla #teslamotors #teslamodel3 #elonmusk pic.twitter.com/Odn04Er3T0

— Erik (@teslainventory) January 8, 2019
You can clearly see some sort of vent or speaker. Owners quickly jumped to state that this is new and unidentified.
Interesting… mine does not have that. Mine is a VIN in the 78***. What VIN range is yours Erik?

— Marc Benton (@marc_benton) January 8, 2019
Interesting enough, the Tesla Model 3 parts catalog does not show this as standard nor does it label it as a speaker.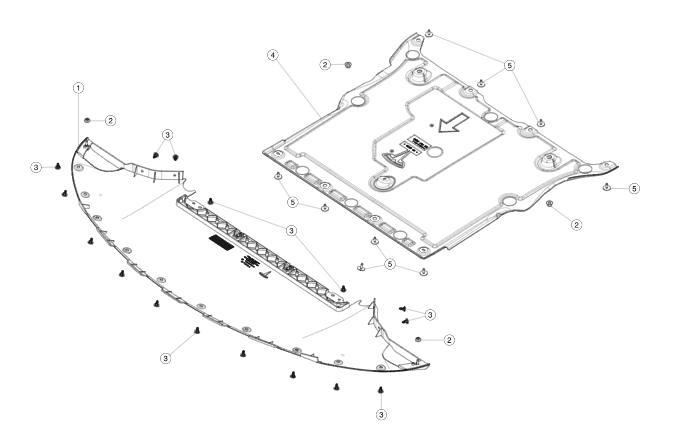 DÆrik later posted a video in which he took the bottom panel off to see what was on the other side of the holes. While there was no speaker, there were three mounting points around it for what will most likely be the location of the noise maker for the Model 3.
There was no question of whether electric car sound warnings were coming, that was made a fact by regulation. Other manufacturers such as Nissan have already been implementing external warning sounds into their cars for years now.
It will be interesting to see how Tesla treats this new "Quite Car" rule. Will we see gag noises such as the fart Easter egg implemented? Will it mimic the sound of a gas motor for giggles or move towards a futuristic, more modern sound? Personally, I want to hear a Tesla rev up.
The NHTSA claims these new regulations will cost electric car manufacturers upwards of $40 million annually but will save approximately $250-$320 million in injuries. According to them, sound emission will prevent upwards of 2,400 injuries per year.
Studies have leaned both for and against electric vehicle sounds. Some stating that EVs are up to 40% more likely to hit a pedestrian than in an ICE, others stating that modern day ICEs are just as quiet at low speeds. Regardless, the U.S. is not the first to implement such regulations.