The adoption of electric cars has been growing at an experiential rate over recent years, and that growth was prominently on display at the recent EVs & Tea meetup, "The largest electric vehicle event on the east past". The local event, which was based in Miami, Florida, garnered national attention as a result of its larger than expected turnout.

Last year we went to a similar meetup, hosted by EVANNEX, with a respectable attendance. Over 100 EVs were present, with roughly 99% of them being Teslas. To be fair, this was the annually held Tesla cult meeting.
Electric cars have had a presence since the 90s, but have struggled to capture widespread appeal. Tesla revolutionized the world thanks to the success of the Tesla Model S. The Model S cultivated a worldwide audience and quickly became the dream car of many. Since then, Tesla's continuous successes, particularly with the Model 3, have exponentially promoted EV awareness.
Last year alone, over 300,000 Tesla Model 3 deliveries were completed. These figures prove that electric cars aren't just a niche market, but are instead here to stay.
As of late we are starting to see mass adoption of all electric vehicles take place. Just about every manufacturer is planning to shift to a mostly electric lineup. The Volkswagen Group, for example, has plans to produce 22 million electric cars in between 70 models by the end of the decade.
With the introduction of new mass produced electric cars, such as the Chevy Bolt, Nissan Leaf, and Tesla Model 3, interest in this newfound market has increased in popularity. This increase in popularity was on clear display at EVs & Tea.
The event was hosted by MYEV and EVANNEX. Other partners included InsideEVs, Giorgio Piola, Signature Custom Wraps, Plug in America, Tesla Owners Club, and ampUp.
Rather than just meeting up at an empty parking lot, as is common with most EV events, the hosts provided structure and a list of activities. The event featured the ever-popular Starman as well as a scale model of the upcoming Tesla Cybertruck. In addition to these, multiple public discussions were held centered around electric vehicles and their infrastructure. Several notable EV personalities were there to answer questions and concerns from fans and skeptics alike.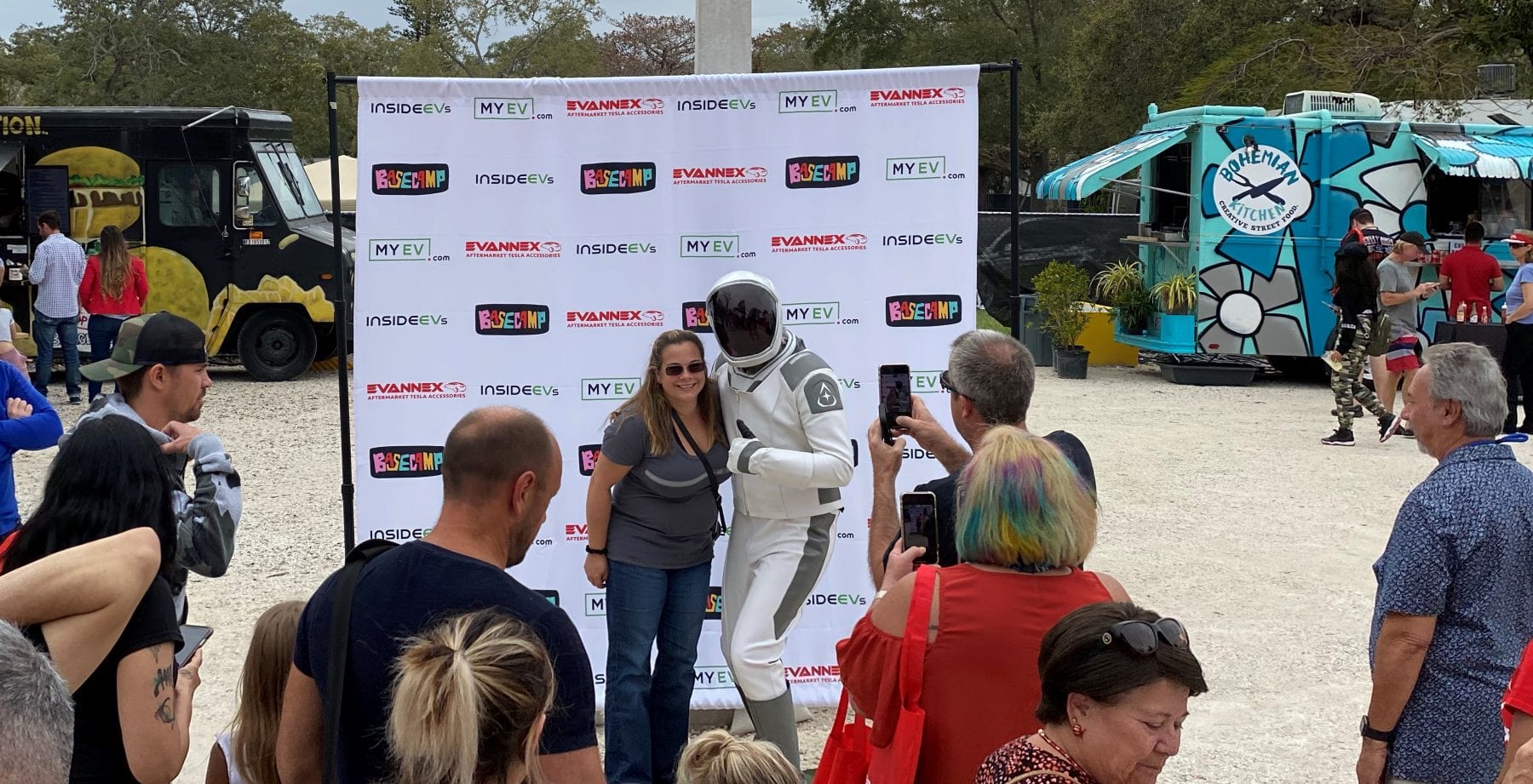 Signature Custom Wraps, a well known Tesla customizer had vehicles on display. Large crowds gathered around their uniquely styled Teslas. Modifying the simplistic lineup that Tesla offers has become a hobby for Tesla owners.
This year's EV event surpassed expectations with nearly 700 registrants. This was one of the largest EV meetups in the world.
Of the over 700 vehicles registered, the vast majority of them were Teslas. We personally counted 137 Teslas parked with 6 non Tesla EVs. Tesla themselves brought a representative with a few cars and even Jaguar and Audi stopped by to show off the new I-Paces and E-Tron.
While EV adoption is clearly growing, it should be noted that Tesla is maintaining a clear lead in the electric vehicle ecosystem. Tesla owners shined at this meetup with the South Florida Tesla club making up the bulk of attendance.
If you haven't already, register with your local Tesla or EV club. These events are great at spreading EV awareness and just getting to know people with similar interests. With the industry rapidly growing, Miami's going to need an even bigger location next year.