For any car enthusiast, the decline of Mitsubishi over the past two decades in North America has been a sad sight. Once representing the rally spirit and offering a wide range of desirable vehicles in every category, the current lineup consists of three forgettable competent models (four if you want to split the Mirage and Mirage G4 into two models). In other markets, the model lineup is a tad larger and includes the often-praised L200 pickup.
My diatribe aside, the Japanese automaker recently updated us on its plans moving forward and revealed some of the vehicles it will bring to market in the coming years.
Challenge 2025
At a high level, Mitsubishi has laid out its plans for electrification moving forward to the year 2035. Over the next five years, the brand will release 16 models, nine of which will be electrified in some manner. By 2035, Mitsubishi is planning to be fully electrified. Note that I said "electrified" and not "electric." Regular hybrids and plug-in hybrids will count for the purposes of being electrified.
As evidenced by the name of the initiative, we should see some major strides in electrification by 2025, with a significant amount of electrified models to be out by then.
So What Are The Cars?
Mitsubishi has given us a look at the sixteen models, with almost all of them under wraps.
As with their current lineup, Mitsubishi will continue to leverage their existing partnerships with Nissan and Renault to provide the foundations of many of their vehicles. The ASX, for instance, is a rebadged Renault Captur, while the Colt will be a rebadged Clio. Further down the line, we see two "Alliance BEVs"s; one will come from Renault, while the other will be a Nissan. More excitingly, we have an unnamed two-row SUV BEV which will probably be an electric version of the existing Eclipse Cross or an unannounced replacement. A fully electric pickup is also announced, but given the fact that we don't have the existing truck here in the United States, it's doubtful that it will join the current burgeoning electric pickup market.
Rounding off the electrified efforts are a hybrid SUV, MPV, and XPANDER MPV/SUV crossover.
To better understand timelines, Mitsubishi also showed off a rough timeline of the release dates of these vehicles.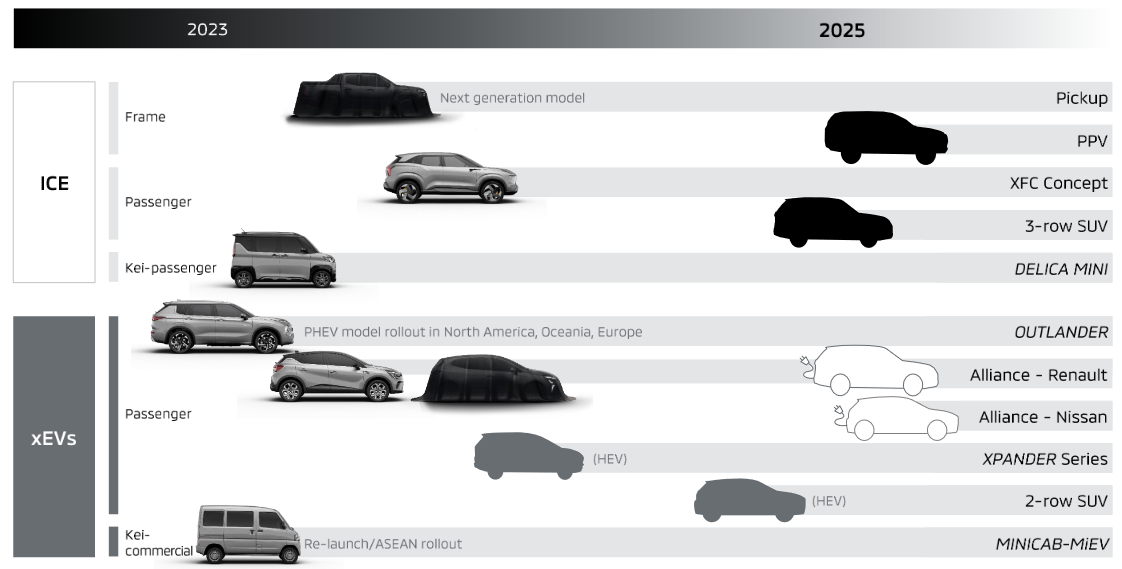 So for those keeping score, we won't see a fully electrified model from Mitsubishi until 2025.
Overall, the automaker aims to have half of its sales electrified by 2030 and 100% by 2035. To support this transition, Mitsubishi plans to invest a total of 210 billion yen by 2030 to procure 15GWh of batteries. The transition will, of course, be heavily bolstered by the efforts of Renault and Nissan.
But Are WE Getting Any Of These?
As I touched upon in the beginning, Mitsubishi's current North American lineup is pretty dire compared to what it was ten years ago. With the brand having a much higher focus on the Asian and Oceanic markets, it's unclear if any of these models will make it to the United States aside from the two-row electric SUV. Given that we don't receive the regular pickup truck and both Alliance BEVs seem to be on the small side, I don't know if Challange 2025 will result in a revitalization of the brand in the North American market. But perhaps it doesn't need to be; with so much overlap with Nissan and Renault, the Alliance has designated Nissan the priority brand for us.
What do you guys think?
Source: Mitsubishi