Chinese electric bus manufacturer BYD recently announced the production of their 300th bus at their Lancaster, California manufacturing plant at the same time Antelope Valley Transit Authority (AVTA), one of BYD's first customers, begins closing in on an impressive landmark of their own.
According to the Chinese automaker, the 300th battery-electric bus produced at their Lancaster plant is a 35-foot BYD K9S model transit bus (pictured above), which is currently one of three buses built for Baton Rouge's Capital Area Transit System (CATS). Lancaster Mayor R. Rex Parris termed 300th bus "the tip of the iceberg," later stating:
"BYD has continuously shown its dedication to our community and region at-large, since establishing its North American manufacturing facilities here in Lancaster. Along the way, BYD has established itself as the gold standard in the battery electric bus transportation industry. In fact, our local Antelope Valley Transit Authority (AVTA) will very soon have a 100% all-electric bus fleet. There were some skeptics when BYD chose Lancaster as home to its operations. Now these same skeptics are true believers, as they watch this world-class company continue to literally change the world for the better."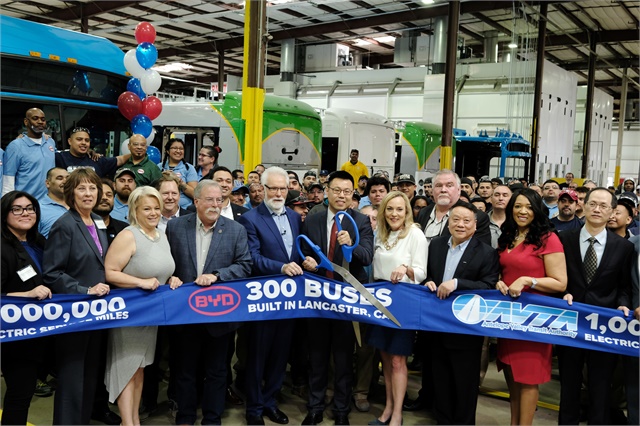 Coinciding with the announcement of BYD's recent achievement, AVTA, the transit agency serving the cities of Palmdale, Lancaster, and Northern Los Angeles County, will soon reach their own goal of becoming the nation's first all-electric fleet later this year in addition to nearing 1 million miles of zero emission bus operations thanks to BYD's support.
AVTA Chairman and City of Lancaster Vice Mayor Marvin Crist commented on the recent announcement, stating:
"The Antelope Valley Transit Authority's fleet of 75 currently includes about 30 electric buses, which will have completed a million miles of travel by the middle of next month. Thus far, approximately 252,000 gallons of diesel fuel has been saved with the new battery electric fleet. This equates to a net savings of $310,000 in fuel costs. We expect AVTA's entire fleet to be converted to electric buses as we reach our second million miles, and the savings will be even greater by then – nearly $500,000 in fuel costs saved. Even more impressive, once our full fleet of 75 buses is complete, AVTA will boast 78% better energy efficiency; a carbon footprint reduced by 1.3 million pounds of CO2 annually; and, of course, a continued reduction in air and noise pollution."
Bobby Hill, BYD's Vice President Coach and Bus, North America, added:
"Because public transportation accounts for a vast portion of air pollution, BYD strategically moved to first help replace buses and commercial trucks across North America. And to do so, we wanted to offer multiple zero emission model choices to meet the various demands in the market, and to make the transition as easy as possible."
Since delivery of their first U.S. battery electric bus back in 2014, BYD has provided buses to customers in 13 states and four Canadian provinces, becoming the largest battery electric bus manufacturer in North America in the process with over 750 employees.