We have been waiting for the United States Postal Service (USPS) to announce their plans for the revamp of their vehicle lineup for a while now. One of the perceived front runners for the contract was EV startup Workhorse who would help electrify the postal service fleet. That turned out not to be the case as the USPS tapped Oshkosh Defence for a 10-year contract that will only see some of the new vans be all-electric.
Oshkosh's expertise lies in making military vehicles for the US Government so we imagine that some delivery vans won't be too tall of a task. The USPS wrote regarding the contract:
Under the contract's initial $482 million investment, Oshkosh Defense will finalize the production design of the Next Generation Delivery Vehicle (NGDV) — a purpose-built, right-hand-drive vehicle for mail and package delivery — and will assemble 50,000 to 165,000 of them over 10 years. The vehicles will be equipped with either fuel-efficient internal combustion engines or battery electric powertrains and can be retrofitted to keep pace with advances in electric vehicle technologies. The initial investment includes plant tooling and build-out for the U.S. manufacturing facility where final vehicle assembly will occur.
It was a less than stellar announcement for those of us that wanted to see more commitment to electrification from the postal service. According to the contract, some of the new vans will still use internal combustion engines. What will the ratio be? Who knows. Additionally, the USPS operates about 230,000 vehicles, of which 190,000 are for delivery purposes, so the (really wide) range of 50,000-165,000 could potentially only convert a quarter of the vehicles over the next 10 years.
With that many vehicles still not having a replacement we hope that there will be other companies that will be chosen to help the conversion. Ones that will only make electric models rather than seeing delivery vans use gasoline for the next few decades.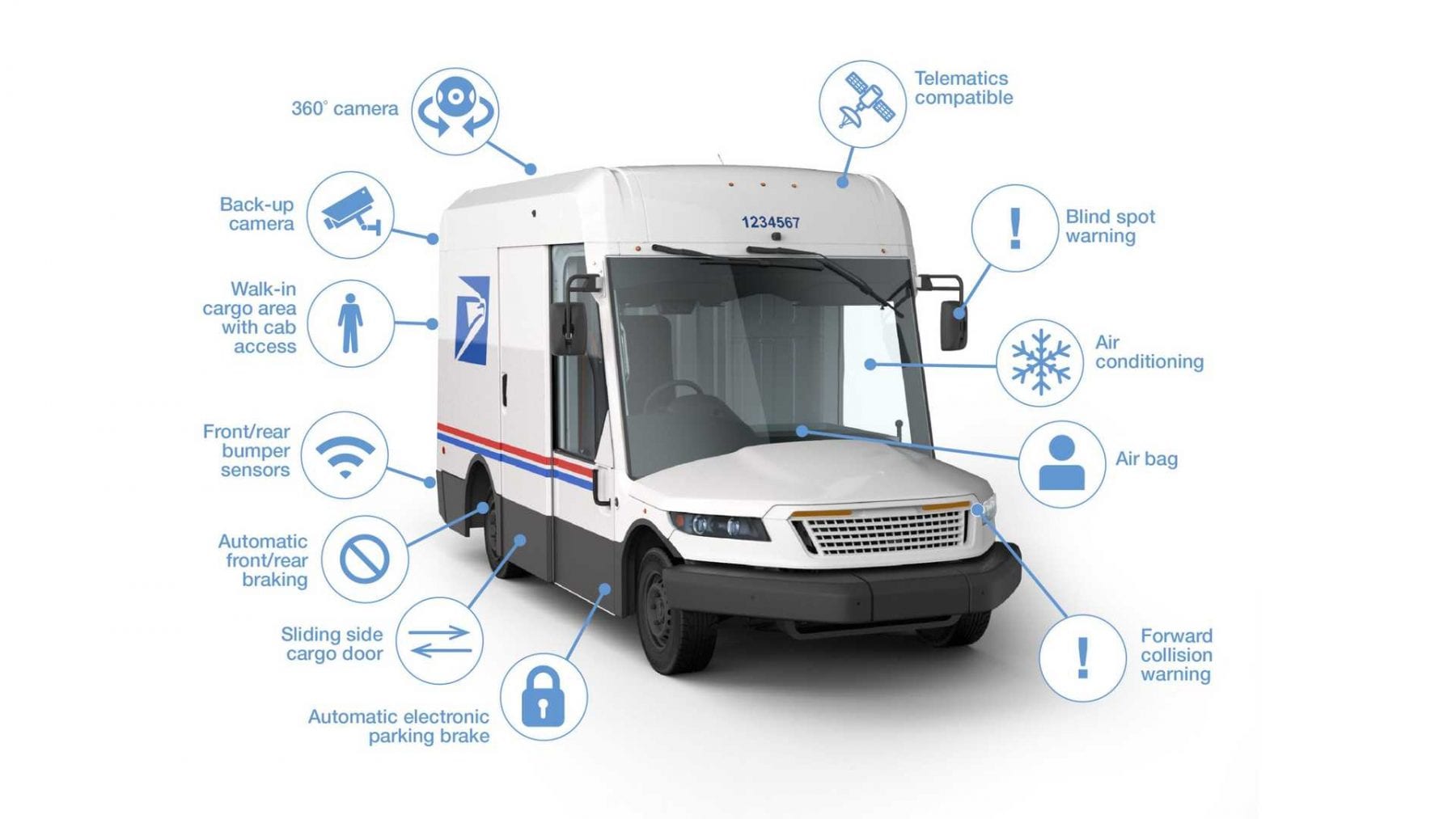 Along with the announcement we got a look at some renders of the NGDV. It's far from attractive, but I don't think anyone was expecting it to be. Some of the features noted were, "360-degree cameras, advanced braking and traction control, air bags, a front- and rear-collision avoidance system that includes visual, audio warning, and automatic braking". It will also have more cargo space than the outgoing models.
We can expect to see the first of these new vans delivering packages in 2023.
How do you guys feel about the plan? Let us know down in the comments below.
Source: USPS