---
Fallout Shelter
Fallout Shelter puts you in control of a state-of-the-art underground Vault from Vault-Tec. Build the perfect Vault, keep your Dwellers happy, and protect them from the dangers of the Wasteland.
To play Fallout Shelter, tap Entertainment from the Application Launcher, then Arcade > Fallout Shelter.
| | | |
| --- | --- | --- |
| First Noticed 2020.20 (May 2020) | MCU 2+ | AP 2+ |
We've known that Bethesda's Fallout Shelter would be hitting Tesla screens ever since last year's E3 conference. We did not have a release timeframe at that point, but it looks like the game is finally making its way to your car about a year later. The game, along with Cuphead and Stardew Valley, shows that Tesla's are capable of playing something more advanced than Chess or Astroids. Tesla's game library continues to grow larger than I think anyone thought it would. What's coming up next?
---
Theater Improvements
With this release, you can now play, pause, and skip video playback with your steering wheel controls while using Theater Mode. As usual, Theater Mode is only available while your vehicle is in PARK.
| | | |
| --- | --- | --- |
| First Noticed 2020.20 (May 2020) | MCU 2+ | AP 2+ |
While Tesla's theater mode already provided you with near limitless amount of content to stream thanks to Netflix and Youtube, there was still some areas where improvements could be made. Particularly in the navigation portion of the app, you used to only be able to play, pause, and skip using the touch screen, but now you are able to use those controls through your steering wheel.
---
TRAX Improvements
We have added a piano roll view that allows you to edit and fine-tune notes in a track. You can now tap in view to create a note, move or resize it by dragging the tail end of the note, and delete it with a long press. To play a note sound, simply hold and move the notes. In addition, when you tap the record button, a metronome beat will play to make it easier for you to record at the desired time.
| | | |
| --- | --- | --- |
| First Noticed 2020.20 (May 2020) | MCU 2+ | AP 2+ |
For those of you who continue to want to make some beats using Tesla's TRAX software, added functionality has been added with the piano roll to make it a bit easier for you to assemble your notes easier.
---
Nearby Charging Site
The charging list has been improved to easily filter nearby charging sites based on max power. Simply tap the charging icon on the map and filter by selecting the associated lighting bolt icons.
| | | |
| --- | --- | --- |
| First Noticed 2020.16.2.1 (May 2020) | MCU 2+ | AP 2+ |
Another small quality of life improvement in this update was Tesla allowing you to filter out chargers based on their maximum charge rate. With more and more chargers popping up and the latest models of Tesla being capable of 250 kW charging, it will important to make sure owners can find the most optimum charger for them.
---
Tesla Toybox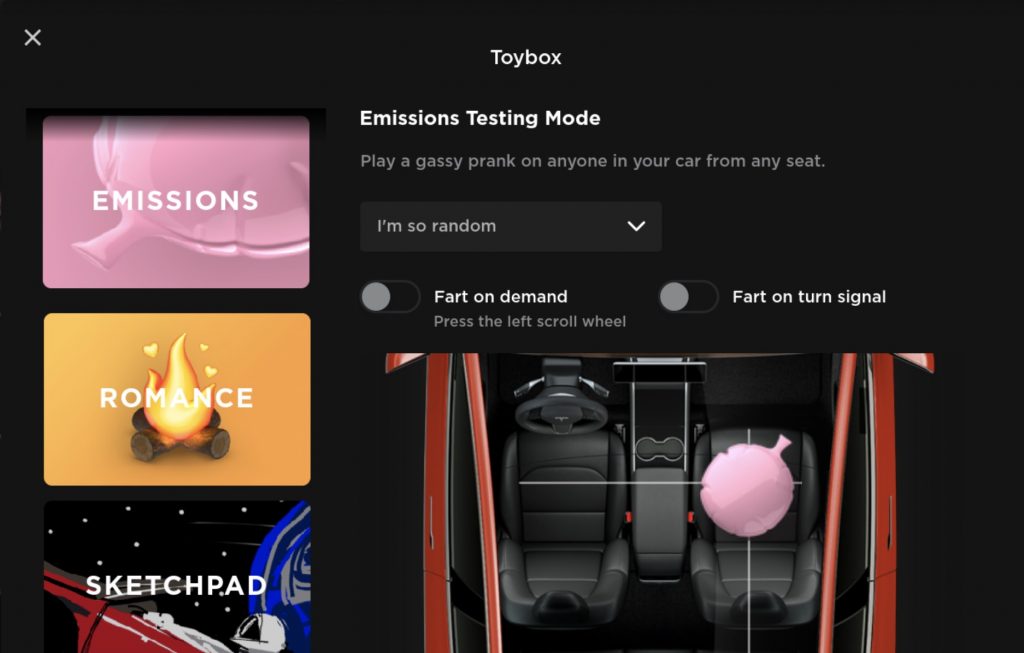 The Tesla Toybox has been redesigned to make it easier to view and play. Simply scroll through the toys and adjust the associated controls. As before, to access the Tesla Toybox, tap the Toybox icon from the Application Launcher.
| | | |
| --- | --- | --- |
| First Noticed 2020.16.2.1 (May 2020) | MCU 2+ | AP 2+ |
The Tesla Toybox which holds all of Tesla's fun apps such as the sketchpad and whoopy cushion has received an update in its design to make it easier on the eyes. There have not been any new features added to the Toybox, but it is a nice quality of life improvement.
---
Map Improvements
You can now directly tap the labels on the map to quickly view the associated place details and navigate to that destination.
| | | |
| --- | --- | --- |
| First Noticed 2020.16.2.1 (May 2020) | MCU 2+ | AP 2+ |
Tesla is continuing to improve their map usability.
---
Dashcam Improvements
Dashcam is now easier to setup or erase. After plugging in a USB drive, tap Controls > Safety & Security > FORMAT USB DEVICE to format and create the associated folders for Dashcam. Note: Formatting the USB drive will also delete any existing clips.
| | | |
| --- | --- | --- |
| First Noticed 2020.16.2.1 (May 2020) | MCU 2+ | AP 2+ |
It is no easier to make sure the USB you are using for Dashcam footage is formatted correctly. You used to have to manually format the USB on your own computer and make the appropriate folders yourself. This step led to having people make mistakes and difficulties with getting the dashcam to work. However it now looks like Tesla will have the car do this automatically, saving you of any further guesswork.
---
Backgammon Improvements
Playing Backgammon against your Tesla has now become more difficult. The most difficult level has now been trained with 20+ million games. Challenge your Tesla to a game by tapping the Application Launcher, then tap Entertainment > Arcade > Backgammon. Note: As usual, the Tesla Arcade is only available when your car is in PARK.
| | | |
| --- | --- | --- |
| First Noticed 2020.16.2.1 (May 2020) | MCU 2+ | AP 2+ |
Was backgammon just too easy for you? Did you become a backgammon god and feared that your Tesla could not put up a good fight anymore? Well Tesla has heard your cries of disappointment as they have used their vast resources to make backgammon now harder fo you. Rejoice.
---