---
Tesla Software Update – 2020.48
Release Notes Improvements
| | | |
| --- | --- | --- |
| First Noticed 2020.48.26 (December 2020 – Holiday Update) | MCU 1+ | AP 1+ |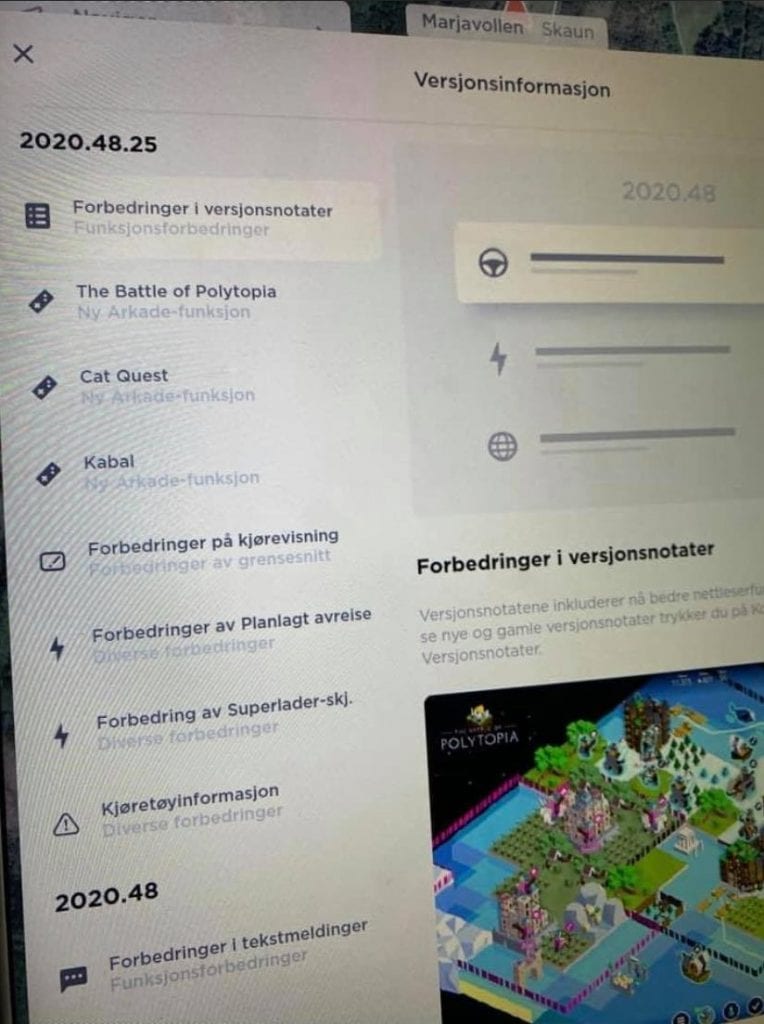 Release notes now include improved browsing and access. To view current and previous release notes, tap Controls > Software > Release Notes.
The release notes screen has received a nice facelift. No longer will it be a pop-up window, but instead a more integrated two-pane layout that gives a cleaner appearance and lets you jump to the features that you actually care about rather than having to scroll to get to them.(Image courtesy of Reddit user efraimbart)
---
The Battle of Polytopia
| | | |
| --- | --- | --- |
| First Noticed 2020.48.26 (December 2020 – Holiday Update) | MCU 2+ | AP 3+ |
The award winning turn based strategy game with low poly graphics. Lead your civilization to victory by expanding your empire and researching new technologies. To see how you compare with other Tesla owners, create a Tesla Arcade gamer name that will appear on the Battle of Polytopia Leaderboards.
The first of three games added in the Holiday Update is Battle of Polytopia. The game is a turn-based world-building strategy game that uses a charming and non-system intensive low polygon art style. If you are familiar with or have played the Civilization series of games then the general premise of the game should be similar, let's just hope its not as dangerously addictive, otherwise, you might actually spend the whole day in your Tesla.
---
Cat Quest
| | | |
| --- | --- | --- |
| First Noticed 2020.48.26 (December 2020 – Holiday Update) | MCU 2+ | AP 3+ |
Leap into a grand adventure of dragons, magic and cats in purr-suit of the evil Drakoth and your catnapped sister. Explore Felingard's huge overworld map, risk life and limb delving into dungeons for epic loot, and lend a paw to a furry cast of characters in a flurry of side quests. Game controller required.
The second game added to the Tesla Arcade in this update is a top-down adventure game that takes inspiration from the popular Dragon Quest series, hence the name. You and your feline character will traverse an open world defeating enemies and crawling dungeons to find better equipment. The game initially released around three years ago to generally favorable reviews and looks to be enjoyable in short spurts.
---
Solitare
| | | |
| --- | --- | --- |
| First Noticed 2020.48.26 (December 2020 – Holiday Update) | MCU 2+ | AP 3+ |
A classic game of Solitare, also known as Klondike. Move cards by dragging them to their destination. You can play an easier Draw 1 game, or try your luck with Draw 3 and Vegas play modes. Personalize your game by customizing the backdrop and card backs
The last of the three games added during the Tesla holiday update is a classic that everyone and their mother knows how to play. Arrange all the cards and wait for a (hopefully) card cascade animation to signify your victory.
---
Boombox
| | | |
| --- | --- | --- |
| First Noticed 2020.48.26 (December 2020 – Holiday Update) | MCU 2+ | AP 3+ |
Turn your car into a boombox and entertain a crowd with your media player when parked. You can also customize the sound your car makes when you press the horn, drive the car or when your car is moving with Summon. Select an option from the dropdown menu to insert your own USB device and save up to five custom sounds.
Note that this feature will only be available to 2020 models who have the mandated pedestrian safety speaker in their car. Ever since we learned that Tesla put the speaker in their cars, many were hoping that custom sounds would be able to be played through it, and Tesla sure delivered. The update comes with a couple of presets that range from the fart noise, to "toss a coin to your Witcher". The fun doesn't stop there as you are able to load in your own sounds. I will now patiently await someone to put everyone's favorite Ludacris song about politely telling people to get out of the way as their horn sound.
---
Driving Visualization Improvements
| | | |
| --- | --- | --- |
| First Noticed 2020.48.26 (December 2020 – Holiday Update) | MCU 2+ | AP 2+ |
The instrument cluster has been refreshed. Autopilot set speed, Autopilot availability, and detected speed limit are now displayed next to the driving speed. Additionally, select items have slightly moved buy will continue to look and behave the same.
Model 3/Y owners will see a slight redesign to their visualization screen that will have all the pertinent speed and Autopilot information grouped together to see easier at a glance.
---
Scheduled Departure Improvements
| | | |
| --- | --- | --- |
| First Noticed 2020.48.26 (December 2020 – Holiday Update) | MCU 1+ | AP 1+ |
Scheduled Departure can now precondition your battery and cabin even when your car is unplugged. To account for different utility rate plans, you can now set the time when your off-peak rates end to save on charging costs. To access, tap SCHEDULE from the climate control or charging panel when parked.
Just in time for Winter to hit full swing, Tesla has expanded the usability of its Scheduled Departure feature to allow preconditioning when the car isn't plugged in. This allows for your car to start preconditioning when your workplace might not have an accessible charger, but you still want to come to a warm cabin and battery.
---
Supercharger Display Improvements
| | | |
| --- | --- | --- |
| First Noticed 2020.48.26 (December 2020 – Holiday Update) | MCU 1+ | AP 1+ |
Supercharger pins on your touchscreen will now display the number of available stalls at charging sites. Quickly search for nearby amenities by tapping an amenity icon on the Supercharger popup display.
The map has been slightly streamlined by giving you the available stalls rather than having you tap on the location and seeing how many of the stalls were occupied in the popup window.
---
Vehicle Information Improvements
| | | |
| --- | --- | --- |
| First Noticed 2020.48.26 (December 2020 – Holiday Update) | MCU 2+ | AP 3+ |
The Tesla "T" has been removed from the top status bar. Tap Controls > Software for the same information.
Rest in peace top T button.
---
Range Display (Model 3)
| | | |
| --- | --- | --- |
| First Noticed 2020.48.12 (December 2020) | MCU 2+ | AP 3+ |
Your car will now display a slightly higher range to more accurately reflect the capacity of the battery.
This update seems to only apply to owners with a 2021 Model 3. The newest iteration of the Model 3 received a small refresh which included a slightly increased battery size to 82 kWh and as such a higher range than the previous year. Keep in mind that this update is not actually a range increase, it's just here to better hone in on your true range. Although, there have been reports of owners without the increased battery also reporting higher ranges, but nothing solid has been found at this time.
---